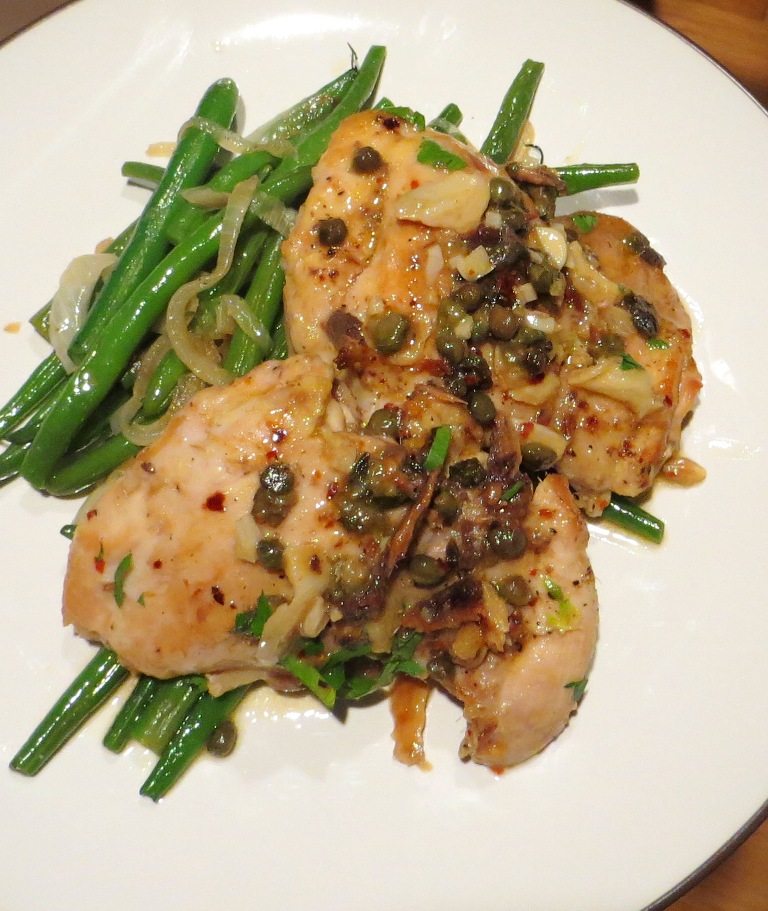 There are thousands of ways to prepare chicken. My favorite are the ones that inject the most flavor into this versatile protein. Garlic Chicken thighs with lemon and anchovies may sound like a odd combination, but I ensure you that it's a flavorful dish that you will be making again and again.
Boneless skinless chicken thighs are probably one of the more forgiving cuts of chicken to cook. If you cook them a little longer than planned, they will still be juicy and delicious. If you choose to use chicken breast, reduce your cooking time by a few minutes so they do not dry out.

For this recipe you create a garlic and anchovy oil to cook the chicken in and you top your finished dish with lemon, capers and parsley. If you are apprehensive about cooking with anchovies don't be, they just add a salty and tangy flavor to the chicken. Browning the chicken on the stove gives it a great sear, while transferring it to the oven makes sure it's cooked through. Think about serving this dish with rice so you can capture all of the lemony sauce in every bite.


Pin Me

Preheat your oven to 350 degrees. Season the chicken thighs with salt and pepper and then set it aside while you prepare the anchovy-garlic oil.

Mince one of the garlic cloves and set it aside for later. Heat the oil in a large ovenproof skillet over medium-high. When the oil is hot, add the 4 smashed garlic cloves, anchovies, capers and chili flakes. Stir with a wooden spoon to break up the anchovies, cook for about 3-5 mins until the garlic browns around the edges and the anchovies dissolve.

Add the chicken thighs and cook until nicely browned on one side, 5 to 7 minutes. Flip the thighs and place the pan directly in the oven. Cook for another 5 to 10 minutes, until the chicken is cooked through.

When chicken is done, transfer thighs to a plate (be careful, the pan handle will be hot). Place the same pan back on the heat, add minced garlic and the juice of one lemon half. Cook for about 30 seconds, scraping up the browned bits on the bottom of the pan.

Return chicken to the pan and cook it in the sauce for another 15 to 30 seconds. Transfer everything to a serving platter and garnish with chopped parsley.
Be sure to pat your capers dry before adding them to the pan. If you put them in wet, the liquid will pop in the hot oil and may burn you.