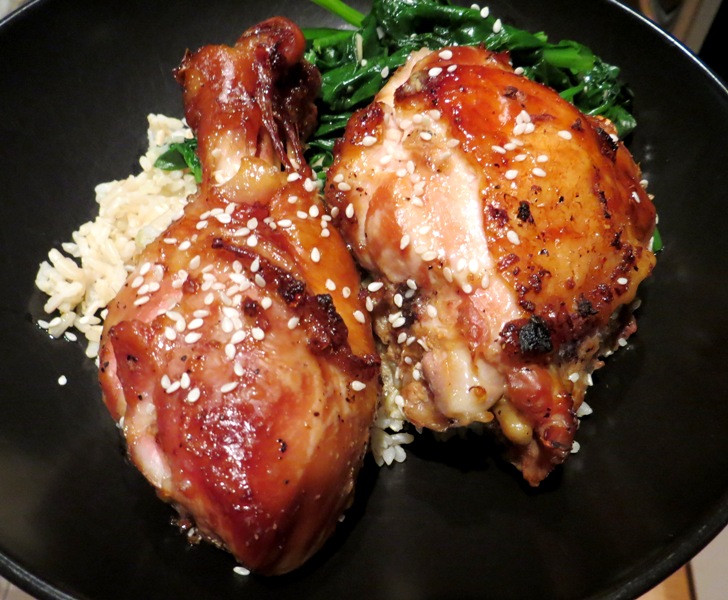 Roasting chicken can be a simple yet elegant dinner. Marinating the meat the night before will keep the chicken flavorful and juicy while cooking. My effortless and delicious Soy Marinated Roast Chicken recipe will become one of your dinner favorites. Planning out your meals can be difficult when life is so hectic, but it will save you a lot time in the long run. Prepare your marinate the night before and you will have dinner ready in a snap.
You can never run out of ways to prepare chicken, you just have to think outside the box. Adding an international flare to your cooking can create a new collection of recipes. My husband and I love Asian cuisine but I don't always have my Asian pantry stocked. I do keep ginger and sesame oil on hand and it really adds some awesome flavor to this dish.



Combine all the ingredients, except the chicken, into a small bowl and whisk together.
Line a 9 x 13 baking dish with Aluminum foil for an easy clean up. Place chicken into the dish and pour the marinate over, coating the chicken evenly.

Cover the dish with plastic wrap and place in the refrigerator. Marinate the chicken for at least a hour and up to 24 hours, being sure to turn half way through to marinate evenly on both sides.
Preheat oven to 450 °F. Take the dish out of the refrigerator and let it sit at room temperature for 30 mins. This will prevent the baking dish from cracking when being placed in the hot oven.

Roast chicken in the dish for 35 to 40 minutes, or until the internal temperature reaches 165°F on a meat thermometer. The final step is to crisp up the chicken skin to get a yummy brown color.

Turn the broiler on and place chicken under it for about 5 mins. Be sure to watch carefully so the chicken does not burn. Remove the chicken from dish, garnish with sesame seeds and serve.
Tip - Experts recommend not rinsing your chicken before you cook it. This may spread germs around your kitchen.