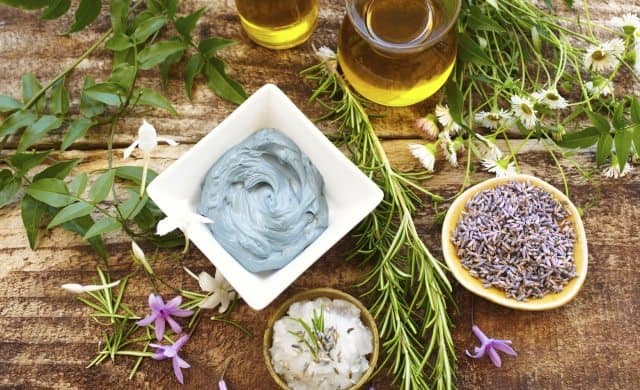 Most of us have a well-thought of beauty routine. It usually includes face cleanser, toner, mask, scrub, moisturizer as well as a body lotion. In order to ensure the best possible results and make your skin look and feel healthy, switching to organic eco-friendly products is the way to go. In case you're new to the world of organic beauty products there are some that can perfectly replace your old products full of chemicals and make your skin truly glow.
Cleanser

2 in 1 product cleanser does the job of removing daily dirt as well as any trace of make-up perfectly. It is absolutely free from alcohol, parabens and any other toxins that are usually found in regular cleansers, but it cleans the skin with great precision without making it dry. Actually, it can be used by all skin types and ages and it's perfectly acceptable for those with oily and even sensitive skin. It doesn't sting the eyes so it's safe for removing eye make-up as well. Really light herbal scent will definitely appeal to those who avoid heavily scented products.
Toner
In case you have irritated, red or inflamed skin or simply want to achieve the oil balance, this facial toner made only with certified organic peppermint leaves will become your best friend during every season. Since it's applied by spritzing the face, there's no need for cotton pads. It soothes and refreshes the skin as well as the senses.
Mask

Apart from its great packaging, this hibiscus mask is great for all skin types for it soothes, detoxifies and hydrates the skin. It contains hibiscus, green clay and organic lavender which offers immediate results. Thanks to its color it is really fun to use. Mix the mask with water to create the paste, and leave it on for 30 minutes in order to see instantly rejuvenated, smoother and purified skin.
Body Cream

Even though the skin on our bodies is not as demanding as on the face, it can get dry and patchy when there's a lack of care. Thanks to this body cream one can freely say goodbye to any rough and itchy dry patches on the skin. Its natural ingredients such as shea butter, linseed, marshmallow, almond, honey and apricot oil keep the skin moisturized and repair any possible damage fast. The cream itself doesn't leave the greasy film and skin absorbs it instantly.
Body Scrub

Combination of luxury and natural goodness, this facial scrub is going to make your face clear and smooth. It gently removes the dirt and dead skin cells with organic corn meal while the honey keeps the skin hydrated and nurtured. Exfoliation is the key to fading blemishes for good. Use this scrub every evening; it's that gentle on the skin, but the results are incredible. Since you'll only need a pea size of the product to scrub your whole face, this will definitely last you a while even with the daily use.
Moisturizer
Get seriously soothing moisture with this facial moisturizer that feels weightless and absorbs quickly, leaving the skin feeling soft and nurtured. Formulated to help provide refreshing, hydrating relief from tightness, dryness and discomfort. Arbonne transforms your skin through pure botanically based ingredients with scientifically tested products.
Nothing can make your skin look as best as possible such as gifts from nature. Introduce yourself to the world of organic beauty to ensure the perfect health and beauty of your skin.