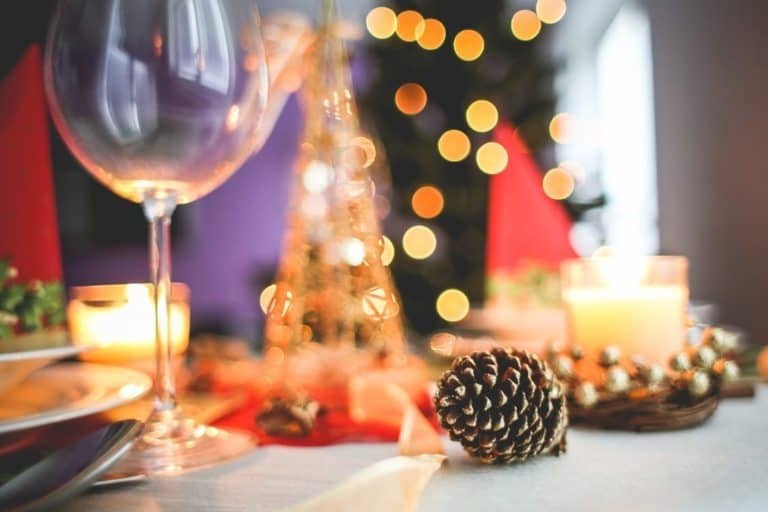 This holiday season, you want an excuse to bring together all of your favorite people. You feel like setting the stage for a shared good time, so you've elected to host a holiday party. Go you!
But whether you're a first-time party host or you're throwing your twentieth annual Christmas bash, it never hurts to give your guests something new to look forward to. This season, why not make it happen with a few fun holiday drinks? So rather than relying solely on eggnog to satisfy those thirsty guests, try throwing some new festive cocktails into the mix. Here are seven ideas to get you started.
Alcoholic Drinks
Bring Some Magic to the Party — With Butterbeer
Okay, so Harry Potter may not necessarily be holiday-specific, but its legendary beverage of butterbeer sure is!
There are many different butterbeer recipes out there, but most come down to the same key ingredients — butterscotch schnapps, cream soda and a hard liquor of your choosing, generally vodka.
As any Harry Potter fan will tell you — and you can bet there'll be at least one at your gathering! — butterbeer is associated with a feeling of warmth and cheer. If that's a feeling you'd like to create at your holiday shindig, then bring some magic to the party with cold, room-temp or hot butterbeer.

Keep Your Guests Toasty with a Hot Toddy
Another fun, warming drink to try out at your event is the hot toddy. Just as its name suggests, this tasty cocktail is a good one to hand those guests who just walked in from the cold.
Hot toddies are great holiday drinks because they combine the heat of boiled water, the blood-pumping effects of bourbon and the coziness of a cinnamon stick garnish. What more could your guests ask for in a beverage?

Liven Things Up with Peppermint & Chocolate
Two of America's favorite holiday treats are peppermint and chocolate. So why not find an excuse to use both at your event?
The peppermint white mocha martini is as good as it gets. This drink is a little bit fancier than your average light beer, so it should come as no surprise that it'll take a little more prep time than tapping a keg. But if you really want to wow your crowd and show off your festive bartending skills, this drink is worth the effort.

Appease the Coffee Fiends
No matter the season, coffee lovers always run rampant. To appease this crowd and mix up your drink options, try offering iced Irish coffee.
Not only will Irish coffee appease the coffee fiends, but serving it on ice also gives a cold drink option to those guests who always run hot. You know the ones — the people who walk in to the heated house, throw off their coats and say "Geez, it's toasty in here!" while everyone else proceeds to shiver and recover from the cold weather they just escaped.

Save the day With a Bowl of Cranberry Moscato Punch
Making a variety of drinks doesn't have to be too pricy, and an especially useful trick is to make one drink in bulk for all to enjoy. Cranberry Moscato punch is a great choice to have as your main beverage because it's quick and easy to make, neutral yet delicious and inexpensive.
As with all of these drinks, you can always tweak the recipe to meet your taste preferences. To do that, it helps to know a little bit more about the alcohols you're using.
For instance, when determining how best to mix this punch recipe for your party, it will help you to know more about the different types of Moscato. That way, you can choose the one that's right for you and your crowd.
Non-Alcoholic Drinks
Remember those five drink ideas you just finished reading about? You can easily turn each of them into non-alcoholic options should you so choose. It's as simple as not adding the alcoholic ingredients and finding suitable substitutes. For instance, check out how some non-alcoholic butterbeer recipes find a way around using liquor or butterscotch schnapps.
That being said, here are a couple more alcohol-free drink options for the drivers, non-drinkers and underage guests at your party.

Offer up a Hot Chocolate Bar
For any cold-season party that involves non-drinkers, good old hot chocolate should always be available. But why not put a little twist on this classic holiday favorite?
In addition to offering plain hot cocoa, this year try something different — a whole self-serve hot chocolate bar. You can make this happen in one of two ways:
Pre-mix and offer

different types of hot chocolate

, or

Set out a dispenser of plain hot chocolate and cover the remainder of the bar with possible add-on ingredients and garnishes — cinnamon, cinnamon sticks, crushed candy canes, caramel sauce, marshmallows, etc.
No matter which option you try, your guests will have fun braving new versions of this classic favorite.

Apple Pie Cider
What hot toddies do for drinkers, apple pie cider does for non-drinkers. This toasty, tasty drink takes the warmth and nostalgia of apple cider and makes it even better by adding a few choice spices.
So even though the non-drinkers at your party can't partake in all those festive, liquor-infused drinks, you can still make them feel equally welcome by offering fancy drinks just for them. If flavored hot chocolate isn't getting the job done, apple pie cider is a great option to have on hand.

When in Doubt, go for a Classic
Hosting an event can feel like a big responsibility, but remember — it's all about having fun. So, no matter what drinks you wind up serving, just have a good time with it.
When in doubt, simply make a classic favorite among your friends and either garnish it with a candy cane or give it a holiday name. For example, pour a round of Fireball shots and call them "Rudolph's Revenge." If questioned, give an entertaining little background story. For instance:
Haven't you heard the story of Rudolph's Revenge? Rudolph was rejected time and time again by the other reindeer. When Santa finally asked him to guide their way, he took a shot of Fireball to get himself fired up, then he guided that slay like nobody's business.
No questions asked.