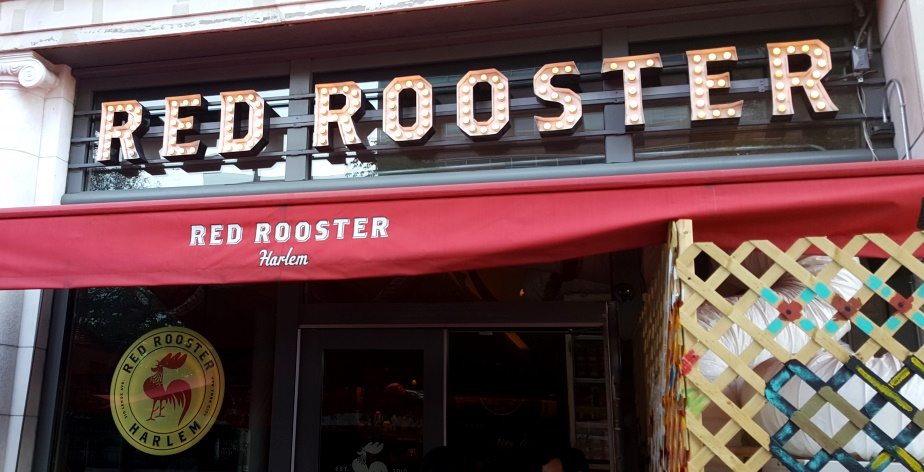 What does it take to get me Uptown for dinner? Well if you know me, then you would probably say: amazing food, great service, eclectic stylish decor, oh and a celebrity chef wouldn't hurt. Red Rooster Harlem has all that and more! This restaurant represents chef's Marcus Samuelsson international culinary background with a sophisticated menu of delicious comfort food.

Located in the heart of Harlem – Red Rooster, which opened in December 2010, has been one of the most popular spots in the neighborhood, or even the city ever since. Chef Samuelsson is know for appearances on the Food Network as a Chopped judge and for his win on Top Chef Masters. The chef feels that Harlem is the heart of NYC, so it was the perfect place to open his debut spot. Serving a mixture of traditional Southern dishes like Shrimp & Grits (my fav) and Mac & Cheese, he also added some of his native specials from Sweden like Helga's Meat and Gravlax. Red Rooster has been dishing out amazing food and satisfying its diners since the day it opened.
I sat with Marcus to chat about his success and this perfectly curated lentil menu!

BWBL: What Inspired you to create this delicious menu and what are your thoughts on lentils?
Marcus: I love lentils. I grew up with lentils in Sweden and we grow lentils in Ethiopia. I just want to show that lentils are so versatile and you can use them for so many different things!
BWBL: What was one of your favorite dishes from tonight?
Marcus: I love the roti that we made from lentils or even dusting the oysters with lentils and the lentil apple puree.
BWBL: Did you grow up knowing you were going to be an inspiring person in the food scene?
Marcus: I always wanted to be a chef?
BWBL: Any words of wisdom for aspiring chefs?
Marcus: Work hard, volunteer as much as possible and just really get into it, plug in!
During my evening, I was fortunate to dine at Ginny's Supper Club, the chic basement speakeasy of Red Rooster, where guests can enjoy live jazz music while they dine. The night was hosted by Canadian Lentils and featured a 4 course dinner which highlighted the versatility of lentils in each dish.
To Start

Cornbread with lentil funk
Oysters & Wings – fried in lentil flour 

Appetizer 

Gravlax – w/ clams and mustard vinaigrette, lentil roti chips

Entree

Duo of Lentil Dusted Catfish and Braised Short Ribs – yellow lentil apple puree, fermented garlic 

Dessert 

Apple Sorbet
Doughnuts – sweet yellow lentil puree 





Have you been to Red Rooster? What was your favorite course!?

---