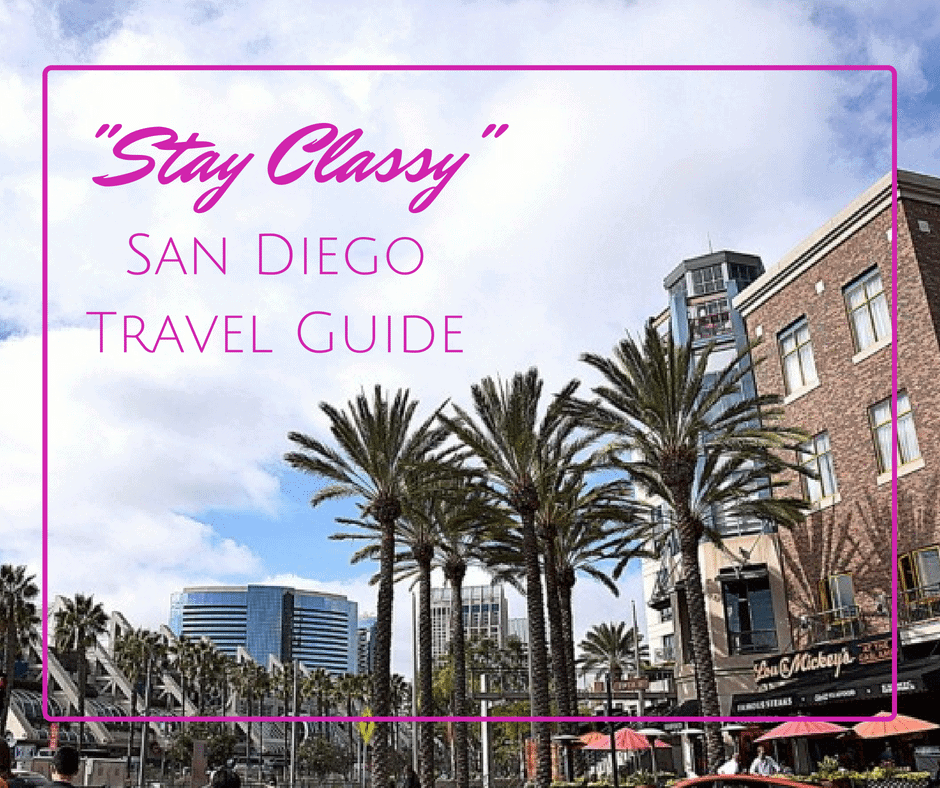 Relaxed vibe, sunny, warm weather, bright sunshine and gorgeous beaches for miles, it's hard to find a reason why not to visit San Diego. A jewel of Southern California, San Diego has something for everyone. We spent a week here recently and had a great time exploring the sites and soaking up some much needed sun. Check out my travel video below see how we took Ron Burgundy's advice and stayed classy in San Diego.
Gaslamp
The heart of downtown is known as the Gaslamp, filled with trendy bars, eclectic shops, and a variety of restaurants, this area is full of life and is a definite hot spot on Friday and Saturday night. We stayed at the Hard Rock Hotel, conveniently located right across the street from the convention center and within walking distance to almost everything in the Gaslamp.
Dining
Want the truth?? The New Yorker in me found this area to be a bit touristy. If you want an elevated dining experience, I recommend checking the Yelp reviews and possibly even venturing out of this area.
There was a neighborhood gem that we found, and I HIGHLY recommend if you want memorable sushi. Be sure to check out Taka Sushi, 555 5th Ave. This place was so exceptional that we went there twice during our stay. Taka offers a wide variety of offerings including daily fish specials and some of the best uni I've ever had!
If you are a breakfast lover, then you must check out Richard Walker's Pancake House, located at 520 Front St. This spin-off from the Original Pancake House, serves up four egg baked omelets with a side of pancakes, corn beef hash, and their famous baked apple pancake. Be sure to get here early because there will be a line out front.




Downtown
Beyond the Gaslamp, you will find the rest of downtown has a lot to offer. Situated right on the coast, downtown has a beautiful Embarcadero with a picture perfect boardwalk, ideal for taking a stroll or bike riding (which you'll see in my travel video below!) while watching the cruise ships come into the harbor. San Diego is a big naval city. A tour of The USS Midway is not to be missed, is the most popular attraction in the area.
Downtown is the best location to stay if you want to walk from your hotel to shops and restaurants. Plus, San Diego has a local transit system that can quickly take you to other parts of the city like Old Town, Coronado and Fashion Valley Mall. The main attraction near downtown is the famous San Diego Zoo, voted the best zoo in the world by Trip Advisor, it has over 3500 animals in its 100-acre area.





Old Town
Located just north of downtown is historic Old Town San Diego, a visit to this area is truly like stepping back in time. If want to experience a bit of history, then plan a day trip here and walk along the streets as they were back in 1769. Take a stroll and enjoy specialty shops, tours, museums, and restaurants, many of which make their tortillas fresh all day long.





Mission Beach
San Diego is known for its laid-back beaches where you can sunbathe, surf the waves and of course enjoy some legendary fish tacos. If you can score an oceanfront rental on the boardwalk, it may be pricey in high season, but it's definitely worth the view. We rode our bikes up to this area from downtown, (not recommend for casual riders since it was 22 miles round trip) and it was beautiful. If you are traveling with your family, then a visit to Belmont Park is a must to ride one of the oldest coasters in the US, a staple since 1925.
Right south of Mission Beach you will find some of San Diego's most famous sites. Most come to this area to spend the day at Sea World to see some amazing marine life and shows. I didn't get a chance to visit this trip, but I thoroughly enjoyed it last time I went.


San Diego is the perfect vacation to do a solo trip, girl getaway, or bring the whole family along. The airport is short 10 min ride from downtown, so you can hop off the plane, and be right in the action. I've always had a great time when I visit, and I think you will too!
Watch My San Diego Travel Video
Areas to Visits
Gaslamp Quarter – Central Downtown with restaurants, shops, and bars
Mission Beach
Pacific Beach
Old Town – Historical Area 
Coronado – Island right close to downtown featuring the famous Hotel Del Coronado 
Dining Recommendations
Local Attractions
Where to Stay
Pin Me

Stay Fabulous,