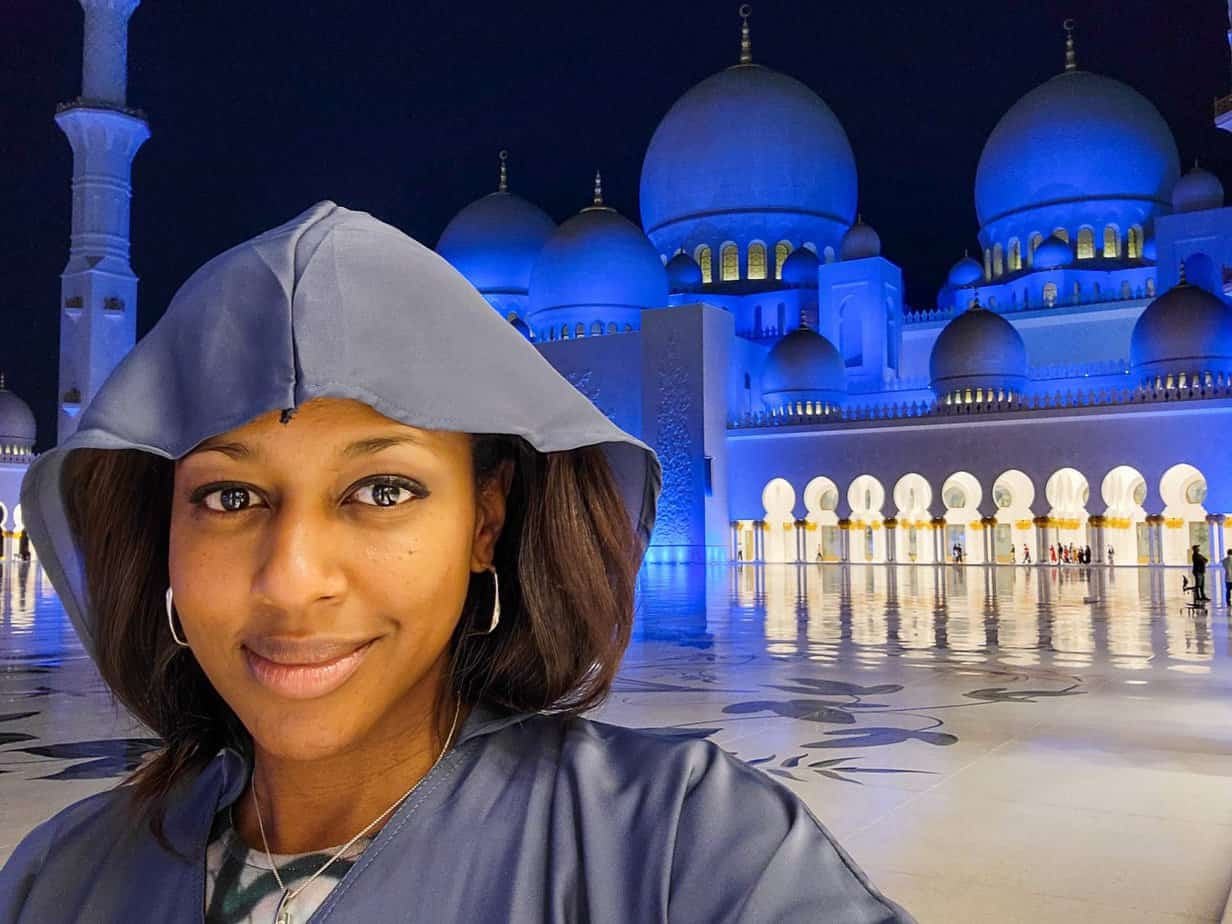 As part of my EPIC vacation giveaway win with IHG Hotels & Resorts, I've spent the past months traveling to destinations I only dreamed about visiting. While I've traveled extensively in the past 38 years–to about 35 countries and counting!–the Middle East was an experience like no other. I visited the UAE during a three-week trip to several spots in the Middle East; Abu Dhabi was my second stop after Dubai. The visit was short–merely 48 hours–but I did everything I could to experience the very best that Abu Dhabi has to offer during my brief time in this magical foreign land.
The Vibe
Outside of traveling for work, this was my first time to ever explore a city alone, and I felt safe walking around solo. My only complaint is that the weather was rather hot.
Overall, I found Abu Dhabi to be just my speed. It has a relaxed city vibe with pockets of opulence sprinkled within its humble streets. Unlike Dubai, which feels more like Las Vegas, Abu Dhabi doesn't saturate your senses with glitz and glam. The malls aren't as extravagant, 100-story skyscrapers aren't lining the streets, and many residents choose to walk around town instead of cruising in $100K automobiles. Don't get me wrong: as part of the UAE, Abu Dhabi impresses with grand hotels, palaces, and mosques. But overall, it is not as much of a scene as its famous counterpart.


Where to Stay
Even though I stayed in Abu Dhabi for only a couple of days, I managed to split my time between the downtown area and Yas Island. In the downtown vicinity you will find skyscrapers, bars, and an art district. Yas Island, however, offers more of a resort feel, with an indoor amusement park that allows for an escape from the 100- to 135-degree heat, an F1 racing course, and a beach. I am happy I got to experience both areas because the contrast gave me more of an appreciation for the city.

What to Do
It's easy to stay busy for 48 hours or longer in Abu Dhabi. However, my travel plans only allowed for two days before I jetted off to Cairo to see the Pyramids. During my stay at Crown Plaza, the hotel staff was accommodating and ensured I had everything I needed to take in the sights.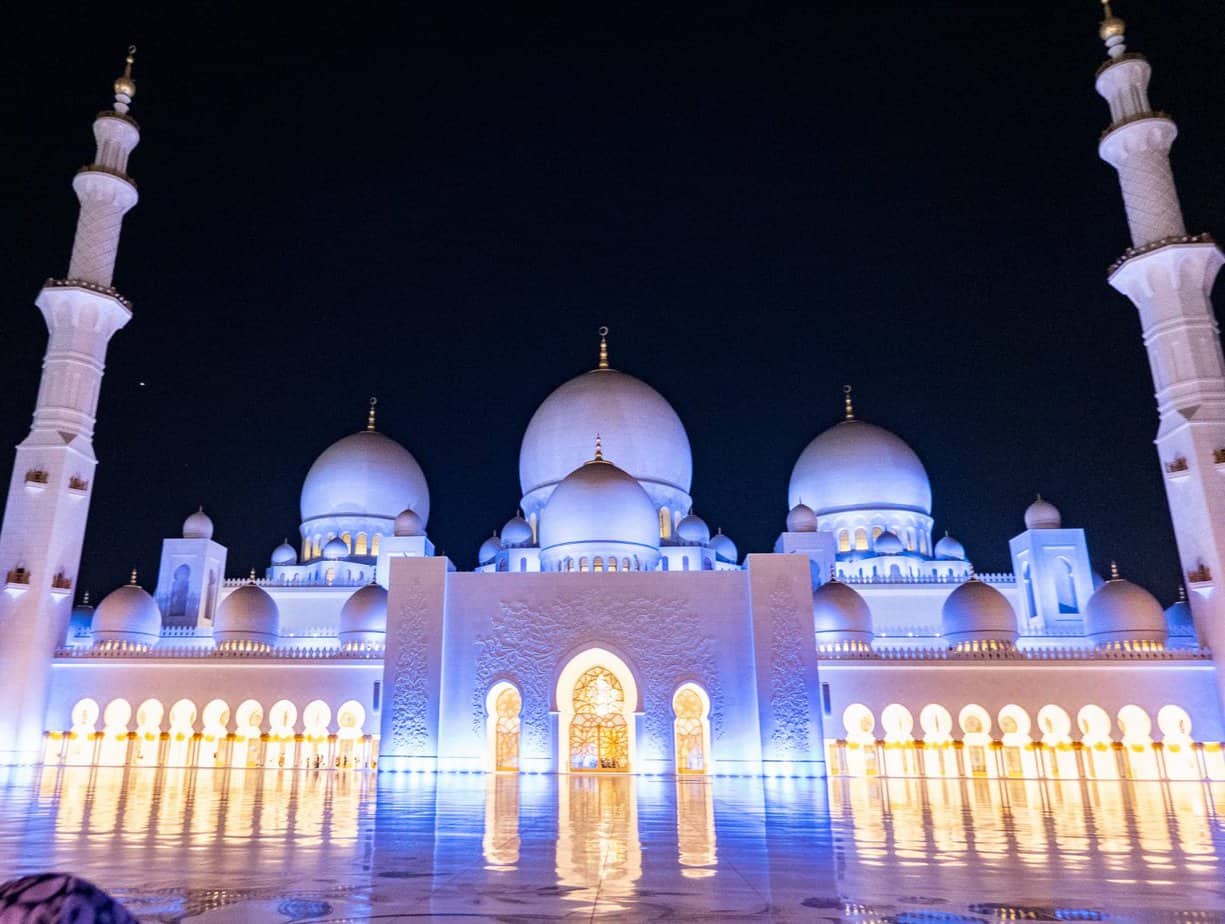 The Grand Mosque
This structure is truly a sight to see. It's the largest mosque in the country, and I was in awe of its size and splendor. The all-white structure is bold and magnificent, and as the sun begins to fall, colored lights illuminate it, offering a different perspective of this wonder.

The Grand Mosque is free to enter, but you must be dressed appropriately. Women must be covered from their hair down to their ankles. If you don't have proper attire, you can buy the correct garment in the gift shops for $15.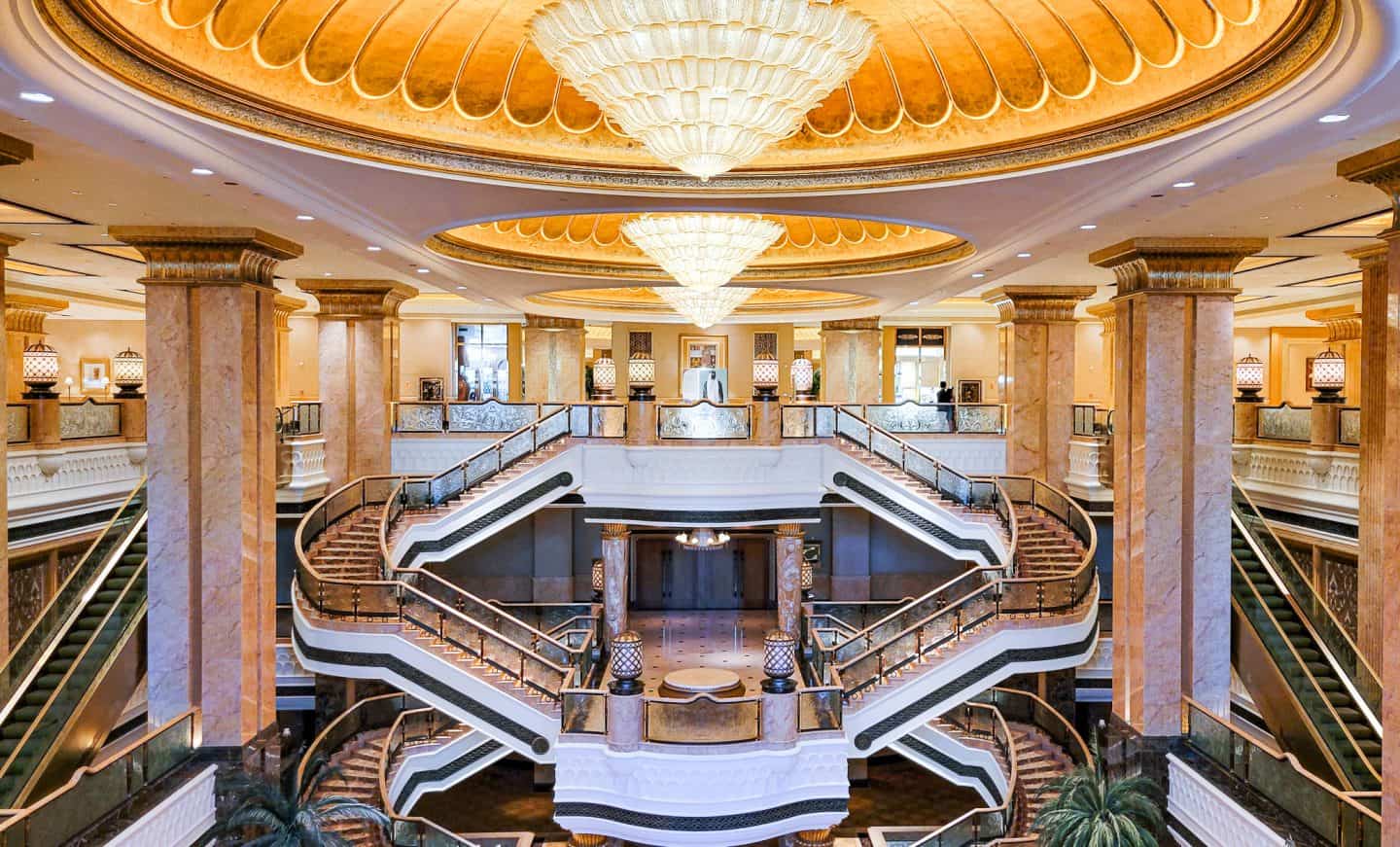 Emirates Palace Hotel
If you don't splurge on your hotel stay in Abu Dhabi, you can still experience luxury with a visit to this five-star hotel, which offers a private beach and excludes luxury as soon as you step foot on the property. I dined here while being serenaded by an elegant singer and pianist, and I am thrilled to have included it in my visit.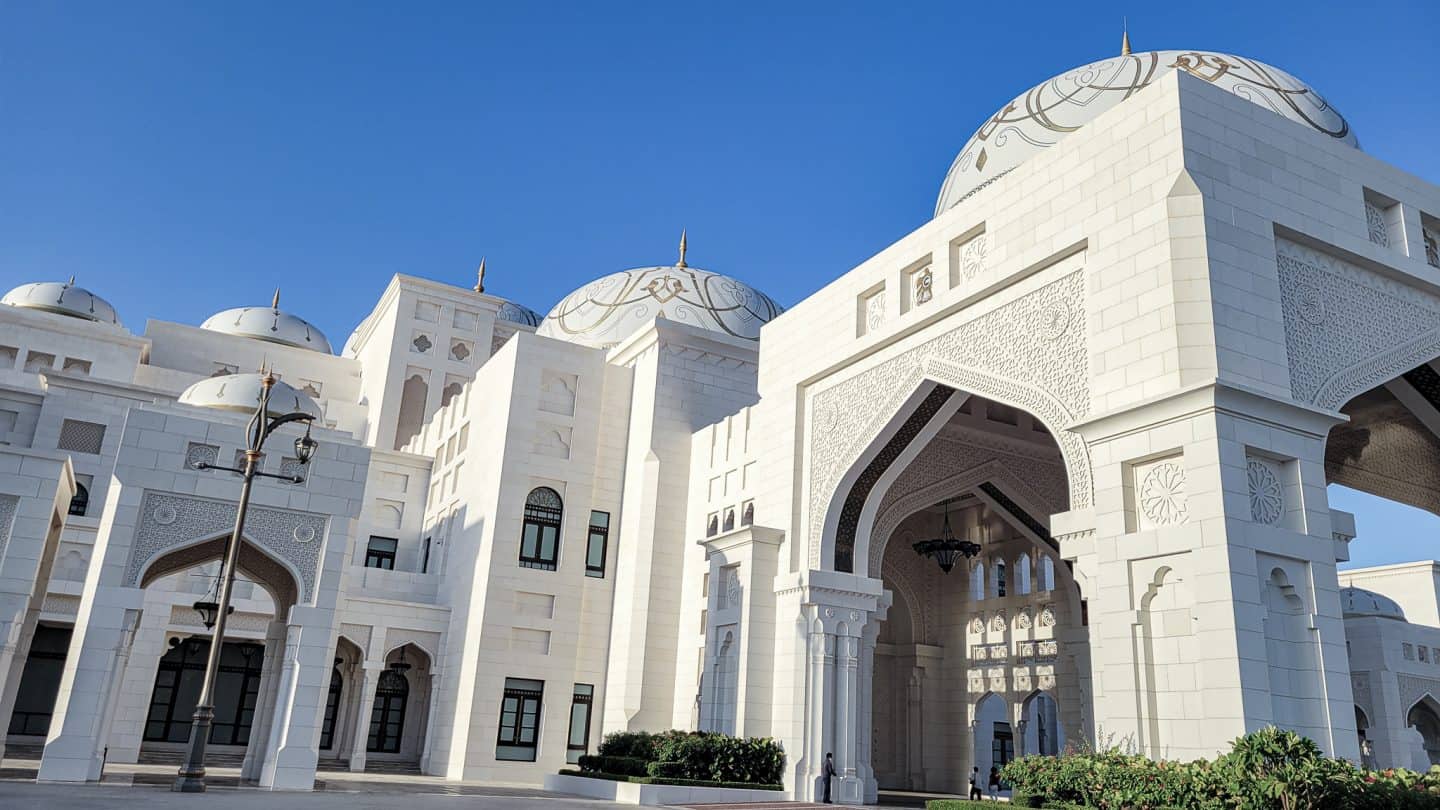 Qasr Al Watan
This presidential palace was one of the most remarkable structures I've ever seen. The lavish entrance made me feel like I was walking into a royal gala. As you tour the palace, you can peruse the different wings featuring elegant meeting rooms and areas where the palace holds press conferences and presidential dinners. You can also learn about the culture and history of the building.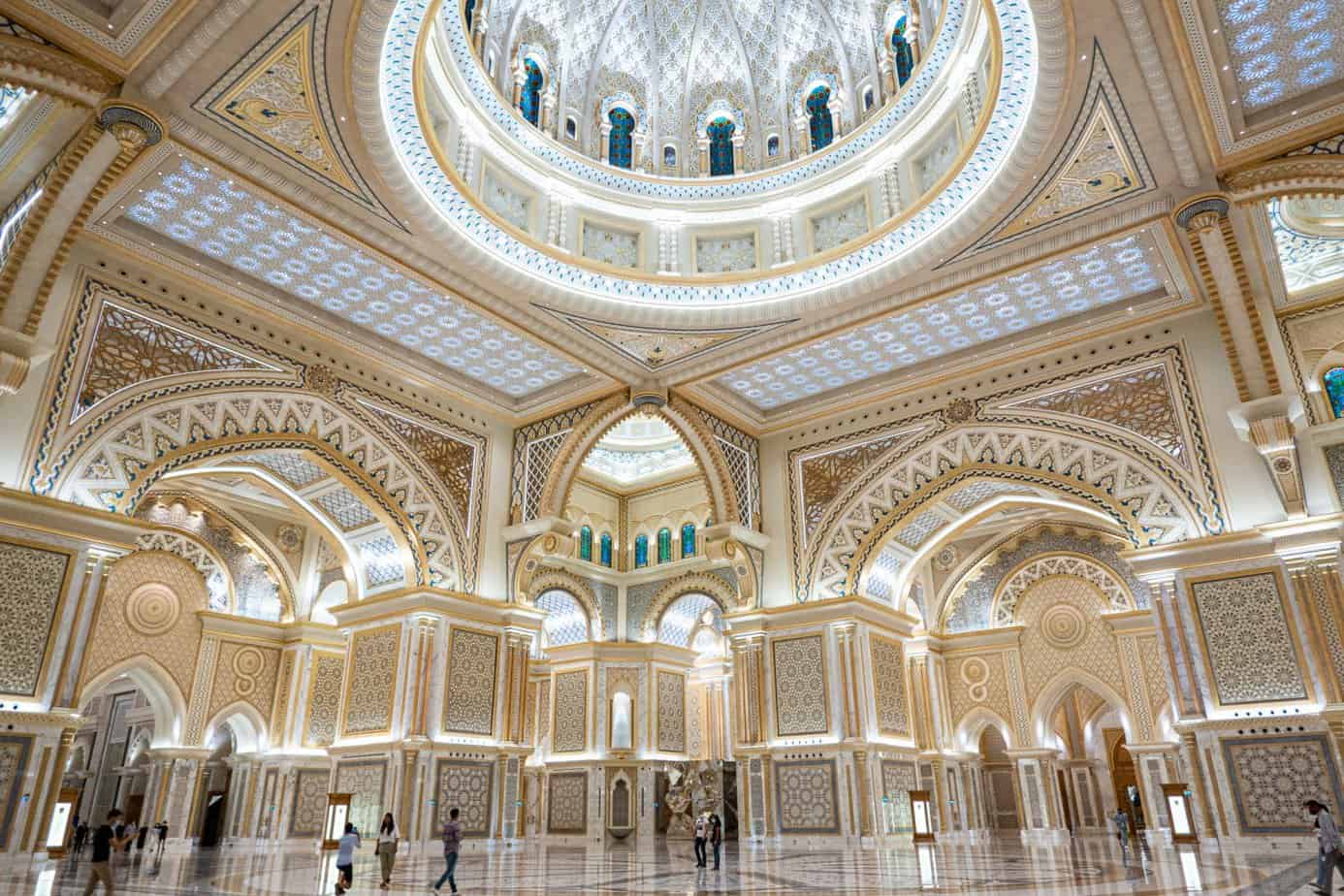 Lourve
Abu Dhabi has a vibrant art scene featuring a replica of the famous Lourve museum in Paris. I unfortunately I did not make it there, but if you are an art lover, add it to your list. I've heard it's fantastic.

Transportation
Since Abu Dhabi is a little more casual than Dubai, you can walk around downtown a bit to explore or grab a bite to eat. I didn't use any public transportation during my stay; however, a train system was just completed linking Dubai to Abu Dhabi, providing a convenient option to travel between these two major cities. If you take a cab in Abu Dhabi, be aware that taxis do not take credit cards without a card reader app–I learned this the hard way! Also, WiFi and internet service can be spotty with international phones, so I recommend carrying cash to pay your taxi driver.
Overall, I immensely enjoyed my time in beautiful Abu Dhabi, and I highly recommend stopping there if you're traveling to the UAE. While the flight is lengthy, the city is vibrant and highly accommodating place for solo travelers, and its architecture is unmatched.
Traveling to the UAE soon? Be sure to check out my Dubai travel guide for key information when traveling to the Middle East.
Now, go explore the world!