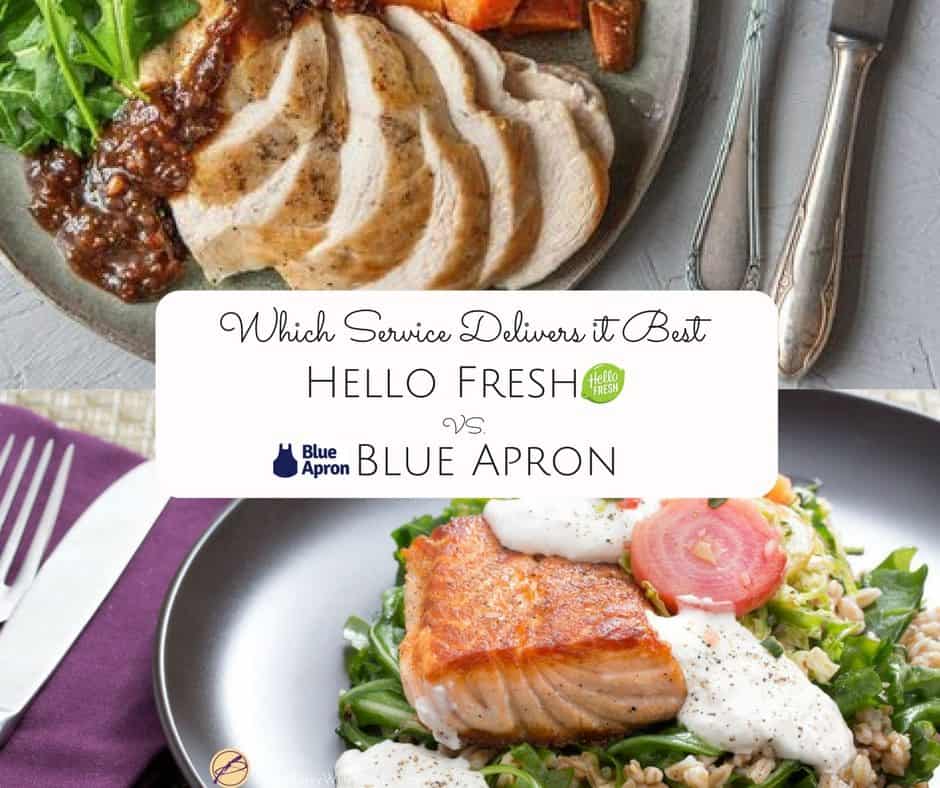 The latest box service to hit the market has an answer to the daily question, " What's for Dinner?". Ready to prepare meal delivery kits like are the newest trend in home cooking and are designed to help take the guess work and hassle out of cooking dinner. So, I am breaking down 2 of the market leaders, Hello Fresh vs. Blue Apron and helping you decide which will deliver your meal best. Plus, don't miss my coupon offers below!
Like with most trends, once they become popular, competitors jump in to get their piece of the action. These pre-portioned boxes are delivered to your door with just about everything you need to prepare an elegant and tasty dinner.
If you hate the thought of grocery shopping, but the idea of having fast food, take-out or delivery every night is no longer enticing your taste buds, then this service may just be perfect for you. All the ingredients you need to make dinner will be delivered to your door each week. Of course, you are paying a premium for not having to go grocery shopping yourself, but the box saves time and offers the added benefit of a variety of meals you may not be accustomed to.
Meal kits provide the chance to try new recipes and mix up your dinner rut with healthy, pre-portioned meals, easy to read instructions and with little prep needed. If you are like me and enjoy the idea of leftovers, you'll need to make plans for lunch the next day because these servings are pretty exact and won't allow you to over-eat.
This service is very straightforward with its plans and pricing. It gives you the option of preparing meals 3x/week with a two-person plan, and 2x or 4x/week with their family plan. The weekly service will run you $59.94 or $9.99/person for the couple plan or $69.92/$139.84 or $8.74/person for the family plan, depending on your meal frequency.

With the option of having ready-to-cook meals delivered up to 5x/week, the pricing is tiered. The overall subscription is a little more pricey, but it also offers more options. You can choose meals for 2 or 4 people, plus there's also a family option which serves 4 and has kid friendly recipes. Though both services offer vegetarian meals, Hello Fresh has a full veggie box and charges less for this option, $59/$109 for 2 or 4 servings a week. The classic option will run you $69 or $11.50/person for meals 3x/week, and the cost per meal decreases with more frequent deliveries. 
In my opinion, one of the reasons for subscribing to either of these services is to get great ingredients with tasty, easy to make recipes. Both deliver on this fact, but with slight differences.
There are 6 options to choose from to complete your weekly subscription, 3 meat, and 3 vegetarian. However, there are system limitations; when you select your first meal, it may eliminate other choices, which I find rather restrictive. If you're a fully carnivorous family like mine or entirely vegetarian, then you have to accept the options provided since there are only 3 of each.

Hello Fresh delivers up to 5 times a week and has a full vegetarian meal box with its own options. Carnivores like myself have more to choose from within the classic box with 5 meat options and a vegetable one. Hello Fresh has also partnered with celebrity Chef Jamie Oliver to provide one of his recipes each week. 

Overall, both provided tasty recipes that I quite enjoyed preparing. It was refreshing not having to plan out dinner and shop for all the ingredients, and I would recommend trying the service to unleash your inner home cook. Although I wouldn't use it every week, the idea of having these meals every once and a while is appealing. They make it convenient to pause your week's delivery or if you're not satisfied simply cancel at any time.
Since I am a home cook who enjoys letting my creative juices flow without a recipe, these boxes don't give much leeway for creativity. Plus, my husband loves having leftovers for breakfast/lunch, and the portion sizes were just enough to get him full, without a morsel to be enjoyed later.
My week of Blue Apron meals arrived with pork, fish and chicken dish, along with a colorful step-by-step recipe for each. Even as an experienced home cook, their recipes offered techniques I had never used and now incorporate into my meals. The most basic dish, the Seared Roast Pork, provided a new way to make mashed potatoes I hadn't tried before. My favorite dish had to be the Chicken Meatballs & Creamy Polenta, I've never made chicken meatballs, and they were juicy and flavorful. All in all the recipes were creative and filling, but the portion sizes were borderline small, and they skimped on the vegetable sides.

This service came out on top for me. I preferred their weekly variety of dishes and how they offered more options for delivery. I especially enjoyed making Shrimp Risotto for the first time, which has always been on my wish list. Even though Hello Fresh is a bit more expensive, I think it's worth it. With a couple of recipes, I discovered they didn't portion the ingredient out, but simply included the entire package, like the prosciutto and tomato paste tube. This was a bonus for me since I am someone who cooks frequently and welcomed the additional ingredients. Hello Fresh also takes the time to package all the ingredients for each recipe into its own box, which I find very convenient for use and storage.

Honestly, whichever service you choose, they both offer tasty meals, healthy portions and a variety of recipes to help you get dinner on the table in a flash!
Bon Appetite!
Coupons:
Pin Me

Have you tried either of these services or their competitors? How would you rate your experience?