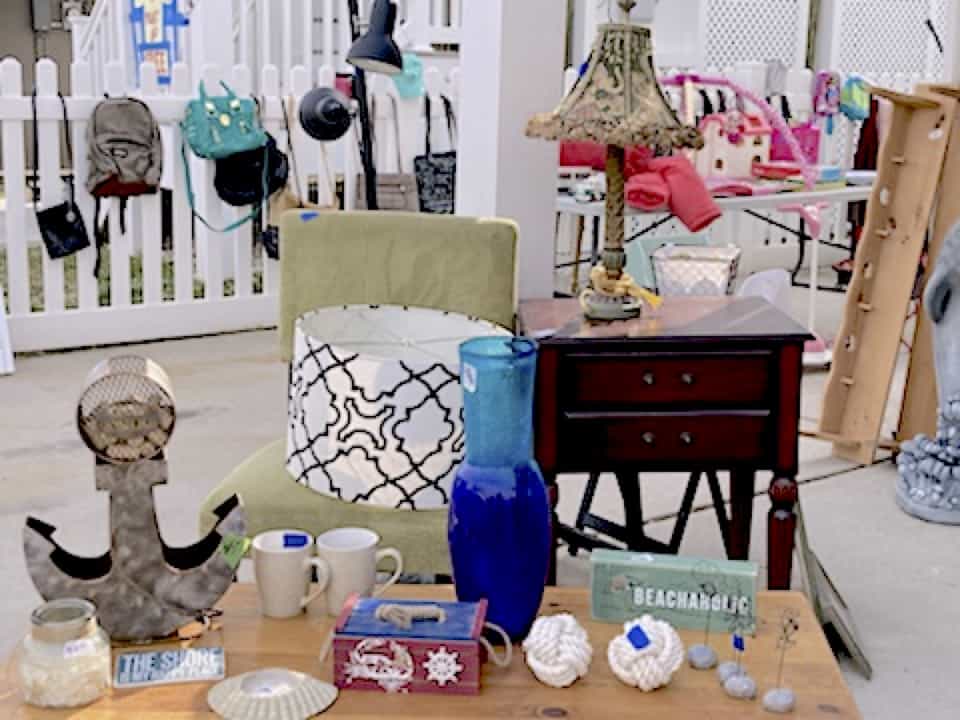 The calendar says it's almost summer, and thankfully the temperatures are cooperating, making it a great season to check out tag sales and thrift stores and create some fun, useful hacks/restorations for your home. With vaccinations increasing and the loosening of COVID restrictions, I'm seeing signs of house sales and thrift store reopenings all over.
I don't know about you, but I missed thrifting over the last year. Shopping vintage online just didn't do it for me, so I shopped my garage and basement instead to see what I could upcycle for practical use in my home. I also had some lucky finds on the street during my morning walks.
I'm a huge advocate of reusing and repurposing items that are in good shape and avoiding dumping in landfills. Hacks are de rigueur. If you're handy and have an imagination, you can take something like a beat-up aquarium table and turn it into a landing strip at the front door.
In case you're out of practice or new to thrifting, here are some guidelines to ensure that you get what you need (or an unexpected find 😉) and that it will serve your purpose while reflecting your vision for your home. For example, these WWII silk Union Jack flags were a perfect fit as bathroom window curtains.
Before you go shopping, it helps to have a list of items you are looking for along with measurements for their desired size. At the location make sure you inspect carefully before buying so you don't get stuck with an unusable item. Look for any damage, such as stains, unexpected holes, irreparable wear and tear, etc., and decide if you have the knowledge and resources to fix any flaws.
Once you've got that perfect piece at home and you're ready to restore, where do you begin? If you're a novice or unsure, your local hardware store, YouTube, or Pinterest can be an invaluable resource for recommendations and creative inspiration. So, let's start with the prep to repurpose your thrift store finds!
How to Repurpose Your Thrift Store Finds
Vacuum to get rid of dust and cobwebs. Wash the item, be it wood, metal, plastic. I recommend gentle soap like Dr. Bronner's Castile and microfiber cloths, all found at Bed Bath and Beyond. If you fear any bacteria or virus, try Spray 9 (wear a mask when using, as it can be strong).
Spray white vinegar or sprinkle baking soda to get rid of odors and leave in the sun to air out and dry thoroughly.
Sand or have the piece sandblasted (can be expensive but worth it to have a smooth, rust-free surface to work with).
Decide on paint, stain, or other types of finish. I love Rustoleum's array of spray paint not only for metal but also for plastic and wood. They also offer paint in cans if you prefer using a brush or roller, but colors are limited. Stencils from Michael's are also another option to make a one-of-a kind piece.

Silver/Silver-plate/Aluminum
Most metals can be cleaned in warm, soapy water to remove dirt/dust. If an item is rusted, I recommend a paste of cream of tartar and water. Leave it for a bit, and then rinse and dry with a soft cloth. Vendors at Brimfield recommended Wrights SilverCream for my silver-plate, and it a miracle tarnish remover. For a more natural option, try a paste of baking soda and water to remove superficial tarnish.

Silver and silver-plate will stay shiny the more you use it, so no need to save for special occasions. I use the china dishwasher setting for my flatware, although handwashing is recommended; use a method you're comfortable with. If all of the metal has worn off, you may need to find a metal refinisher like Frank Loeffler @ (732) 615-8654 in Shrewsbury, NJ. Specializing in brass, he has restored beds, lamps, planters, and other metal items for clients and me. And yes, he ships!

Vintage Linens/Clothing
Restoration of vintage table and bath linens are a specialty of mine and a recent service I now offer to my decluttering clients. I love the challenge of bringing stained linens back to life to enjoy regularly. Here are some of my tips:
Soak cottons in bleach (whites only), Borax, or OxiClean, then hand-wash with a gentle soap or in a front loader washer on gentle cycle. Dawn or cornstarch paste are my go-tos for removing grease stains. Depending on the type and severity of a stain, you may have to wash it a few times to see an improvement.
The sun is your friend, so line-dry outside to whiten and bleach naturally. No outdoor space? Let the item air-dry, as machine dryers can set stains permanently.
Vintage clothing can be tricky, so make sure it's worth the effort before purchasing. Inspect for holes, ripped seams, broken zippers, missing buttons, and odors and determine if you can repair any issues or if it is worth the expense to outsource to a tailor or weaver. Sometimes a local dry cleaner can do simple repairs.
Delicate fabrics are best served by hand-washing gently if you're willing to experiment or follow the original washing instructions if available. If you're unsure, ask a reputable dry cleaner, but know that dry-cleaning sometimes can set stains. I've had great luck with Hallak Cleaners in Manhattan. They're pricey but worth it, and yes, they ship too!
So now you have the tools to turn your thrifting finds into unique and customized items in your home! However, the declutterer in me would be remiss in reminding you that thrifting can be addictive. When you bring a new treasure home to your house, make sure that you practice the one in/ one out method to keep your home light and clutter-free.
Have fun, and see you at the next yard sale!
[simple-author-box]