Memorial Day is soon approaching, which means many of us will be attending barbecues and outdoor gatherings over the three-day weekend to kick off the summer season. A staple at summertime get-togethers, potato salad is always a delicious option for outdoor fare. But I'd like to introduce you to a new version of grilled potato salad that I originally made when I hosted cooking segments for Stop and Shop grocery stores. Combining tangy homemade vinaigrette with horseradish and grilled sliced potatoes, this recipe is healthy, easy to make in big batches, and simple to serve.
Watch the Recipe on Studio 512

Healthier Than Traditional Potato Salad
Grilled horseradish potato salad contains no mayonnaise, so it's healthier than traditional versions. It is great for those who are eager to socialize but still need to work off quarantine weight gain. Another bonus: because it contains no dairy products, this potato salad can be left outside in the heat for far longer than traditional versions, so it's the perfect addition to summertime barbecues or picnics in warm weather. In fact, the longer it sits, the more the vinaigrette absorbs into the potatoes, locking in its zesty flavors. Make sure you bring enough to share, because my twist on this summertime staple will be gone before you know it!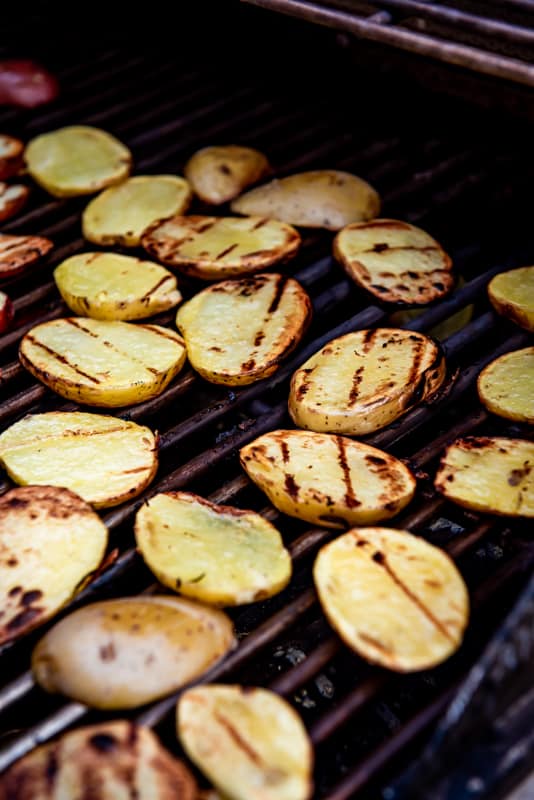 Simple to Prepare
To get started, boil your potatoes and slice into thin rounds. Then, spray or brush potatoes with olive oil and sprinkle with horseradish, which is the real kicker here. It's so zesty that it really takes this recipe up a notch.
Grill potatoes over low to medium heat until grill marks are visible and potatoes are browned and tender.
Create your own vinaigrette dressing by mixing together white wine vinegar, olive oil, Dijon mustard, red onion, horseradish, lemon zest, parsley, and red pepper flakes.



Pour horseradish and vinaigrette mixture over grilled potatoes and mix well, making sure to coat all sides.
Voila! A healthy substitute for traditional potato salad that will have everyone at your barbecue coming back for more this summer.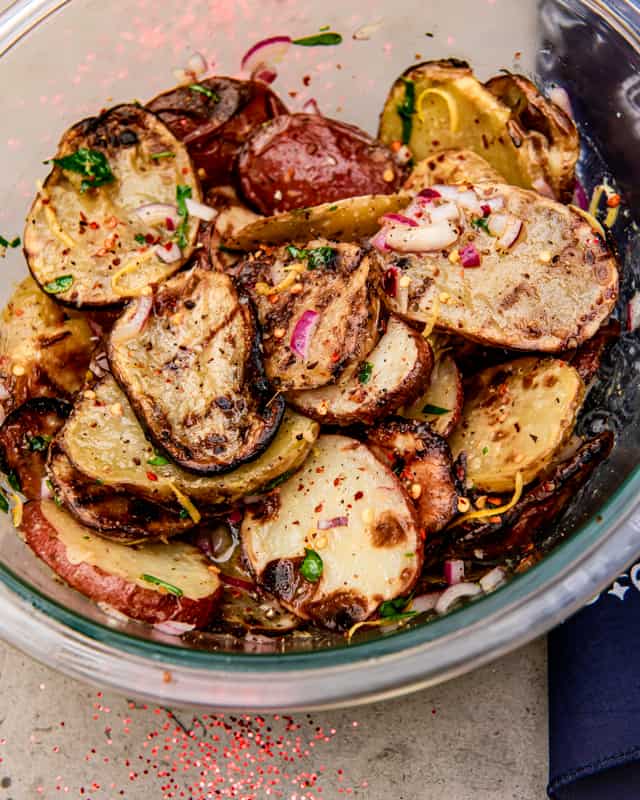 Zesty Grilled Potato Salad with Dijon Horseradish Vinaigrette
Ingredients
1

lb.

red potatoes

1

lb.

white potatoes

2-3

Tbsp.

horseradish, as desired

1.5

oz.

olive oil spray

4-6

Tbsp.

olive oil

1/3

c.

white wine vinegar

1

Tbsp.

Dijon mustard

1/2

c.

red onion

finely chopped

2

Tbsp.

lemon zest

2

Tbsp.

fresh parsley

chopped

1/2

tsp.

crushed red peppers

4

c.

water, for boiling
Instructions
Bring 4 c. water to a boil in a large saucepan. Add potatoes; cook 5 to 7 minutes. Drain, pat dry, and cut potatoes into rounds 1/4" thick. Spray with approximately 1.5 oz. olive oil spray, or brush with 2 Tbsp. of olive oil if using liquid version. Sprinkle potato rounds with 1-2 Tbsp. of horseradish, as desired.

While the potatoes are boiling, coat grill rack of outdoor grill with nonstick cooking spray and preheat it to medium low (250-300°F) to prevent potatoes from burning. If you don't have an outdoor grill, you can grill potatoes in a grill pan over medium heat.

Depending on your grill and your desired temperature, grill potatoes for about 10-15 minutes or until browned on the edges and tender, turning occasionally. Place the potatoes on a wire rack to cool slightly, then transfer to a large mixing bowl.

Combine vinegar, 4 Tbsp. olive oil, mustard, onion, remaining 1 Tbsp. horseradish, lemon zest, parsley, and red pepper flakes in a small bowl. Add to potatoes, stirring well. Serve warm or chilled.
Here in the Texas heat, I'm looking forward to making this recipe all summer long. Enjoy it, and have a happy Memorial Day!
Stay fabulous,