Watermelon season is in full effect, so how about using this summer fruit to make some delicious cocktails?! During the summer months a great frozen drink can leave you feeling refreshed and satisfied. The problem with some of these tropical treats is that they are packed with extra sugar. This recipe avoids that by using fresh fruit sweetened with just honey, which is far better for you than sugar. Tequila and watermelon are a match made in heaven, so I combined these flavors and blended them together to create this spicy yet refreshing cocktail that you can toast to the rest of the summer. Cheers!

Jalapeño Tequila
The base for this cocktail is tequila, and even though I am not a big tequila drinker, I love it when it is mixed with fruit and blended. For this recipe you will want to buy your favorite blanco (white) tequila; it isn't aged and mixes well with fruit. To infuse the tequila, I sliced up one jalapeño, added it to the bottle, and let it sit overnight. If you don't like a lot of spice, you can always use less, perhaps only half of the jalapeño.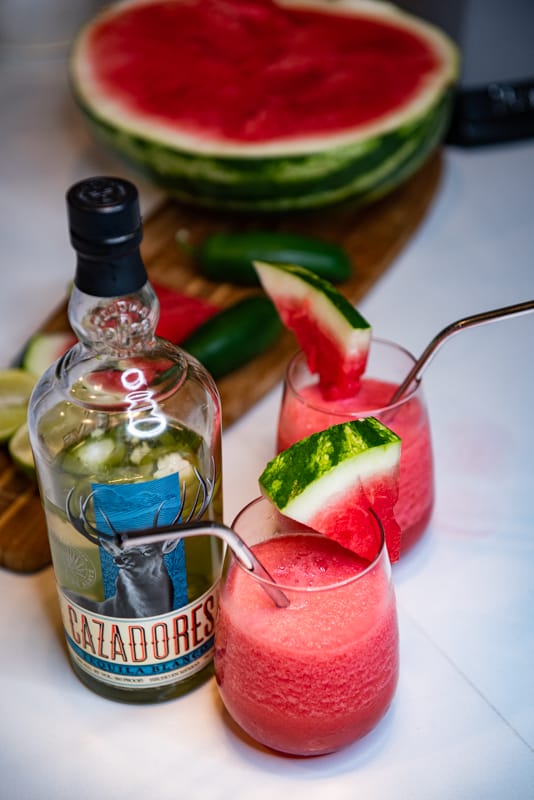 Blending Your Cocktail
The key to a great frozen cocktail is blending it well. If you think that every blender works the same, you are mistaken. A great blender will crush the ice to perfection while chopping up all of the fruit into tiny pieces that will fit through your straw with ease. I recently purchased a new Ninja Smart Blender/Food Processor, and I am obsessed. No more stopping and stirring—it has both a smoothie and frozen function that mix ingredients better than any blender I have ever had! If you are making any frozen drinks this summer, I highly recommend it.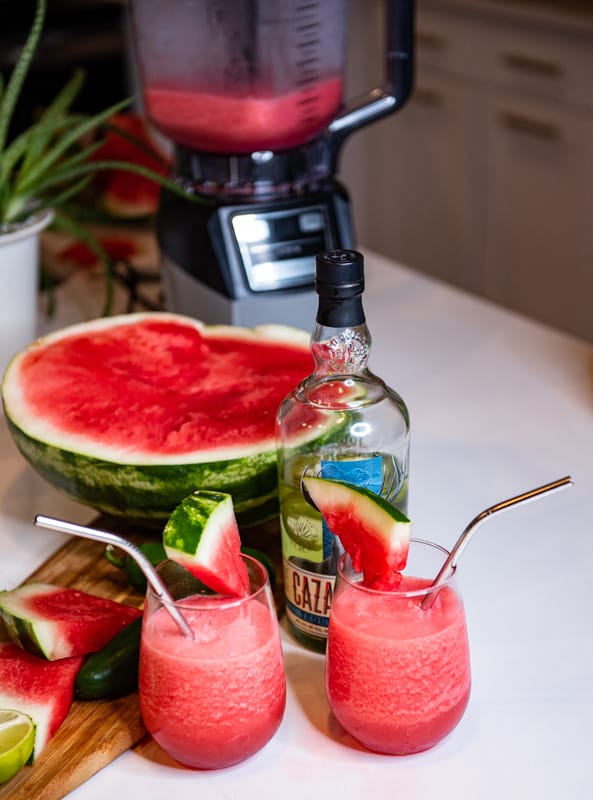 The last time I served this cocktail it was a huge hit! Watermelon and tequila are an amazing pair, but if you want to put a different twist on this drink, try adding pineapple to it and it will be just as delicious.
Stay fabulous,



Jalapeño Tequilla Watermelon Chillers
Refreshing Cocktail for Summer
Ingredients
2

cups

watermelon

chopped (fresh or frozen)

3/4

cup

tequila infused with jalapeño

1/4

cup

honey

1/4

cup

lime juice

3

cups

ice
Instructions
Add all ingredients to blender and mix on high until well blended. Transfer to glass, garnish with watermelon slice, and enjoy.
Recipe Notes
You can also add fresh pineapple chunks to the mixture to give a creamier tropical flare.