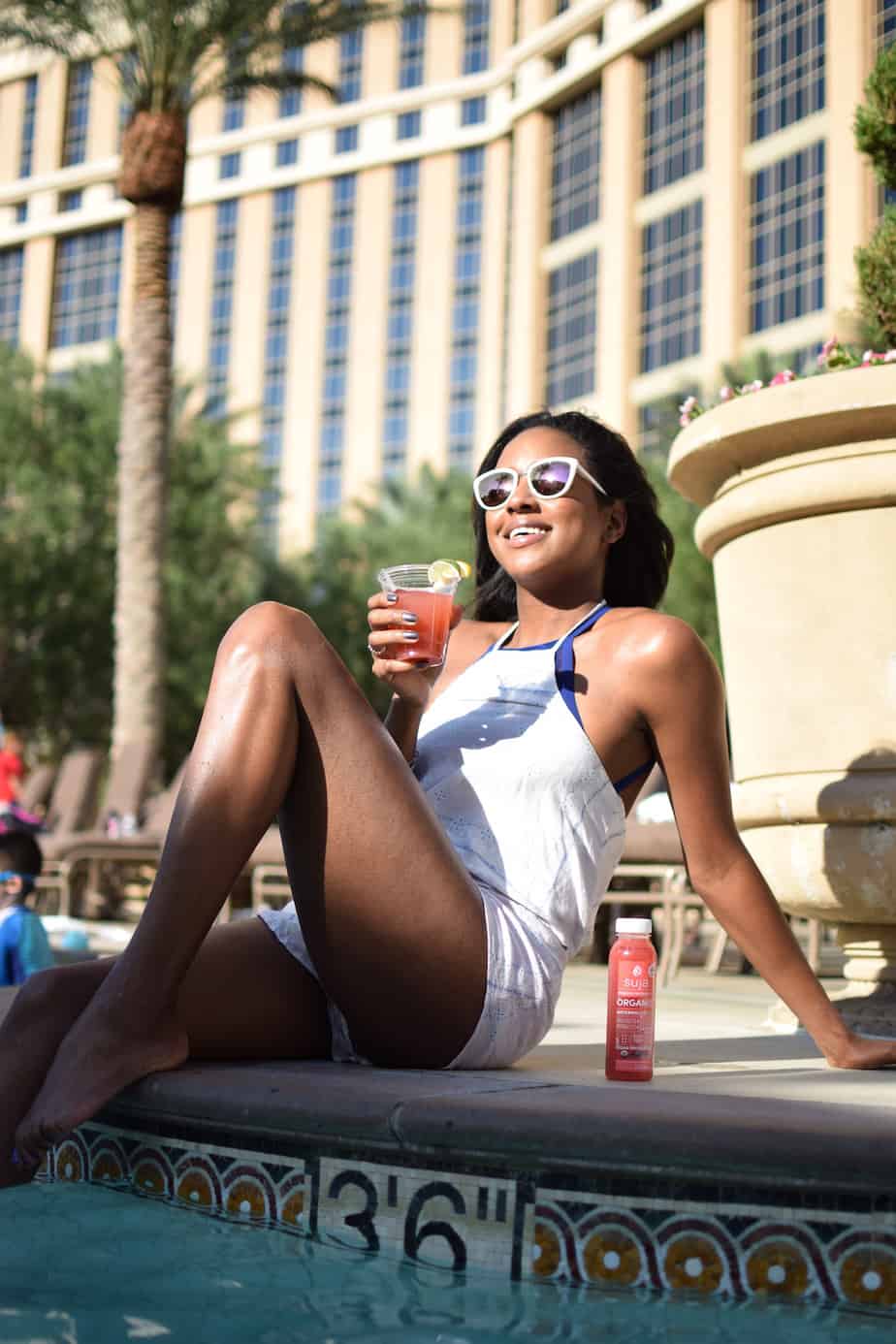 There is nothing like sipping an icy, refreshing beverage poolside or enjoying the taste of a delicious summer cocktail at a swanky rooftop soirée. Rosé is generally my go-to for summer, but a cocktail certainly hits the spot when I need something a little stronger. If you think you have to wait until Friday night to get your drink on, think again! Why not be your own bartender and mix it up this summer? I've got some recipes to make mixology a breeze.
Instead of adding sugary mixers to create a delicious adult beverage, how about incorporating your favorite cold-pressed juice or kombucha for a healthier, flavorful concoction? These probably aren't your first choice when it comes to alcoholic drinks, but these healthy alternatives add a lot of taste with just a few simple ingredients. Check out the cocktail recipes I've crafted that will have you saying "cheers" all summer long!

Why Cold-Pressed?
I realize that most people buy cold-pressed juice to be healthy, not to mix with drinks. But, if you are going to enjoy a drink anyway, why not make your cocktail with a mixer that has no added sugar or preservatives? Unlike regular juicing, cold-pressing doesn't rely on heat when separating fiber from the cells of fruits and vegetables. As a result of the zero-heat extraction, cold-pressed juice preserves valuable enzymes and vitamins, making it a healthier alternative to regular juice and a great potential mixer in alcoholic drinks.
Kombu-what?
For those of you unfamiliar with the name, kombucha is made by fermenting tea with bacteria and yeast. Due to the fermentation process, kombucha contains a large number of healthy bacteria known as probiotics. These bacteria line your digestive tract and support your immune system by absorbing nutrients and fighting infections and illnesses. Many people don't find the taste of traditional kombucha appealing, so brands started producing more flavorful and fruitier varieties to enjoy.
I'm excited to share three recipes I created that combine the best of two worlds: healthy juice and alcohol.

PASSION FRUIT MIMOSAS
These are perfect alongside brunch or as an afternoon delight. I swapped out traditional orange juice for passion fruit kombucha, which made the drink a bit lighter and more effervescent.
Recipe:
3 parts champagne or Prosecco
1 part Suja Pineapple Passion Fruit Kombucha or any other fruit flavor
Directions: Simply pour and serve. Feel free to use as much or little juice as you like.

STRAWBERRY RASPBERRY LEMON COOLER (serves 2)
I could drink this all summer long. The juice's tart, fruity flavor paired with the sweetness from the agave and the kick from the lemon makes this cocktail the perfect summer combo. Depending on how sweet you like it, you may want to add honey to your recipe to ease the tartness.
Recipe:
3 oz. Suja Strawberry Raspberry Probiotic or your favorite tropical cold-pressed juice
2 oz. Vodka
0.5 oz. lemon juice
1 Tbsp. agave
Directions: Shake and serve in two glasses over ice (should be half full). Top with club soda.

MIXED BERRY MARTINI
Give your dirty martini a break and try this mixed berry version instead. You can make it as boozy as you like, but I prefer a little more balance to cocktails. If you don't like the extra citrus, you can always omit the lime.
Recipe:
2.5 oz. Vodka
3 oz. Mixed Berries Kombucha or cold-pressed juice
0.5 oz. lime juice
1 tsp. honey
Splash of club soda
Directions: Shake with ice, strain, and serve

Cheers to summer! Surprisingly one of the best drinks I've had was a Prosecco topped with cold-pressed juice. Even if you don't follow my recipes, let me know if you will be trying some cold-pressed cocktails this season. I'd love to hear your favorite juice concoctions in the comments below!
Stay fabulous,