When I'm having a good hair day, I feel like I can take over the world. When my hair moves naturally, has body, and always looks in place no matter where it lands, I feel better about myself and my capabilities. I walk with extra pep in my step, I smile a little more, and I feel confident that I'm harnessing my day's full potential.
So, if great hair days can do all that, wouldn't you want to do everything possible to have more of them? Trust me—I don't have time to spend hours in the salon to keep my hair looking great. So when I find a product that gives me good hair days more frequently, I feel compelled to share it.
Keep reading to see how charcoal is my secret ingredient to having more great hair days.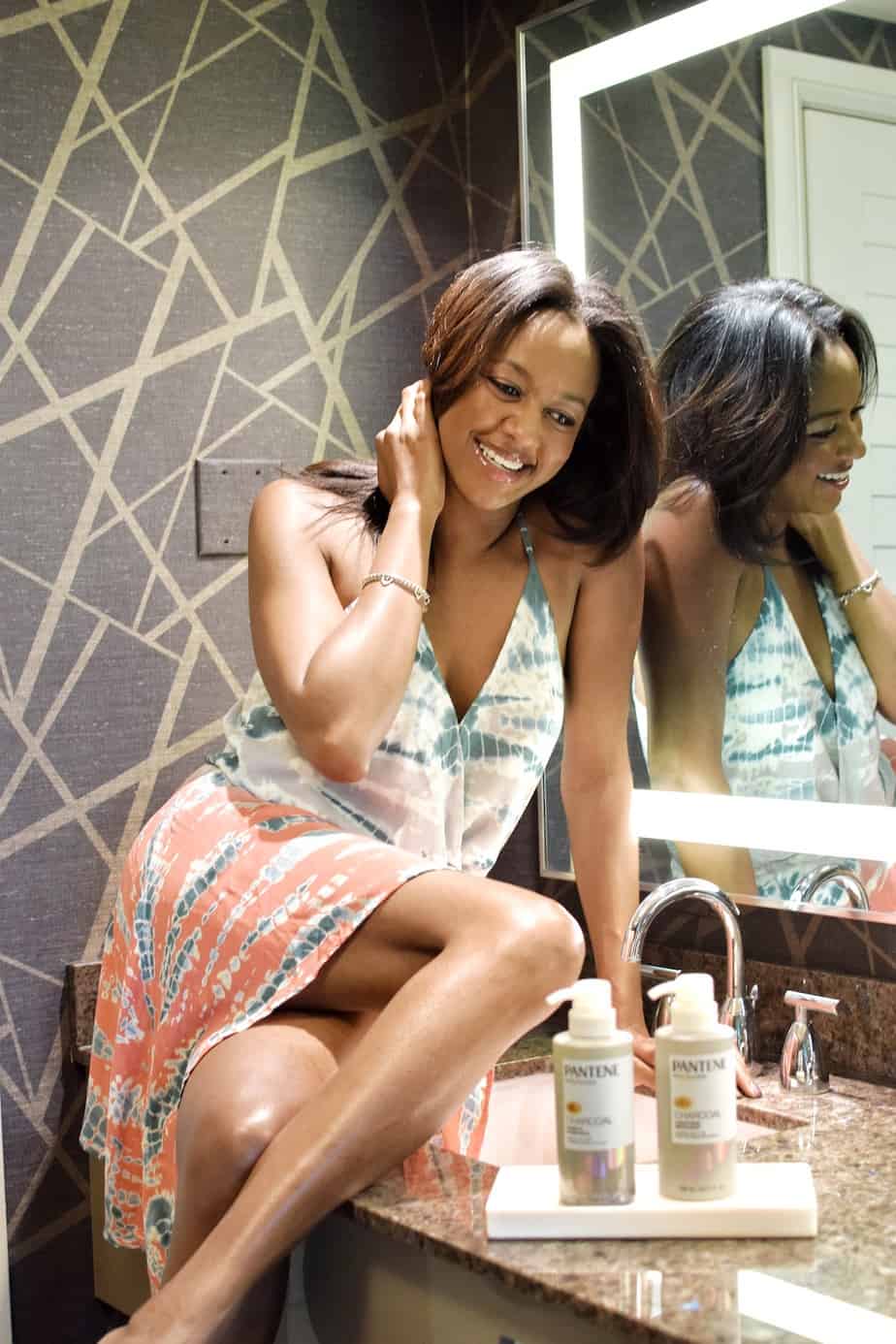 Not Just for Grilling
If you'd told me months ago that charcoal is the secret to beautiful hair, I'm not sure I would have believed you. But activated charcoal is an ingredient found in many beauty products, proven to help remove toxins from skin and hair. Activated charcoal disposes of the build-up that comes from use of daily hair care products and gently purifies hair, absorbing impurities like a magnet and drawing them out while leaving you with clean hair that feels lighter and has more volume—not just on the first day, but also in between washes.

When to Use Charcoal Shampoo and Conditioner
If you are like me and only wash your hair once a week or so, charcoal products will become your new BFF. I recently discovered Pantene Charcoal Collection's Shampoo & Conditioner – that is specifically designed to purify hair that isn't frequently washed, and I was so glad I did. The Pro-V blend of activated charcoal, pro-vitamin B5, and antioxidants has given my hair more body than it's had in a long time. Coupled with the activated charcoal, the silicone-, paraben-, and dye-free formula cleanses my hair and scalp to help remove dirt and impurities, while the lightweight conditioner leaves my hair soft and shiny. Especially during the summer months, I am constantly adding cremes and oils to my hair to smooth it in the humidity. I can't describe how wonderful it feels to wash away all of that buildup and start fresh will lightweight hair that is full and glossy. When I use Pantene Charcoal Collection Shampoo & Conditioner, my style lasts a lot longer, and days later, I still feel like I've just stepped out of a salon.
Tips for Great Hair Days
Wondering what else you can do to keep your hair looking salon-fresh? Here are some tips to keep your bad hair days few and far between:
Don't over wash. The key to beautiful hair is NOT daily shampooing. Washing your hair too often can strip your scalp of its natural oils, causing dry hair and breakage. The Pantene Charcoal Collection supplies nutrients that keep hair nourished in between washings, so my hair looks great days later.
Change up your part. It may sound like a minor change, but switching your part from one side to the other can change your whole look. It can also add a little extra volume to the front of your hair.
Relieve stress. It's not just bad for your health, but stress can also damage your hair, wreaking havoc on your scalp and your hair strands. Find other ways to relieve your stress, like yoga or exercise. Great hair, namaste.
Use heat sparingly. Straight and sleek or full and curly, no matter how you apply heat, it will damage your hair over time. Once you style your hair, use tools like rollers to preserve your curls or wrap your hair at night to keep it smooth.
Try a silk scarf or pillowcase. Protecting your hair every night is a great way to ensure more great hair days. I always sleep with a silk pillowcase to help prevent breakage.
Days Later and My Hair is Still Looking Fab!
One thing I have learned is that life isn't perfect, but your hair can be. Take a new approach to your shampoo and conditioning routine, and more great hair days await.
The Pantene Charcoal Collection is now available for purchase online and at your nearest Target location!
Stay fabulous,
This is a sponsored conversation written by me on behalf of Pantene. The opinions and text are all mine.