One of the first things I learned from my husband is that the best salmon comes from Alaska. I've listened to numerous stories about of his days as a commercial salmon fisherman and dipnetting experiences back in Anchorage. Getting fresh Alaskan Salmon in the "lower 48" does come at a cost, but it is totally worth it. I found this beautiful piece of fish at Whole Foods to make pan seared Alaskan salmon with fresh dill, lemon, and capers. 
For this recipe, I took the side of salmon and cut into two pieces, drizzled it with olive oil, rubbed some minced fresh garlic on it and seasoned with salt. I then added the capers, lemon, and dill into the pan with a little butter and made a delicious sauce that went well with the lentils and green beans I served it with. You will see that Alaskan salmon doesn't need much to bring out the taste, it is naturally more flavorful than its Atlantic counterpart. It was an elegant, restaurant quality meal that took only a little time to prepare.
Don't be fooled, not all salmon is the same. The Atlantic varietal pretty much comes as is, but the Pacific salmon offer a bit more variety. Due to its firmer texture, I am not a huge fan of sockeye, so for this recipe, I would recommend King salmon, if you can find it.
Guide to Alaskan Salmon
King (in season May to June)
Also called Chinook, this is the largest Pacific salmon species (average adult weight is 20 lb., but it can go up to 50 lb.). It's the earliest to market and the most sought after, prized for its high-fat content and melt-in-your-mouth flesh that ranges in color from ivory to deep orange-red.

Sockeye (in season mid-May to late July)
Known as "red salmon" by fishermen because its skin changes from gray to bright red during spawning season, sockeye is a smaller species (average weight is 6 lb.) with the firmest texture and an intense, rich flavor.

Coho (in season August to September)
Also called "silver salmon" for its bright, silvery skin, coho's deep orange flesh is firm and meaty, with a more delicate flavor than king salmon. Cohos are the second largest species, with an average weight of 12 lb.
Keta (in season June to September)
Formerly called chum, this medium-size salmon (average weight is 8lb.) has firm, light orange-pink flesh, a mild flavor, and relatively low-fat content. It's often smoked, but recently, it's become more popular as an affordable fresh fish. Sushi lovers prize keta's large, juicy eggs.

Pink (in season mid-June to mid-September)
The most abundant of all the species and the smallest (average weight is 2 to 3 lb.), pinks have rosy flesh, tender texture, and the second-highest fat content. They are often smoked and canned but have recently gained favor as an economical fresh or frozen choice for those who appreciate mild-flavored fish.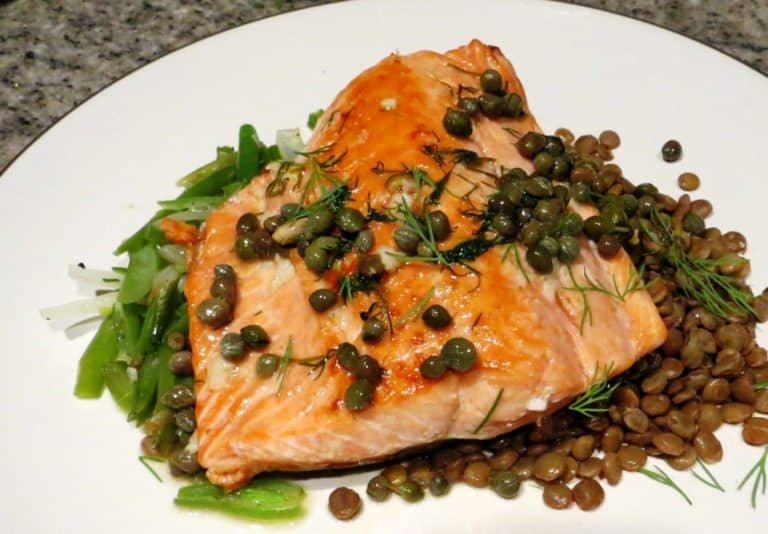 Pan Seared Alaskan Salmon with Lemon, Dill & Capers
Ingredients
1

lb

Alaskan Salmon Fillet

2

cloves

Garlic

minced

1/2

Lemon

2

Tbsp

Capers

1/2

Tbsp

Butter

2

tsp

Fresh Dill

Olive Oil

Salt
Instructions
Cut your fillet of salmon into 1/2 Lb. pieces. Drizzle approx. 1 Tbsp of Olive oil onto the fish. Season with salt on both sides and rub 1 Tbsp of minced garlic into the flesh side of each piece of fish.

Add 1 Tbsp of olive oil to a skillet and heat over medium-high heat. When the pan is hot, place the salmon in, skin side down and let it cook for about 5 mins.

Making sure the skin has lifted from pan, flip the fish and let it cook for another 3-4 mins for medium and a little more for medium well.

When the salmon is cooked, removed from the pan. In the same skillet, add the butter, capers, 1 tsp of dill and the juice of the lemon. Let the sauce reduce for about 3 min. Pour directly over fish and serve.
Pin Me