One of the best things about living in California is its amazing wine. If you didn't already know, I am a bit of a wine snob. I am one of those people who comments on the tannins and says stuff like, "This bottle needs to breathe." The good news is that you don't have to be a sommelier to enjoy great wine. Whether you are a wine enthusiast or someone who just likes to enjoy a glass, planning a trip to wine country may be the perfect destination for you. It's a fun getaway for a girls' trip or can be a romantic weekend for you and that special someone. Before you head out with wine glass in hand, read on to see how to enjoy a weekend in wine country that you will never forget.
Napa or Sonoma
Wine country consists of two regions: Napa and Sonoma Counties. Due to the sheer size of these combined areas, it would be less enjoyable to try to visit both regions in one weekend. Sonoma is very spread out, and it takes time to travel from winery to winery. We had a little extra time and wanted to get the best of both, so we spent two nights in Sonoma and then two nights in Napa.
The two counties provide different experiences when visiting. Both are full of great wine and food, but Napa is a little more expensive all around. With most tastings in Sonoma starting at $25–$45 per person, you can expect Napa to be $35–$50 per person and possibly more at the nicer wineries. I have spent time in both regions and will say that Sonoma is a bit more relaxed and offers different wine varieties from Napa due to what is grown there. However, Napa provides more of an elevated wine and dining experience. Honestly, it all depends on your preference, but I am a Napa kind of gal myself!

When to Go
Wine country is open for business all year long, and most wineries are open seven days a week. Every part of the year will offer something different, so it depends on what you are looking for, but know that you can't go wrong any time of the year.
We visited in the off-season, which typically runs from January–March. The grapes have already been picked from the vines, but during this time you can take advantage of lower hotel rates and less congested wineries. From March–May, everything will begin to bloom, which makes for pretty landscape photo opportunities. During the summer months of June–August, wine country is filled with food festivals, art shows, and a big 4th of July celebration. I have also visited in October, which is an ideal time to go because all is beautiful in wine country and the autumn colors are certainly a sight to be seen.
Where We Stayed

Strolling around the quaint streets of downtown Napa you will find a variety of restaurants featuring all types of cuisines, tasting rooms galore, shops, and nightlife. The perfect spot to spend a few nights during your trip to Napa, and located right in the heart of the area on First St., is the Andaz Napa. It's a beautifully decorated hotel with a chic wine country vibe. The spacious rooms provide you with a sitting area to unwind and maybe sip on some wine purchased at an earlier tasting, and I personally loved the hues of purple that complemented the modern furniture. One of the most amazing parts of the room is the huge soaking tub right next to the bed. It was the most luxurious bathtub I'd ever seen and adds a sexy touch to the entire room.

The hotel offers three areas to dine, and we were able to partake in each one. The Farmer's Table was a delicious option for weekend brunch, where I had the chorizo chilaquiles. They also offer a full dinner menu too. We grabbed lunch at the Mercantile Social, which is adjacent to the lobby, and on the second floor terrace, we sipped cocktails alongside the fire pit—a cozy treat on a chilly night.
The concierge and the staff were accommodating and an integral part of planning our itinerary. They were so knowledgeable about everything concerning the region and even reached out before our stay to recommend vineyards and restaurants that would help us enjoy our wine weekend.
If downtown Napa is not your thing, there are numerous luxury hotels and resorts to choose from throughout Napa County at varying price points.
Wine Tasting
I know it may sound tempting, but don't try to overdo it when visiting wine country. I recommend booking two tastings a day—three at most if one is at a tasting room. You want to enjoy your experience when you visit and not be rushed to get to your next vineyard. Most tastings last about an hour, and with travel time to and from the vineyards, I'd block off an hour-and-a-half to an hour-and-45-minutes for each. The wineries open around 10:00 A.M., so we visited our first around 11:00 A.M. This allowed us to enjoy both our tasting and lunch before making our way to our second tasting around 2:00 P.M. or 3:00 P.M. Limiting your number of scheduled tastings also leaves plenty of time for a quick afternoon nap—trust me, you will need it—so you can make it to happy hour right on time.

Sonoma
As I mentioned before, Sonoma has a more relaxed vibe, and you also will get a little more for your money in the region. We only had the chance to visit one winery in the area, and it was probably the best tasting I've ever had.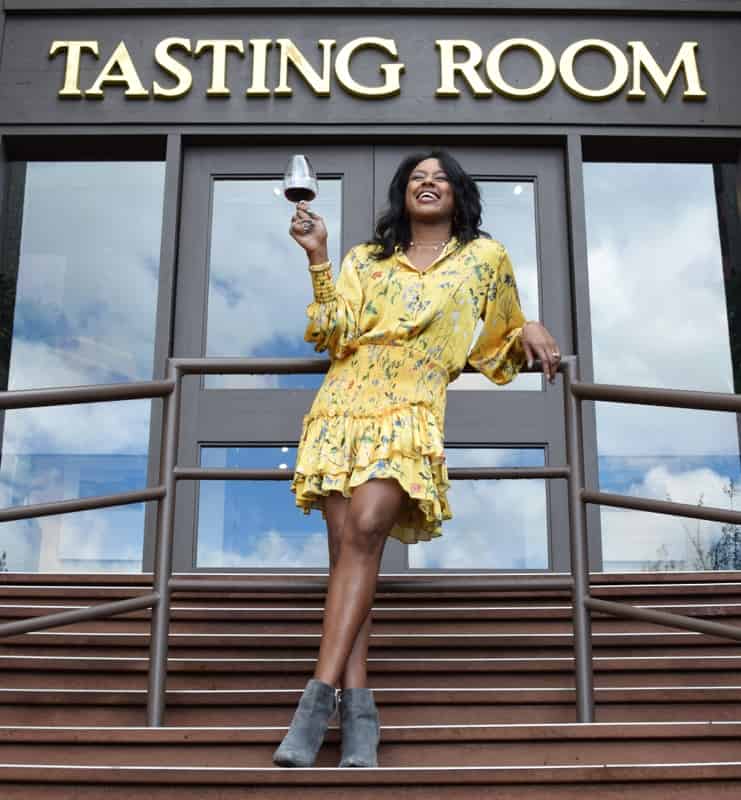 Rodney Strong (11455 Old Redwood Hwy., Healdsburg, CA 95448 | (707) 431-1533)
One of the most recognized vineyards we visited, Rodney Strong is located in Healdsburg, Sonoma County. This was the first stop on our wine country tour, and the culinary experience we had the pleasure to enjoy there was one the most memorable. Rodney Strong operates 14 Estate Vineyards, and you can taste many of their varietals when you visit their tasting room. During the summer you can book tastings on their lawn, where they sometimes host concerts as well. I recommend making a reservation for their "Vine to Table" experience, which includes five exquisitely prepared courses, paired with current vintage or library wines. From Eel mouse to New Zealand Salmon and Beef cheeks, this tasting is a great value and a must try if you are visiting Sonoma country.
Napa
We spent the majority of our time in Napa, and with 400 hundred wineries in the area, knowing where to go can be a bit overwhelming. Listed below are a few wineries that we visited on this trip, and I highly recommend them all. One not listed but that I've previously visited is Mumm Napa. If you like sparkling wine, they have a fantastic tasting and art gallery on their property.
Italics (70 Rapp Lane, Napa, CA 94558 | (707) 258-0106)

A family-owned and -operated vineyard right in the heart of the Coombsville area of Napa, just 15 minutes from downtown, Italics is a pleasure to visit and offers spectacular views. The vineyards sit on the remains of a volcanic eruption that occurred almost three million years ago, which makes the soil very distinctive to that area. We had the opportunity to chat with the Martin family, who runs the winery, from grandpa all the way down to the family dog. After years of growing Ruby Red Grapefruit in Texas, the family purchased the winery and paid meticulous attention to every detail, from grape growing to the color of the labels on each bottle. Visit and experience their cave tasting or take a full vineyard tour, go off-roading, and finish your visit with a picnic lunch.

Stag's Leap Wine Cellars (5766 Silverado Trail, Napa, CA 94558 | (707) 944-2020)

This notable vineyard put California winemakers on the map when it won the 1976 Judgement of Paris for its Cabernet Sauvignon. It was the first American wine to take home such a prestigious award. This beautiful winery sits on 44 acres of land and has two adjoining vineyards with different soil makeups to create two similar but distinct Cabernets. During our tour around the property, we were guided through their massive wine cave, which has a large pendulum hanging in the middle, and encouraged to stroll around the serene pond on the property. Our tasting featured a few of their library vintages, which were a treat, and we sipped on some of my favorite Cabs of the trip.

Joseph Phelps (200 Taplin Rd., St. Helena, CA 94574 | (707) 963-2745)

This name speaks for itself in Napa. A family-owned and -operated vineyard since 1973, this winery has been producing outstanding wine since its inception. Joseph wanted to blend the finest wines of the vintage, and he created California's first Bordeaux-style blend—appropriately named Insignia. This wine is his legacy. It's still considered one of the best blends in the world and has the awards to prove it. Our terrace tasting took place inside, as we visited on a chilly day, but we still had a view of the entire vineyard. Joseph Phelps has an intentional approach to wine tasting, and you can choose from several experiences from an Insignia blending, aroma wine challenge, or delectable culinary wine pairing tasting.

Gabrielle Collection—O'Connell Family Wine (1000 Main St., Napa, CA 94559 | (707) 815-0364)

This was the only tasting room we visited during our trip, and the Gabrielle Collection, so named for winemaker Gabrielle Leonhard O'Connell, was definitely the perfect choice. Located just a few blocks from the Andaz, this tasting room is elegantly and creatively decorated with wine corks that double as the table toppers. The Gabrielle Collection is a boutique and tasting room in one, featuring Gabrielle Leonhard O'Connell's culinary line of salts, herbs, and olive oil, all of which are integrated into the tasting. She also offers a full spa line of products like bath salts, lotions, and essential oils; all of them smelled so calming and felt soothing. Our VIP tasting featured six bites along with a charcuterie board and some tasty popcorn, which paired well with their Chardonnay and Cabernets.
Dining
Throughout wine country, you will find a plethora of fine dining and Michelin-starred restaurants to tickle your fancy! Sonoma also offers local roadhouses and casual dining spots that aren't as plentiful in Napa. Downtown Napa is the exception to this, as you won't have to go far to find something delicious to eat at any price point. No matter what your appetite desires, a meal awaits you in Napa.
Palisades Saloon (1000 Main St. #100, Napa, CA 94559 | (707) 296-1552)

We decided to take a break from our wine tasting to stop into the highly recommended Palisades Saloon, and I am so glad we did. We sipped on some of their local beer and enjoyed an amazing meal. Everything we ordered was perfectly seasoned and so flavorful. We started off with the Reuben Croquettes and Shrimp Diablo, which were to die for; if you like shrimp and a little kick, that dish is a must! For our mains, we had Korean BBQ and the steak with a side of the polenta cakes and broccoli rabe. With more than 30 great beers on tap, tasty food, and amazingly friendly service, Palisades lived up to the hype. If you are in downtown Napa or want a break from wine tasting, stop in and chow down on the Palisades goodness!

Angèle (540 Main St. (at Fifth St.), Napa, CA 94559 | (707) 252-8115)

On our last afternoon, we had the pleasure of dining at Angèle. It is a delicious French restaurant right on the riverfront in downtown Napa. The owner, Bettina Rouas, was the manager at French Laundry before opening the restaurant in 2002. Rouas is no stranger to the industry, as her father started the Auberge du Soliel, a fabulous resort overlooking Napa Valley. Angèle sources many ingredients from local farmers, and the exquisite wine leaves nothing to be desired. While we dined on some tasty classic French dishes like steak tartare, croque monsieur, and niçoise salad, there was one dish that stood out as a favorite and must order. The fried deviled eggs with shaved black Perigord truffles and black truffle mousse were, by far, the best deviled eggs I have ever had.
A visit to wine country is the ultimate wine experience. You will learn so much about wine and how it is made, it might change the way you drink. I will admit that after four days I needed a little wine break, but I assure you it didn't last long!
Have you ventured to California's wine country yet? If so, drop some of your winery suggestions in the comments below.
Stay fabulous,