This post was sponsored by Intuit QuickBooks, but all opinions are my own.
A blog is a great creative outlet. If you are passionate about a topic and want to build an online community, blogging is the perfect media to dive into. However, if your goal as a blogger is to support yourself financially, then your blog can't be just a hobby. You must treat your blog as a business.
Starting Busy Wife Busy Life back in the fall of 2014 was a very challenging process. I knew nothing about building a website or social media marketing, and my writing skills were average at best. My goal with the site was to brand myself as a host and create content to further my on-camera career. At the time I didn't consider the blog to be its own business; it was an extension of my "real" job. After stumbling around online for eight months, I attended my first blogging conference and a light bulb went off. From that point on, I started to regard my blog as a business, and that decision was the catalyst that moved things into high gear.
Perception is everything; how you and others perceive your blog can dictate its success. If you treat it like a hobby, so will your readers and the potential brands you want to work with. A casual mentality will not lead to success. Here are some tips on how to treat your blog as a business so you can start earning money to do what you love.
Branding
How you brand your blog is very important for its long-term success. Unless you're Oprah, it's unlikely that doors will open for you based on your name alone. Create a name for your blog that is creative but easy to remember and spell. Also consider your brand archetype. Is your goal to connect with others through enjoyable content, or to provide a sense of stability to your base? Is your blog rooted in luxury and exploration, or is it more inspirational, as you hope to change the world with your words? Understanding what type of connection you want to build with your audience, will assist in creating content that fits your blog.
Don't forget about the administrative housekeeping needed to treat your blog as a business. You never know when you will meet a potential reader, and you want to be able to give them something memorable. Order business cards that include your logo, website, social media handles, and email address. Speaking of email, your email address should include your business name in it. You don't work at Gmail or Yahoo, so why are they in your email address?! Your hosting company or an enterprise email provider can set up an email address containing your business name. Have a question about this? Just email me at [email protected]!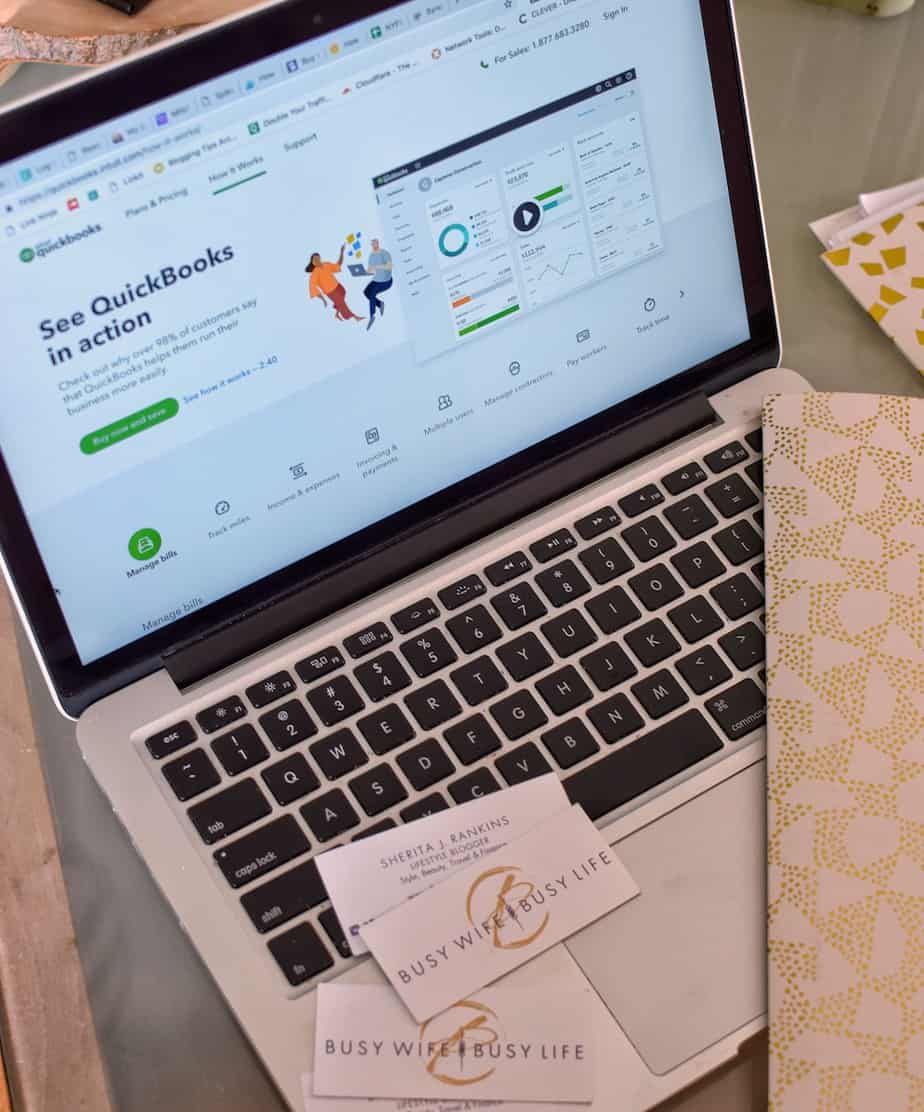 Finances
If you are just starting out, you probably don't have an accountant handling your books, but that doesn't mean you can't manage them successfully. QuickBooks was one of the first purchases I made when I decided to start treating my blog as a business. The software gave me a financial snapshot of my blog, and this, in turn, allowed me to make better financial decisions for my business and its future.
Profit & Loss
Separating your personal accounts from your business account is one of the most crucial steps in setting up your blog to function as a business. Don't wait until your blog starts making money to separate your accounts; start this process from day one. Next, start tracking your income and expenses. Link your accounts with QuickBooks, and the software will pull in your transaction history for easy categorization. Run reports each month to analyze and compare your numbers and make sure your business is moving in the right direction.
Invoicing
Once you start making money through your blog, you'll need to send out invoices to receive payment. A professional business requires professional invoices, and QuickBooks makes it super easy to create and send out yours. Just upload your logo and your client's information, and your client will receive an "accounting department-approved" invoice that can be paid online. The invoice can be paid for free via a bank transfer, or you can accept credit credits for a small merchant processing fee. This payment convenience ensures money in your pocket quicker than traditional methods.
Forecasting
If you want to be a successful blogger or content creator, you have to shift your mindset from "my blog is a hobby" to "my blog is a business." This requires forecasting and budgeting. QuickBooks Online allows you to not only create a budget either from scratch or from your previous year's data, but to forecast your income based on previous quarters. This helps you to see when you are landing more sponsorships and isolates your busy times to maximize profits.
Outsourcing
Once you become a more established blogger, the first thing you might want to do is start outsourcing. Content creation for Busy Wife, Busy Life is something only I can do. However, that doesn't leave a lot of time for social media marketing, editing blog posts, sending out newsletters, pitching to brands, and engaging with my followers. So I hired some freelancers to help with some of these tasks so that I can concentrate on what's most important to me: writing great posts, styling and shooting cool looks, and engaging with you and answering all your questions. No corporation is run by just one person, so as your business grows, your staff will too.
If you've been coasting along, considering your blog a hobby, and wondering why you aren't making any money, now you know why. Treating your blog as a business is the only way to actually make it one. Success doesn't happen overnight, but putting yourself in the right mindset is the first step to making your passion profitable.
Stay fabulous,