This post was sponsored by Intuit Quickbooks, but all opinions are my own!
I love what I do, and I'm fortunate to be able to say that. My work challenges me, fulfills me creatively, allows me to travel and set my own schedule, and sometimes I can even do it in my pajamas. On the flip side, my salary fluctuates each month; I have to find my own healthcare coverage; and if I don't work, nothing moves forward with my business. Welcome to the life of a full-time freelancer! If you are running a side hustle and thinking about turning it into your full-time gig, you have probably weighed the pros and cons. But how do you know when exactly to make the leap? I recently attended the Girlboss Rally on behalf of Intuit QuickBooks, and I learned a lot from inspiring women. I've got a few tips to help you decide when to make your Girlboss dreams a reality.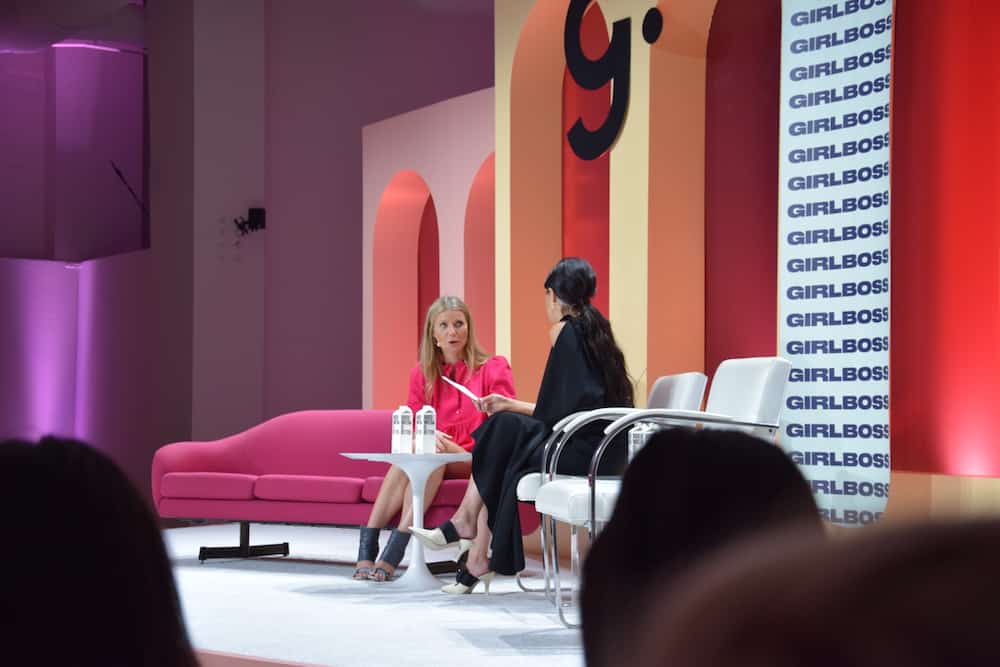 Girlboss Rally
For those of you who thought Girlboss was just a show on Netflix, think again. The community, which was founded by Sophia Amoruso, the brilliant mind behind Nasty Gal, aims to redefine success for millennial women by providing the tools and connections they need to own their futures. The group of women who spoke at the Rally left me inspired to grow my business and brand in ways I'd never thought about before. There were so many uplifting speakers and entrepreneurs in attendance, all with unique stories to tell. Sophia spoke about her journey from a successful startup to a failing business and the path that led her to redefine her success and recognize that her only competition was herself.
QuickBooks Panel: The Freelancer's Survival Guide
As a blogger and freelancer myself, one of the most informative panels I attended was The Freelancer's Survival Guide. The panel included three entrepreneurs who had left their corporate jobs to pursue their passions and gone into business for themselves. They spoke candidly about the transition from corporate life and provided four incredible tips for those hoping to pursue their own business:
Use your time wisely. Having no set schedule makes it difficult to prioritize. Recognize where your time is misspent, and make corrections accordingly.
Learn to say "no." I wrote about this in a recent blog post, and it's such a valuable lesson. Sometimes you have to walk away from opportunities or step back from commitments to focus on your core business.
Give yourself permission not to be perfect. We all want to succeed, but there is a learning curve to starting your own business, and accepting that sometimes things will not work out perfectly is key to success.
Find a mentor or fellow freelancer to talk to. If your closest friend is not a business owner, then he/she may have trouble understanding your specific struggles. Talking to someone in a similar situation can help you see things more clearly.

Turn Your Side Hustle Into Your Main Hustle
I have learned over the years that inspiration is a catalyst, but preparation is the real tool you need to be successful. If you are considering leaving your full-time job, you will need more than confidence to pull the trigger. Ask yourself these three questions to gauge if you are ready:
Do you have enough money saved? Right now you have a steady salary coming in every month. You'll need to be able to walk away from that and still pay your bills while you are building your business.
Is your customer base large enough? You might be able to secure a few clients on the side to support your side hustle, but can you realistically double or triple that number to support yourself full-time?
Are you mentally ready to change your life? You may think of your career as just a job, but becoming a full-time freelancer can consume your life. Be ready to set boundaries, deal with stress, and change the way you approach free time.

Get Your Money Right
Last but not least, you must be smart and active when managing your business's finances or you may end up out of business. You probably started your own business to do what you love, and for most of us (present company excluded), that doesn't include bookkeeping. Paco de Leon from The Hell Yeah Group offered some insightful tips during the Intuit QuickBooks panel for freelancers. For example, separate your personal expenses from your business's expenses, know your company's numbers, hire an accountant when you need help, and use software like QuickBooks Self-Employed to help you keep up to date with bookkeeping.
Whether you have come a long way in your side hustle or are just starting out, be smart and listen to your gut when deciding to take your career in a different path. It was the best decision I made, and I wish you success in becoming a #Girlboss!
Stay fabulous,


Pin Me