You probably wouldn't have guessed it from my chic style and beauty tips to my fashionable Instagram feed, but in my prior life, I was an accountant. Technically, Director of Finance, but you get the idea. My days consisted of balancing budgets, crafting spreadsheets, and posting debits and credits. I left my accounting days behind and shifted my career when I decided to turn my side hustle into my main gig with Busy Wife Busy Life. As I have shared before, it takes a lot of work to run a website. Beyond creating content, you wear so many hats that it is darn near impossible to dazzle in all of them. So when I got the chance to attend the QuickBooks Connect conference this year, l knew I would learn valuable tips to help grow my business. And I did.
In fact, this conference was well outside the realm of accounting; the creative sessions and motivational speakers offered knowledge and tips that any small business owner—not just accountants—need to succeed.
Anything Is Possible
My day at QuickBooks Connect was packed with valuable information and awesome networking opportunities. Celebrities like Alex Rodriguez and Mindy Kaling hit the main stage to share their journey and add a bit of comedy to the mix.
Of course, the conference included financial talk. The CEO and SVP of QuickBooks took the stage to introduce new functionality in the QuickBooks app that allows you to access your reports and numbers just by speaking to it. How cool is that?! QuickBooks' philosophy is based on smart money, smart decisions, and smart connections, and the conference offered all of that and more!

The theme of this year's conference was "Anything Is Possible," and when you are in business for yourself that is indeed the case. You may not know what lies on the road ahead, but understanding your business's finances can allow you to make things happen that you may not have ever known were possible.
QuickBooks Connect Small Business Tips
SEO
Some of the best advice I received at the conference came during my SEO session. Andrea, the QuickBooks SEO specialist, was very knowledgeable and provided me with tips to increase my search traffic. A few small tweaks can help your website stand out in search results and ultimately receive a higher rank, which in turn, will drive more customers to your business. Because optimizing your business's website for search traffic is essential when you are a small business owner, here are some strategies to consider:
Secure your company's site with an SSL certificate.

Add compelling keywords to your title tags and meta descriptions.

Use descriptive ALT tags and filenames on your pages.

Make sure phone numbers are listed in text format and clickable to call.

Build links to your business from prominent blogs and resource sites to help build your domain authority.

Social Media
The conference provided a welcome chance to network with like-minded entrepreneurs such as Lindsay Williams, founder of Be Digable, a branding and social strategy agency that targets female executives. Lindsay always wanted to help women in the business world expand their personal brands, and she is now able to fulfill her dream. During our chat and her session, Lindsay shared her advice for small business owners:
Pick two social networks for your business and excel in those first before deciding to expand.

Create engaging content that tells a story about your products or business.

Hire a photographer to capture great product shots or lifestyle headshots for service-based businesses, so you will always have something to post.

Consistency is key. Post at least once a week and work up to once a day.

Celebrate the small wins, and don't be so hard on yourself when you are first starting out.
Customer Loyalty
I sat in during the Sephora session, and their Vice President of Loyalty spoke about creating a customer loyalty program to facilitate repeat business. Sephora recently overhauled their entire program and increased sales as a result. If you have a product-based business, here are some ideas to consider:
Rewards influence customers to shop more often.

Create tiers to incentivize customers and encourage brand loyalty.

Turn brand loyalty into social good and allow customers to give back instead of rewarding themselves.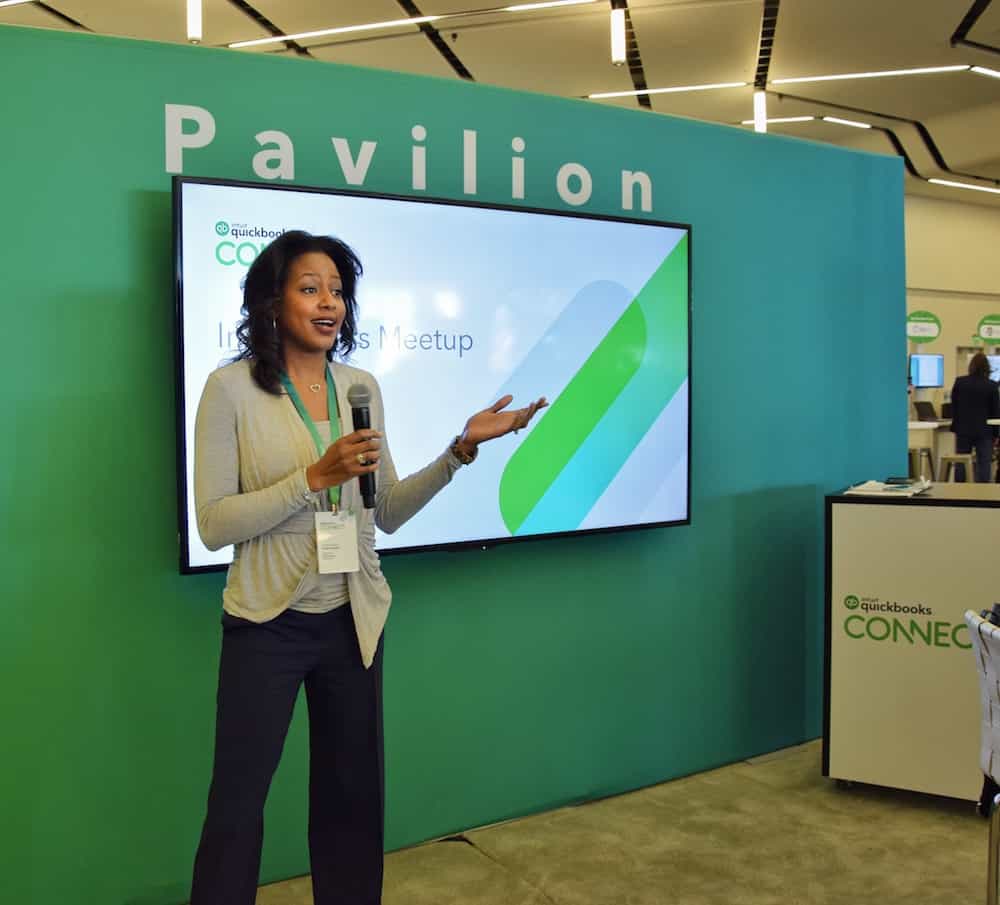 Real Talk
As I walked into the massive convention area, I was awed by the sheer number of people seated in this space. With the house lights off, the stage was backlit with QuickBooks' signature green. Strobe lights and smoke made for a dramatic scene for successful entrepreneurs like Jamie Siminoff, CEO of Ring, to share his business insights. Funny enough, his business venture did not begin at the top. In fact, Jamie began his journey as a contestant on Shark Tank and didn't strike a deal with the Sharks. We all have letdowns and obstacles to overcome, but hearing him speak about his failures and determination to succeed put things in perspective and inspired me.

QuickBooks Connect is an accountant's paradise, but it is also a vital resource to any small business owner. Even as a former accountant, I learned a lot and enjoyed the day more than expected, and I hope I get the opportunity to attend again next year!
This post was Sponsored by QuickBooks but all opinions are my own.
Stay fabulous,