This post is sponsored by Colgate®, but all opinions are my own.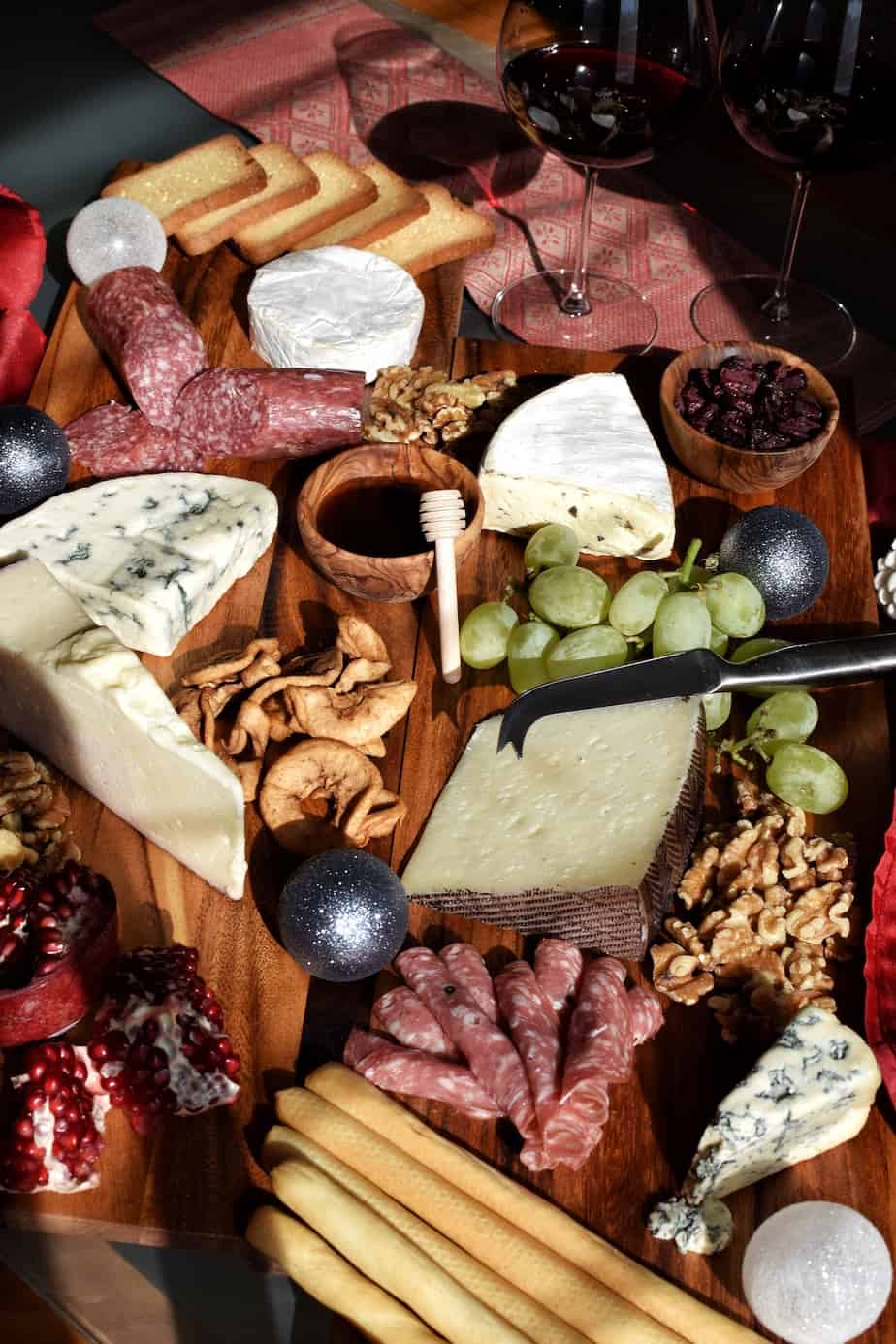 Most of us can agree that entertaining and the holiday season go hand in hand. Whether you're looking for something to munch on while a relative carves the turkey, an appetizer to enjoy before Christmas dinner, or a delicious icebreaker for your New Year's Eve party, a wine and cheese board is a great way to spread a little cheer while gathering with friends and family. Perfect for a lavish soirée or a casual get-together among close friends, this delectable display is sure to appeal to any guest. Even if you are dairy-free, a well-planned cheese board should offer you several options to enjoy.
This year, give your guests something to sip and nosh on while making their season bright. Keep reading to learn how you can create the perfect wine and cheese board!
Cheese
Of course, the most crucial part of a cheese board is, quite obviously, the cheese. When planning which cheese to include on your board, veer away from the deli counter and head over to the specialty cheese section. One rule to remember: if it comes pre-sliced, don't buy it! I recommend starting with three different varieties of cheese, but you can always serve more. Here is a good starting point to try one from each category:
hard cheese, like Manchego, Parmigiano-Reggiano, or aged Cheddar
soft cheese, like brie, goat, or fontina
blue cheese, like Roquefort, Gorgonzola, or Stilton
There is no right or wrong combination, just make sure you are providing your guests with an assortment to ensure there will be something for everyone. I always opt for a type of cheese I've never had before or one that sounds interesting. Truffled Pecorino could be your new favorite, so don't be afraid to experiment! If you are unsure about a block of cheese, some specialty stores will give you a sample so you can try it before you buy it.
Meat
To make your cheese board more appealing, add some cured meats or charcuterie to it. If you want to splurge, thinly sliced prosciutto di Parma is the way to go. However, if you are on a budget, I recommend different varieties of salami because they tend to be more affordable. One meat option is excellent for a small group, but I'd suggest two meat choices if you're planning a larger party.
Accompaniments
To finish off the board, add some essentials to make it more enjoyable. The first thing that comes to mind when serving bites of cheese? Crackers! Yes, definitely serve crackers on your board. These will act as vessels for your soft cheese or can be stacked with meat and other hard cheese to add some texture to the bites. In addition to crackers, I recommend some type of dried fruit, such as apricots or figs, and a fresh offering of grapes or pomegranate. Also consider including some type of nut, such as walnuts, almonds, or pistachios, along with wildflower honey to pair with the blue cheese, and—voila!—you'll have cheese board perfection.
Wine
Red wine is my go-to for the holidays. It's classic, festive, and goes well with most cheese pairings. Ideally, you would drink different wines depending on the type of cheese you were eating, but let's be honest: no one is that fancy! Depending on how many people you plan to entertain, you may want to opt for two different red wines: a light one to sip on, and a heavier red to pair with dinner or enjoy later in the evening. For a delicious red, I recommend Pinot Noir, especially those from the Oregon Valley. Also, consider a Chianti or Sangiovese, as these are typically served with Italian cuisine and flavors similar to those on your cheese board.
The downside of red wine? It can leave your teeth less-than-pearly-white if consumed often enough. If there's one thing you don't want to have to deal with—especially during the social holiday season—it's having to choose between a less-striking smile or drinking less red wine! Luckily, Colgate® Optic White® Platinum™ High Impact White® with hydrogen peroxide has got you covered. It will keep your smile dazzling and bright all season long so you can sip away without another thought besides, "Which cheese and wine should I sample next?"
Cheers to the holidays!
Stay fabulous,