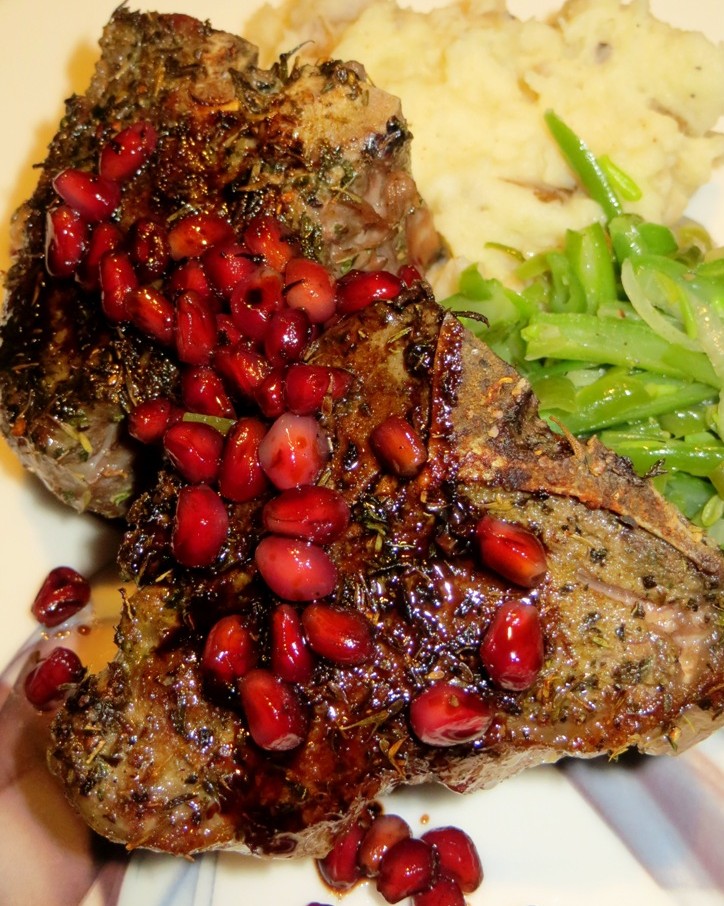 Lamb is one of those meats that just seem fancy no matter how you prepare it, and this recipe will take that up another notch. Herb crusted lamb chops with my pomegranate sauce are delicious, easy to make and will look like you had a professional chef in your kitchen preparing it.
I was introduced to the beauty of lamb by the Australians that I work with. They are known for this high quality meat and taught me a thing or two about it. The optimum temperature to serve lamb is medium, I find it dries out too much at medium well. Since lamb is a more gamey meat as opposed to beef, it is really complimented by aromatic ingredients like rosemary, thyme and garlic. I put a herb rub on the lamb and let it set to absorb the all the flavor.
Now pomegranates are one of my favorite fruit! I used just the arils (seeds) with some balsamic vinegar and red wine and reduced to create a sauce that was the perfect complement to my lamb. The entire dish took less than 30 minutes to make and is easily the star of your next dinner party.




Are you a fan of lamb, what meat will you be serving this holiday?
Combine all your dry herbs into a small bowl. Sprinkle half of the herbs evenly over your chops and use hands to rub it. Repeat with the remaining rub on the other side of the chops. Let them set for up to 30 mins.

While your lamb is resting, preheat your oven to 350 degrees. Heat Olive oil in pan over medium high, when hot add the lamb to the pan. Cook for about 3 mins on each side or until your chops have a nice brown sear.

Transfer the chops to a baking sheet and place in the oven for about 7 mins (for medium) to continue to cook while you prepare the sauce.

In the same pan that you cooked your lamb, add pomegranate, red wine and balsamic vinegar. Over medium heat let the liquid reduce to half. Remove the lamb from the oven and let it rest for 5 mins, top with your sauce and enjoy.