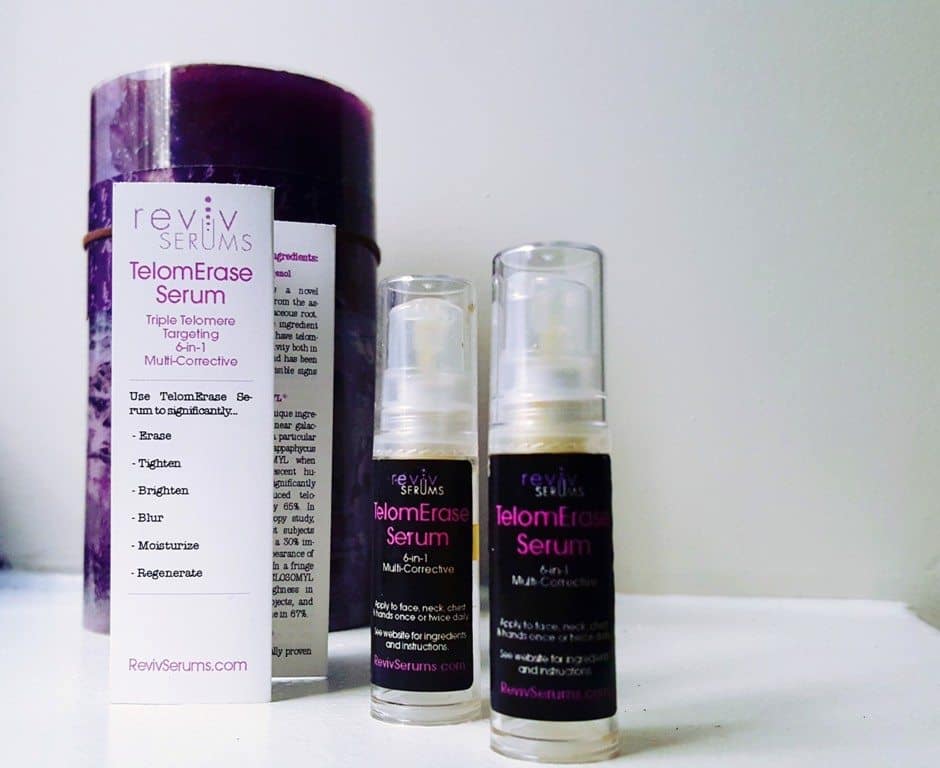 We all want amazing skin, so the search for the ultimate beauty products to achieve that flawless look is never ending. Today I am reviewing Reviv TelomErase 6-in-1 Multi-Corrective Serum. I received these sample bottles which promise to Erase, Tighten, Blur, Brighten, Moisturize & Regenerate your face, neck, chest and hands. After using Reviv for 3 weeks, here are the results:
Advertised As:
Directions say to apply a thin layer on clean, dry skin once or twice a day. Reviv Serum says "it contains the most powerful combination of new ingredients available to visibly reduce the appearance of sags, bags, dark circles, fine lines, sunspots, redness, pore size and laxity." The products' key ingredients help reduce the signs of aging for younger and tighter looking skin.

My Experience:
I have always battled with my skin, conditions like acne, hyper-pigmentation, and sensitivity have been affecting me since I was a teenager. They say that good skin starts with great products and the Reviv Serum could be the start to mine. With regards to its claims-
Erase- I noticed that some of the dark marks on my skin seemed to begin fading after just 3 weeks.
Tighten- My skin has never really been loose or saggy, so I didn't see any improvement in this area.
Brighten- The complexion of my skin did seem to brighten up a bit, and I found myself using less concealer as well.
Blur- I could tell that some of the problem areas on my cheeks and chin seemed clearer after the short use of the serum.
Moisturize- After applying Reviv to my skin, I did have to use an additional moisturizer before my makeup application.
Regenerate- I have the tendency "pick" at my skin (bad habit) and I noticed that my problem areas appeared clearer.
Overall, I would recommend the Reviv TelomErase Serum to treat several skin issues that you may be experiencing. With prolonged use, I hope to experience more visible results of younger and clearer looking skin.

Discount Offer
Use discount code TIGHT10 at checkout at RevivSerums.com to receive 10% off the $149 half-off introductory price!
Limited one per customer/household. This discount code is good through December 31, 2015.