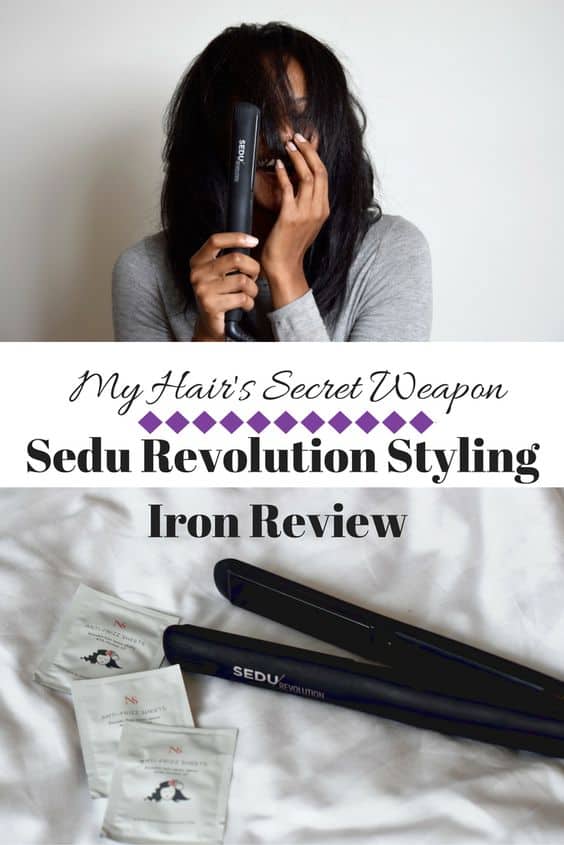 Nothing lasts forever, so every few years I like to upgrade my styling tools. I recently discovered the Sedu Revolution Styling Iron, and it totally blew my mind. Since I style my hair myself, purchasing tools that are professional grade is crucial. My previous flat iron was the Bio Ionic One Pass; it has doubled in price since I purchased it and now retails for $200. It was a great flat iron and did an excellent job of getting my hair straight, but at that price, I need my tool to do more!
What is a Styling Iron?
Unlike a flat iron, whose sole purpose is to straighten your hair, a styling iron gives you more versatility to create multiple styles with just one tool.
The Sedu Revolution Styling Iron is the perfect tool for straightening, adding volume and curling your hair. It heats up in less than 60 seconds and has the smoothest pass of any iron I have ever used. Now, I rarely use any other styling tools than my Solia Super Hot Dryer. Sedu has other models of irons which I've tried, but I would recommend the Revolution Styling Iron before any other.
Check out my styling video below to see how I transform my hair in the humid climate of Thailand with the Sedu Revolution to create a glamorous look.
Styling Video
How to Create Curls with Sedu Styling Iron
To create a more voluminous look, simply pull the iron in an outward direction instead of down like when you are straightening your hair.
Turn the iron 180° as you pull it through your hair and this will give you a fuller look with a slight curl.

To create a full spiral curl, turn your iron, so your hair is completely wrapped around the barrel and gently pull your hair through.
Depending on how much hair you section off, you can create different looks with smaller or larger curls. (Directions in video above)

After using this styling iron for two months, I was waiting for the ball to drop so I'd have some downside to mention to you about the product. I honestly couldn't find anything – the only tidbit to note is that because the barrel gets hot to curl your hair, be careful not to burn yourself while using.
Shop this Post
  
Want to know more of my hair secrets, just ask away! Share your favorite tips in the comments below.