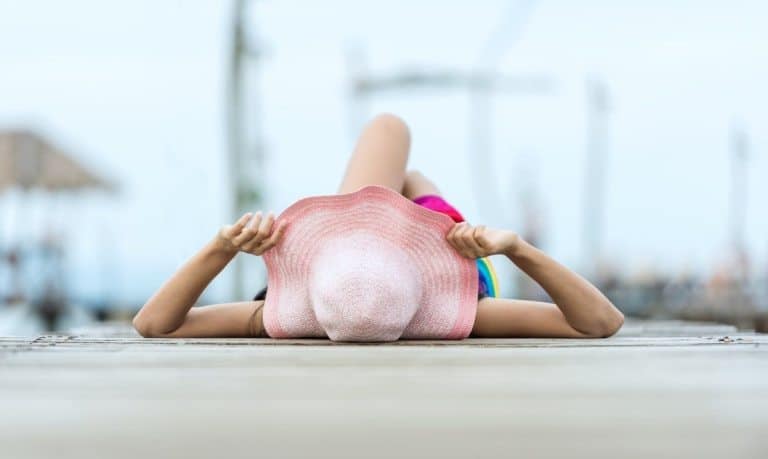 There may be no change more welcomed than the change from winter to spring. Say bye bye to freezing temps, snow and early-onset darkness and hello to sun, flowers and warm, breezy weather. Unlike Mother Nature, things in your life like your clothes, home, and food, don't automatically change with the season. Instead, it's up to you to transition from winter to spring. To make this easier, we've gathered some of the top trends for spring 2017. Adopt as many as you like until you feel as fresh as the world around you. 
Fashion
Be Bright (Pink)
It's one of the springiest colors out there: bright bubblegum pink. And, because it was all over the runways, you can bet it'll be the hottest color this spring and into summer. You don't have to be shy about wearing the color; in fact, the pinker you layer on, the better. So, slip into a pink dress and top it with a pink trench. Or try pink heels with cropped pink jeans. No matter how you layer, you will look bright, cheery and very much on trend.
Use Words — On Your Wardrobe

You've probably noticed that people around you love wearing t-shirts that proclaim everything from a passion for feminism to a passion for pizza. This is a trend on the rise and it's perfect for spring when the weather just right for wearing tees. And, because so many people love slogan tee's, you'll find them at department stores, discount stores, and even designer stores.
Taco Time

Okay, okay — tacos have always been delicious. But, this year, the taco is experiencing some sort of a renaissance: you can find artisan tacos, street-food tacos and everything in between, and they're all seriously good. You can even try filling your own tortillas with everything from chipotle cod to spicy pork to feta cheese.
Get on Cauliflower Kick

Every year vegetable has its time to shine. We all love(d) sweet potato fries, of course Kale everything and now its time for Cauliflower to have its time in the spotlight. Spring is perfect time to start your new health-food phase and this head colorless goodness will hit the spot. You can roast it, make it into a pizza crust or even use it in place of rice. So cut some carbs and give it a try!
Home
Bring the Outside In

Spring weather just begs us to spend every second outside… until, of course, those April showers roll in. The good news is that you can — and should — decorate with the natural elements of spring so that you can enjoy flowers, greenery and even branches and twigs no matter what's happening outside of your window.
The  wooden elements may seem like an odd decorative choice, but you can make a seriously eye-catching piece of décor with just twigs and a picture frame. Cover the entire border with fresh twigs, adding feather or floral embellishments if you fancy a bit more panache. You can leave the center of the frame empty or make multiple frames so that you really make a statement.
Say No to Neutral
We touched on bright pink as a wardrobe option, and now we're spotlighting the idea of bringing bright colors into your home décor. You can, of course, go with the shade as mentioned above of bubblegum to give your home a springy vibe. Or, pick another bright hue like mint green, sunshine yellow, bright orange or Robin's egg blue and make it an accent color to the neutral backdrop your home already sets. Don't be afraid add patterns to the mix to to liven things up. 
There's a light at the end of the wintry tunnel, and it's spring. So, pack up your sweaters, ditch your stews and pull the curtains back so that you're actually enjoying the first hint of warmth and the sunshine in 2017. These six trends will see you through one of the happiest seasons of all — now, get out there and enjoy it.
Pin Me