Do you ever get dressed and instantly feel fabulous? Well, that's what this outfit did for me! Spring is in the air, and I'm fashionably embracing it every moment I get. I put a together a double dose of style with this gorgeous lilac pantsuit, one of the season's hottest trends and colors. The stunning ensemble might just be my best look this spring.
Pantsuits have been all the rage this season, and you can find them in almost every color. If you want to make a chic fashion statement, go monochromatic. Wearing all of the same color will instantly elevate your style and make your look appear more expensive. This was especially the case with my Alice & Olivia lilac suit. The long shawl jacket perfectly complements the wide-leg, "paper bag"-style (so named for the gathered waistline) cropped pants, while the shimmery silk camisole sets off the entire suit. These pieces are versatile, and you can most definitely wear them separately, but I prefer them combined for one elegant look.
When you wear an outfit that makes a statement like this one, your accessories should follow suit. I chose metallic silver jewelry and shoes and truly love the combination. The jewelry is from Rocksbox, my favorite jewelry subscription service, and the shiny Mary Jane mules are Micheal Kors (sold out). I didn't want to appear too matchy-matchy, so I decided on a beige briefcase-style bag by Rebecca Minkoff.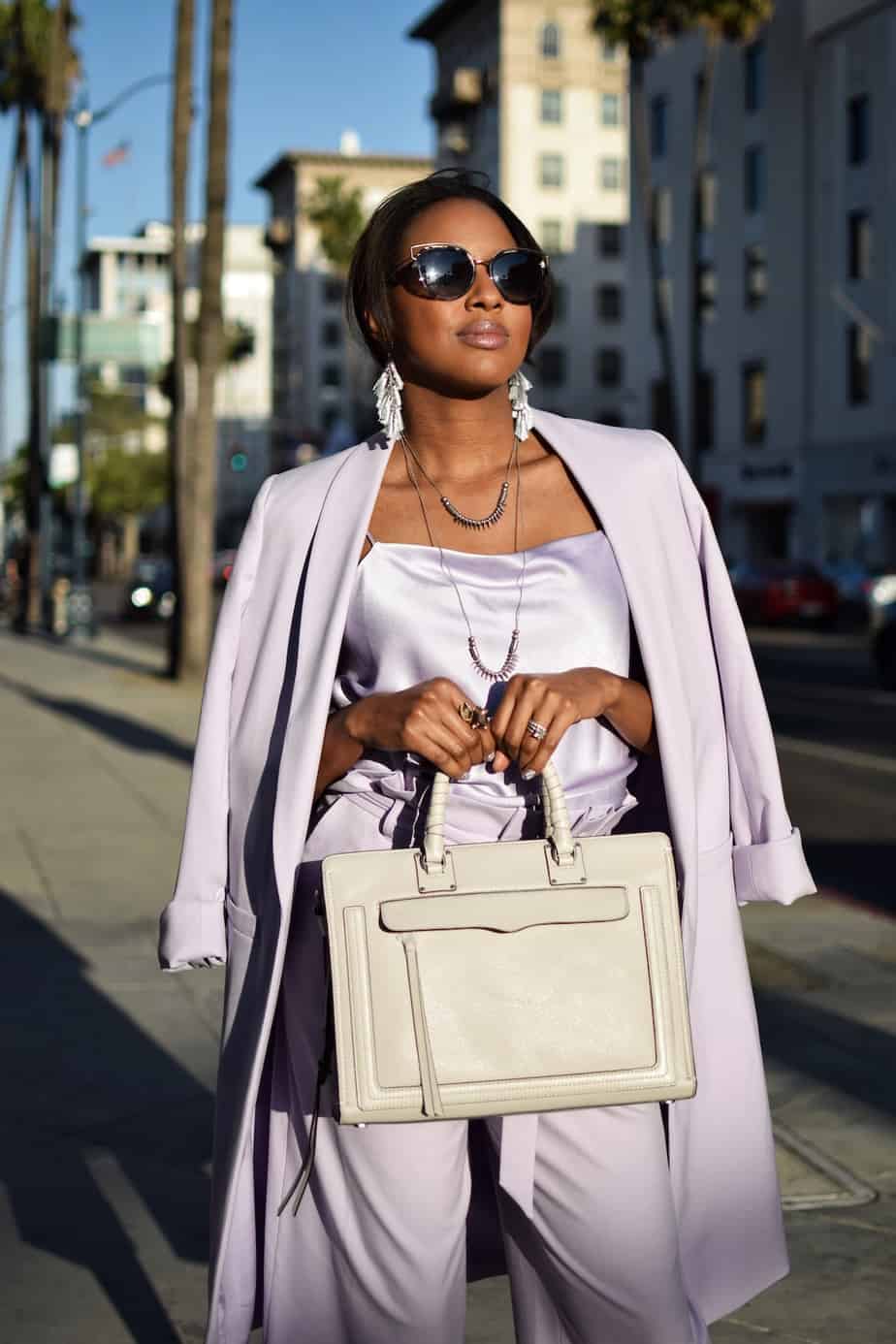 Think you can't pull off a monochromatic look this spring? I guarantee you can. Even if lilac isn't your color, you can easily assemble the same look with a different pastel shade. So, what are you waiting for? Embrace the monochromatic pantsuit this spring. You won't regret it!
What do you think of this look? Let me know in the comments below.
Shop This Post