Since I have not been to the gym in a while (I hate to admit it), I'm trying to find ways to maintain my weight through diet. So I decided to jump on the bandwagon and prepared this Whole30 recipe to see what the hype was all about. If you are not familiar, Whole30 is a diet based on consuming no dairy, no grains, no added sugar, no alcohol, and no legumes. You basically cannot eat any processed food or food with ingredients that you cannot pronounce. I apparently did not do my research before jumping in because I didn't realize that you were supposed to do it for 30 days straight, #epicfail. Either way, this recipe is delicious, and I would enjoy this dish with or without a Whole30 diet plan.
I selected this recipe as part of my Blue Apron Box, and right now they are having a special where you can get $40 off your first box when you click my referral link. 
This Whole30 recipe is simple and easy to make even without Blue Apron. Though you may need to pick up a few ingredients not typically stocked, like watermelon radish and Togarashi seasoning. This Japanese seasoning is not too spicy but adds a needed kick to the bland ground chicken. This dish was actually very filling, despite the lack of carbs. The veggies added a ton of flavor while the citrus brightened the entire meal. These lettuce cups are simple to prepare for family dinner and can be doubled with ease for larger servings.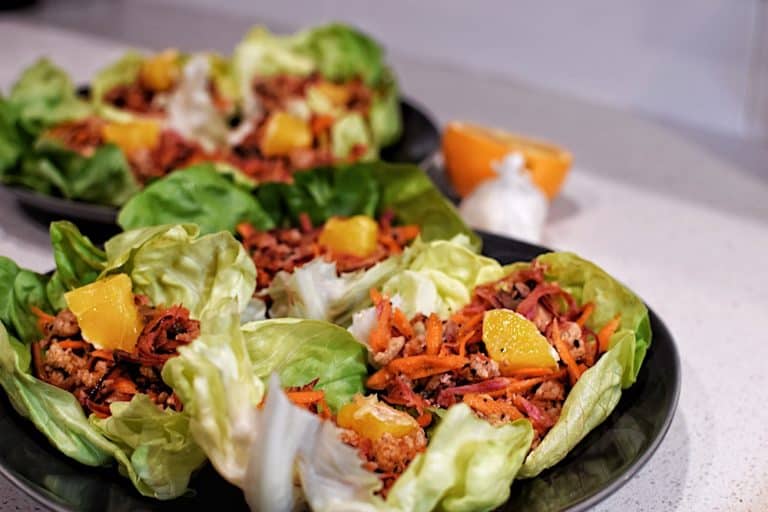 Spiced Chicken Lettuce Cups
Ingredients
10

oz

Ground Chicken

1

head

Butter Lettuce

2

Carrots

1

Watermelon Radish

4

oz

Cremini Mushrooms

1

small

Red Onion

2

cloves

Garlic

1

Lime

1

Orange

2

Tbsp

Olive Oil

1

Tbsp

Sesame Oil

1

Tbsp

Togarashi Seasoning

- Japanese Red Chili Pepper Seasoning
Instructions
Chop the garlic then thinly slice the mushrooms and onions. Zest the lime and cut into wedges, then grate the carrots and radish. Next, peel and dice the orange and plate the lettuce leaves.

In a large saucepan heat 1 Tbsp olive oil, add mushrooms and cook without stirring for 2 or 3 mins. Then add onions and garlic, season with salt and pepper and cook for another 2 or 3 mins. Add the juice of 1 lime wedge and stir then transfer entire mixture to a bowl and season with salt and pepper.

In the same pan, heat sesame oil over medium-high heat, add chicken and season with salt and pepper. Break the meat apart with a wooden spoon until lightly brown, cook 3 to 4 mins. Add Togarashi seasoning and cook for 2 min. Add 1/4 cup of water and stir until chicken is cooked through.

To the bowl of cooked vegetables, add cooked chicken, lime zest, grated carrots and radish, and 1 Tbsp of olive oil and the juice from remaining lime wedges. Season with salt and pepper to taste and stir.

Divide the filling into the lettuce leaves and top with diced orange. Serve immediately.
Pin Me
Bon Appetite,