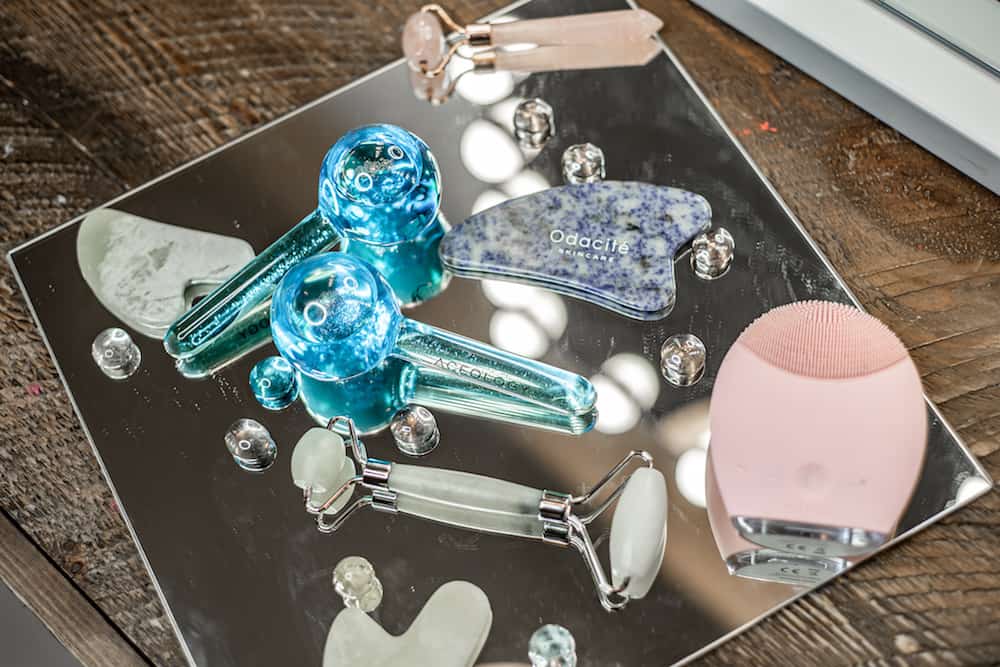 If you are hoping to improve the look of your skin but tired of switching your skin care products, it may be time to invest in some beauty tools. These instruments can help reduce swelling, improve your complexion, and minimize the appearance of wrinkles. Beauty tools may look complicated, but most are actually very easy to use. Below are some of the best beauty tools on the market and tips on how to use them to maximize their benefits.
Gua Sha

What is it?
Pronounced gwah-shaw or gwah-sa, this ancient tool's name literally means "scraping redness of the skin" and has been used for centuries to help reduce inflammation. Typically made from rose quartz, a crystal with anti-aging properties, Gua Sha involves massaging or lightly scraping the skin and activating the lymphatic system. Doing so helps to detoxify or remove waste from the body, promotes cell regeneration for healthier-looking skin, and sculpts and tones your face, which can result in a more youthful appearance.

How to Use it
I do not recommend winging it, as it is important to employ the right technique when using this tool. Always start by making sure your skin is clean, because you never want to push dirt back into your skin. You can go through your full skincare routine before using the Gua Sha or use it before your last step.
After I cleanse, I apply a facial oil or hydrating serum to use my Gua Sha. Never use it on dry skin, as the tool will tug the skin instead of gliding over the face. Start with the neck and apply medium pressure with the rounded side of the tool and work your way up. Continue on the chin and cheeks, working from the center of the face toward the ears.
Use the contour edge around the eye area and brows and press gently, massaging in an upward motion. Continue to the forehead and gently press toward the scalp. Redness is normal and will fade after the skin calms from the treatment. Remember not to push too hard, as bruising may occur.
I recently discovered the Gua Sha and have been adding it to my beauty routine a few times a week. I find that using it right before bed relaxes me and helps to remove tension from my face after a stressful day.
Cost

I am using the Odacité Gua Sha, which comes with a full instruction guide and a sample size of serum for $45. There is also a great option on Amazon for $12.55.
Jade Roller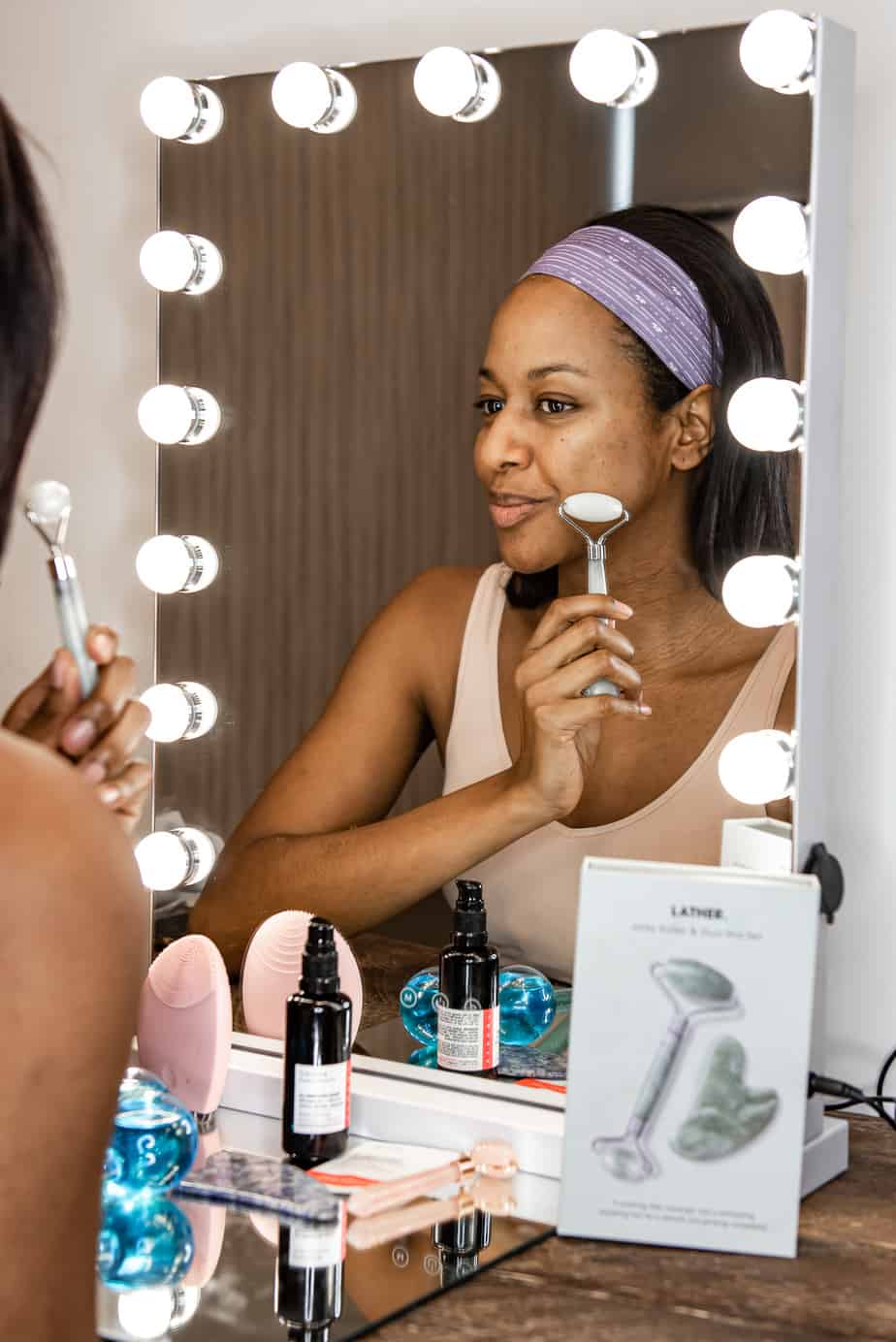 What is it?
Used to reduce puffiness and activate the lymphatic system, the jade roller has been a popular tool for a couple of years now. Jade is known to have healing properties and helps lift skin with less impact than the rose quartz.
Both the Gua Sha and jade roller achieve similar results; however, the jade roller typically is used with less pressure and doesn't penetrate the skin as deeply. Many sources suggest that the jade roller is preferred for those with acne or sensitive skin.

How to Use it
Use the jade roller in the same fashion as you would the Gua Sha: start with a clean face and use the roller in an upward and outward motion. Since this roller does not tug on the skin, you can use it with or without face oil.
Reserve the larger side of the roller for the majority of your face, using light pressure to gently roll along the contours of your face toward your ears. Use the smaller side of the roller around the eye area and the nose.
Cost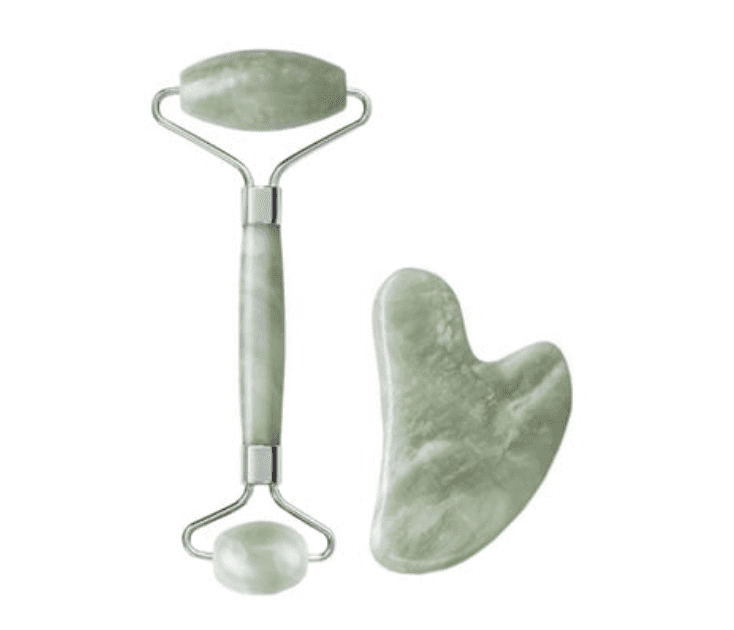 My preferred roller is from Lather. The set comes with a Gua Sha and a jade roller for $44. There is also a great budget-friendly option on Amazon for $21.95, which also includes a Gua Sha.
Ice Globes
What are they?
At first glance these tools look like lollipops. Fairly new to the market, ice globes are cooling wands that can work wonders to calm inflamed skin. Primarily used for their cooling properties, ice globes gently massage with their cooling touch to help remove under-eye puffiness, eliminate redness, shrink pores, and relieve sinus pressure and tension.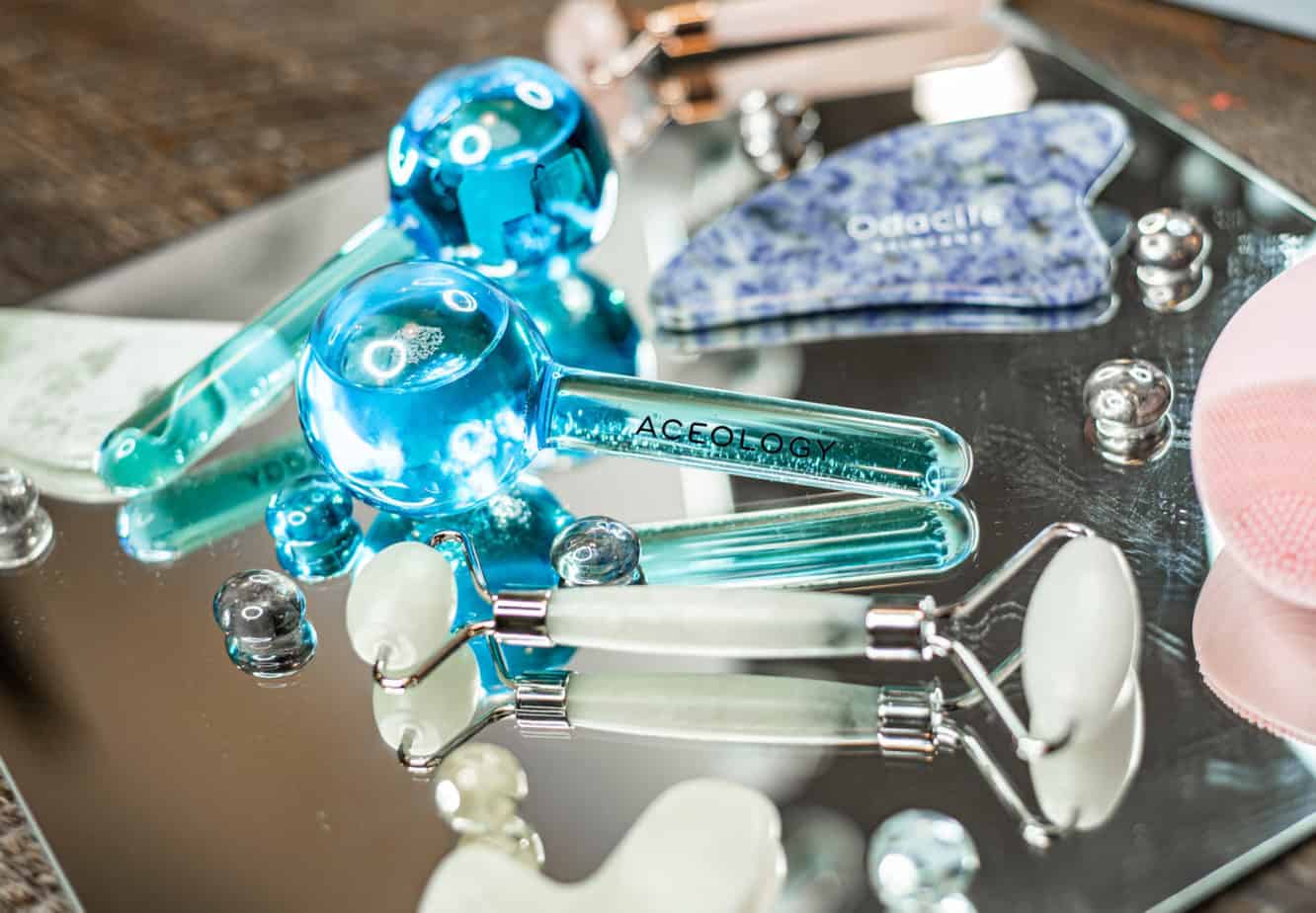 How to Use Them
Even though they are called ice globes, they are meant to go in the fridge, not the freezer. Cool them for 10 minutes prior to use, and they can be used with or without additional product. To use, gently glide the ice globes over your face in a slow, calming motion, holding under your eyes or anywhere you are experiencing pressure, tension, or redness.
The globes are designed for your face, but they can also be used on your neck, shoulders, and back. They are great for acne as well, because the cooling aspect can help reduce inflammation associated with pimples.
Cost

I am using Aceology Ice Globes, which run $54. I like their design and longer base compared to others.
Luna Silicone Cleansing Tool
What is it?
I have said many times and wholeheartedly believe that great skin starts with clean skin. A silicone cleansing tool helps to remove dirt and makeup from your face with tiny bristles. The tool pulsates to help lift dirt without heavy scrubbing and cleans deep into pores with virtually zero irritation. The tool helps to eliminate blackheads and remove dead cells, and as a result, your complexion will be clearer and brighter with a more even skin tone.

How to Use it
You can use this tool every time you cleanse your face. Simply wet your face and apply your cleanser, and then use the tool in a circular motion to cleanse your face as you typically would with your fingers. Rinse your face as per usual and pat dry.
Cost
The Luna tool is available in a variety of sizes and price ranges, from $39 for the mini to the $169 for the full size.
Shop the Post


Do you have a skin care tool you love? Share it in the comments below!
Stay fabulous,