The world has changed as we know it. The way we used to operate our business, and the tactics we used to employ to yield results, may not work in the future. If you work as a content creator/blogger or operate a small business as a creative, you have probably felt the financial effects of COVID-19 on your business and will be looking to increase your income after the crisis.
I know life is stressful right now, but don't panic! You will get through this tough time with your business intact if you take some steps to counter your income loss. I recently hosted an IG Live with BlogHer and The Penny Hoarder on the topic, and I wanted to share my best tips to help you survive during and after this crisis.
Be Proactive and Creative
In times of crisis, you cannot wait for things to happen and hope for the best. You have to take action to make the best of a bad situation. That means being proactive!
Pitch, Pitch, and Pitch Some More
Brands are tightening their purse strings right now, but that doesn't mean they aren't spending money. Consumers are spending more time on social media these days, and while specific industries such as fashion and travel may be holding off on advertising or sponsored campaigns, they still need content for their own channels.
Social distancing might be interfering with brands' ability to access their studios or hire their usual team. If you are a photographer, videographer, or someone with excellent photography/editing skills, let brands know that you can create content for their social media channels, website, or even ads. You'll likely be far cheaper than traditional methods and probably have faster turnaround too, which can be very useful right now.

Take an Inventory of Your Skills
As creatives, we pride ourselves on thinking outside the box. Now more than ever, we need to hone that talent and think of ways we can market skills that may not be our main moneymakers. Personally, I am in the process of starting an Etsy store for my artwork to help bring in a little extra cash.
We all have income-generating skills that we have probably put on the back burner. Use your community and network to market them in ways that you have not done in the past. Right now, people's needs and interests have shifted, and you can fulfill a need with one of your talents.
Create Multiple Forms of Revenue
To make money after a crisis you need to create passive and active revenue streams. As creatives, we have specialized skill sets that can be marketed and monetized. Think about creating an ebook to sell as a "how-to guide." Any type of product that teaches a skill or makes life easier for others can be a great tool. Templates, spreadsheets, worksheets, and planners can be fantastic, marketable resources.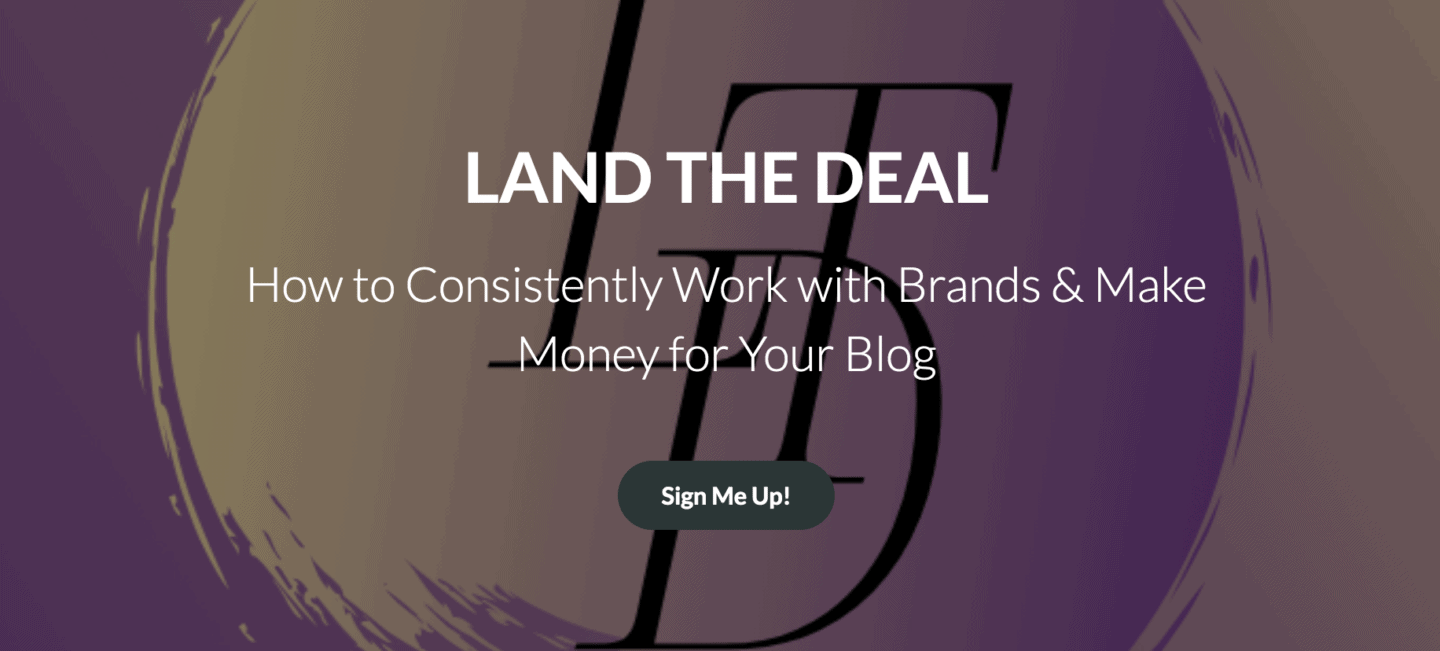 I have created a course to help content creators and bloggers monetize their platform in a serious way. Land The Deal offers bloggers step-by-step instructions on how to approach brands, find campaigns, and secure partnerships. And to incentivize people to take the course, I will be offering a discount code to make it more affordable. Right now you can get $75 off the entire course with code Busy75.
Tools that you create once and market continuously are the types of passive income that can ensure your financial stability in the midst of a crisis and beyond.
Repurpose Existing Content
The more active users and audience engagement you have on your platform, the better positioned you will be to make money in the future. Right now the focus may not be on paid gigs; however, think about repurposing assets to keep your audience engaged.
Blog posts that are already written and published may just need a title rewrite or revision of the opening paragraph to become relevant to your audience now. Topics involving cooking, self care, motivations, child activities, saving money, etc., are all useful in the current climate. Also, by increasing views, your ad revenue will also increase.
Think Strategically
To attain financially stability in the future, you have to be strategic with your thinking and planning. Despite the fact that some companies have cut their marketing budgets, others are actually thriving. As you reach out to brands, target those industries that are currently excelling in this pandemic. Focus on sectors like liquor, self-care at home, at-home entertainment, and interior decor.
Beyond pitching, you need to think strategically about your brand as a whole. If you are a travel blogger or an event planner, you will need to adjust your content for the future. Also, as the amount of talent that is available for campaigns increases, think about ways you can stand out from the pool. By being more professional, polished, and smart with your brand, you will attract more advertisers.
Plan for the future
Despite the current climate, to excel after the crisis you need to think about the future. I've learned one thing from business budgets: if you don't spend it, you lose it. More than likely, spending for Q3 and Q4 will be increased to make up for lost advertising earlier in the year. Starting now, think about ways that you can capitalize on this and prepare to offer creative and thoughtful content as we enter the fall and winter season.
I know we're all going through a difficult time, whether it is financially, mentally, or emotionally. The best advice I can give you is to stay calm, be mindful of your audience, and be smart when talking to your brand and PR contacts. It might take a little more effort, but you can come through this crisis in an overall good financial position.
Stay fabulous,