This post was sponsored by Intuit QuickBooks, but all opinions are my own.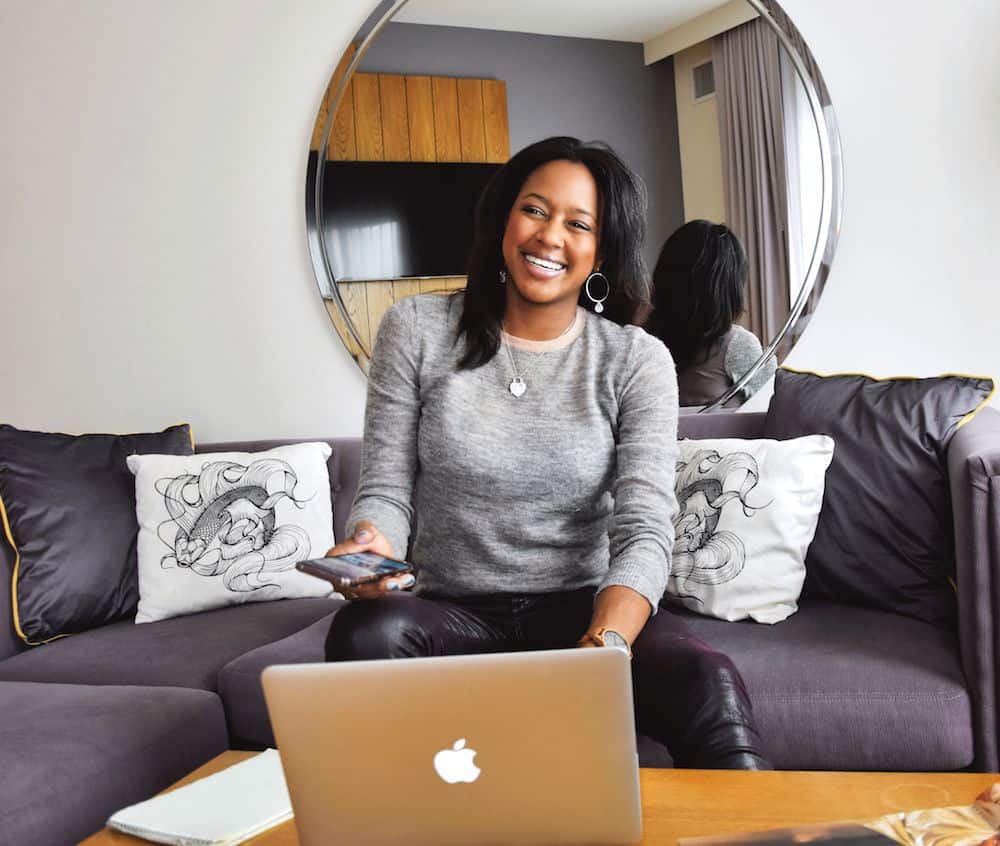 When you finally decide to leave your day job, the feeling is indescribable. You brim with excitement because your dream to follow your passion is finally realized. Because you are walking away from a stable job with a stable income, there is probably a bit of fear beneath the surface too. When leaving my nine-to-five a few years ago, I expected my future to be smooth sailing. Needless to say, I was a bit overly optimistic. Don't put in your two weeks' notice without checking out the five things I wish I'd known before quitting my day job.
1. A Flexible Schedule Isn't Always a Good Thing
One of the best parts of being your own boss is not having to answer to anyone. You decide when you are going to work and dictate your own office hours, so if you want to meet friends for lunch in the middle of a Tuesday, go for it! A flexible schedule has its perks, but it also has its disadvantages. Most small business owners I know are workaholics. With no set work hours, I often find myself working almost every day. Weekends and evenings become fair game for an entrepreneur. Despite being able to come and go as I please, my work is never done, so I find myself working more now than before I left my nine-to-five.
How to cope: I have learned to be stricter with myself and my office hours. I shut down my computer at 7:00 P.M., even if I'm in the middle of something. Also, I block off time to enjoy activities unrelated to work within the week and weekend.
2. "Out of Office" Doesn't Really Exist
When you work in an office and take a vacation, you probably put on an out-of-office email that directs essential matters to a colleague. As an entrepreneur just starting out, you have no colleagues. Everything related to the business falls on you. I find myself connected to my phone now more than ever. You can't ignore clients or technical problems, and of course, social media doesn't take a vacation. The only time I feel I can take a real vacation is on federal holidays when no one else is working.
How to cope: When planning a vacation, I make an effort to let clients know in advance so we can avoid unnecessary gaps in communication. Additionally, I schedule all social media content to post while I am away. Once posted, I periodically respond to comments and engage with my followers. If something work-related comes up when I am "out of the office', the QuickBooks app is one tool I can count on. If I need to meet a client last minute or run to FedEx, the app tracks my mileage for business-related trips. Plus, I snap a photo and upload it to the app as backup for my expense.
3. The Cash Flow Struggle Is Real
I knew that by working for myself I could kiss my regular paychecks goodbye, but I didn't realize how much I would have to manage my cash flow. Between my finance background and accounting experience, I thought I knew what to expect. After a few months of working for myself, however, I realized I still had a lot to learn. The sales cycle is much longer than I anticipated, and most projects are billed at Net 60 (so it can take as long as 60 days to be compensated for work you've already completed). In between checks, you must budget to cover expenses. Ideally, as your business grows you will gain customers or clients who hire you on a regular basis. However, when you first start out, it's a real struggle to keep your head above water.
How to cope: Using the right software can lessen the learning curve of managing cash flow. When running your own business, the financial tools you use can be the difference between staying in business or going under. I use the Self-Employed edition of QuickBooks to keep track of my finances. The software allows me to track my expenses, invoice customers for quicker online payments, and create reports to analyze my profits and expenses each quarter. Plus, the mobile app makes it easy to access all of this information on the go.
4. Human Interaction Is Limited
Working in an office certainly has its downfalls, but coworkers lessen the monotony and liven up the workday. Whether you're discussing your day, grabbing lunch, or taking a coffee break, human interaction is comforting. When I started working for myself, I soon came to miss this aspect of work. No one tells you this, but the life of an entrepreneur can feel very isolating. You don't have anyone to bounce ideas off of or troubleshoot problems with.
How to cope: Finding a co-working space or setting up shop in a shared office can offset the lack of human interaction. Working alongside like-minded people can also fuel creativity and boost productivity. Additionally, trying to schedule errands around lunchtime helps break up the day and allows you the opportunity to interact with people after a morning of solitude.
5. You Are Your Only Resource
When you have a contract question at work, you can ask Larry in legal. Have a payment inquiry? Judy in accounting can help you. Well, when you leave your nine-to-five, you also leave behind all of the in-office experts and their advice. Issues arise from time to time in areas outside of your realm of expertise, and yet they are now your responsibility. From marketing and sales to website and graphic design, all crucial decisions fall in your lap.
How to cope: You can rest assured that your business's finances won't suffer without a CFO. QuickBooks makes it easy to confidently invoice customers, track time spent on a project and categorize expenses. Need a little help, they have a customer support team ready to help and walk you through any difficulties you may have – so technically you aren't alone.  If you don't feel confident in your ability to handle so many different departments, you can always outsource some tasks to the experts. Hire a freelancer and pay them as you need them. I have been lucky to find some great people who handle many of the things I can't or don't want to do. Referrals are your friend.
As scary as it may seem, you can handle anything you put your mind to. Starting your own business is a lot of work, but I promise it does get easier with time.
Stay fabulous,