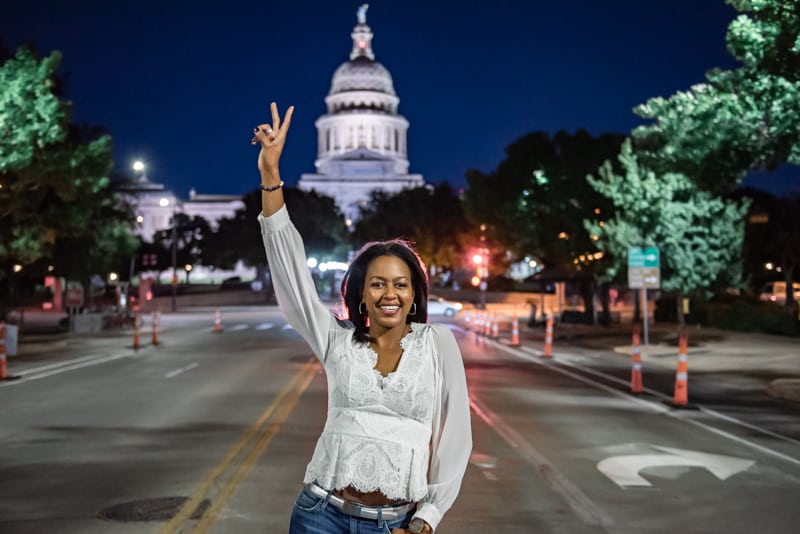 To many New Yorkers, Texas is a foreign entity, with its cowboys, Southern hospitality, and massive homes priced similarly to a studio apartment in NYC. The landscape is quite different from the Northeast, as is the weather. However, one city in the Lone Star State is currently #trending, with an influx of new residents flocking from California and New York wanting to call it home. With all this movement, I thought it was time for this New Yorker to write a Travel Guide to Austin.
When I told people I was planning a trip to Austin, I received a lot of similar responses: "I've heard good things, but I've never been there." Honestly, before last fall, neither had I. As COVID restrictions in New York continued despite a plateau in cases, we decided to see what all the fuss was about. We hopped on a plane and spent a week in Austin, and trust me—it was worth the trip. Keep reading this New Yorker's travel guide to Austin to plan your trip.
Travel Guide to Austin

The Vibe
Austin is a cool city. As a New Yorker, the first thing I noticed about Texas was that people are very friendly—much more so than in NYC (can we say #refreshing?!). As a city, Austin definitely checked off some boxes on our list. It's very walkable, especially in the downtown area. The nightlife is abundant, with great bars, clubs, and lounges all over the city. Plus, it has a lot of open space with parks and a waterfront, making it conducive to a healthy lifestyle for urban dwellers.
Austin is known for its live music scene, and you will find music venues and events happening on a regular basis (at least in pre-COVID times). It has historically been the host of the mega-conference South By Southwest, often abbreviated SXSW, which hopefully will return in 2022. It also attracts large businesses. Companies like Oracle and Tesla have relocated there, giving way to many new job opportunities. Where there are growing career opportunities, young professionals follow. All and all, this New Yorker found herself right at home in Austin.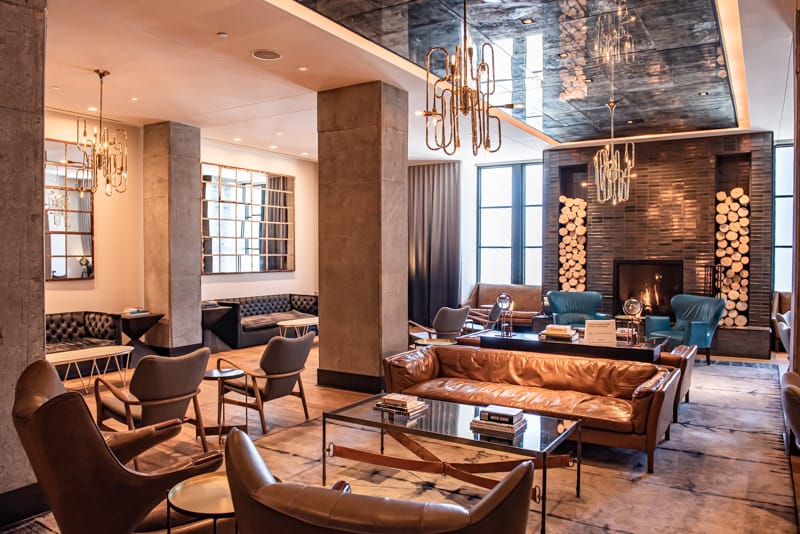 Where to Stay
If you are visiting Austin for the first time, downtown is going to be your best bet, and most of the hotels are centrally located. Some friends recommended Rainey St. as a hip area, so we stayed at the gorgeous Kimpton Hotel Van Zandt. The hotel took a lot of precautions to keep its guests safe from COVID. Socially distanced check-in allowed plenty of space between guests; and all staff wore masks and sanitized all of the common spaces on a regular basis. Our King Spa Room had modern and contemporary decor with a large soaking tub that overlooked Lady Bird Lake.
This property was walkable to several bars and restaurants in the area and steps away from what is known to locals as Town or Lady Bird Lake, a section of the Colorado River that flows directly through the heart of this beautiful, bustling city. The Kimpton has free bikes available for their guests, so we were able to ride along the waterfront and cruise around the city, which was so convenient.
We were able to relax and get some work done in this stylish space. The Kimpton has a nighty cocktail hour for its guests and serves complimentary wine and beer in the evening. To top off our stay, we enjoyed a delicious meal and an amazing live jazz show at Geraldine's, the hotel restaurant located on the fourth floor.
Kimpton Hotel Van Zandt, 605 Davis St., Austin, TX 78701 | (512) 542-5300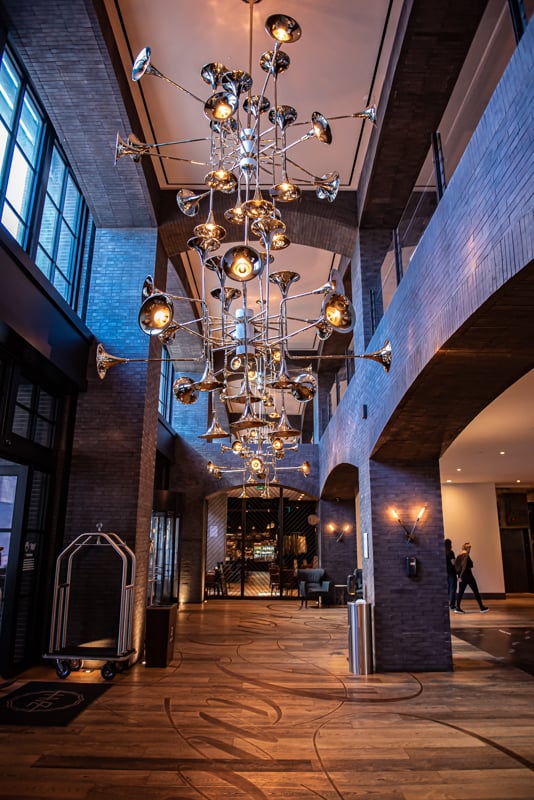 Where to Eat
New Yorkers know good food, and I heard Austin has a vibrant food scene, so we came ready to chow down! We dined at all different types of restaurants to sample a little bit of everything that was available. Here's where we ate and our reviews: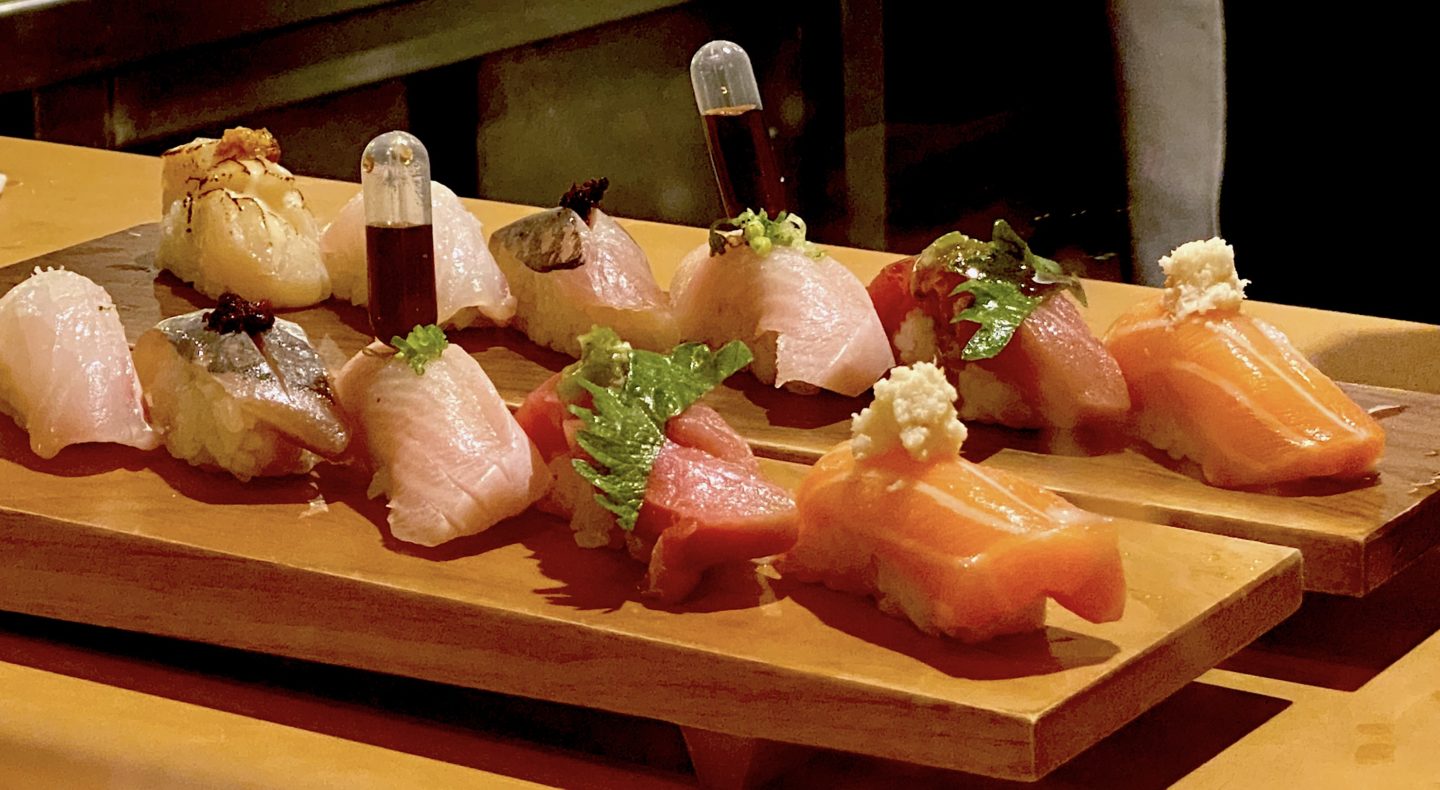 Sushi Junai Omakase (315 Congress Ave. #100, Austin, TX 78701 | (512) 401-3822)—This was hands down some of the best sushi we have ever had—and that says a lot coming from a New Yorker. It is a must-visit, not to mention it boasts a great happy hour.
Austin Favorites
Chuy's Tex Mex (various locations)—Chile con queso, an appetizer of melted cheese and chili peppers and often abbreviated "queso" by Texans, is a quintessential staple in Austin, so a Tex-Mex restaurant was on the top of our list to try. Recommended by many locals over its rival Matt's El Rancho, Chuy's has many locations across the U.S., but this New Yorker had never heard of it until our visit to the Lone Star State. We enjoyed a tasty meal of queso, burritos, enchiladas, and of course margaritas! Must visit!
Geraldine's (605 Davis St., Austin, TX 78701 | (512) 476-4755)—Make it a date night on Rainey St. and dine at the restaurant inside the Kimpton Hotel. We were there during the Blues, Birds, & Bubbles, which featured some delicious fried chicken, champagne, and a fantastic blues show. The restaurant consists of elevated comfort food favorites presented in a fine dining fashion.
Food trucks on Rainey St.—Austin is known for its food truck scene, which ranges from tacos to gyros to BBQ. A collection of food trucks roam around the city, and we visited the ones on Rainey and were delighted by the selections. As a native Detroiter, I happily stopped by Via 313 Pizza and enjoyed a delicious pie.

Kerbey Lane (multiple locations)—With a few locations around the city, we found ourselves dining here per a local's recommendation. Popular for its brunch, Kerbey Lane is an Austin staple, offering Tex-Mex and comfort food favorites such as sweet potato hash, chilaquiles, and apple cider mimosas. We dined at the South Lamar location and enjoyed a tasty meal.
Not Recommended
Terry Black's (1003 Barton Springs Rd., Austin, TX 78704)—We were looking forward to trying some authentic Texas BBQ, but unfortunately, Terry Black's did not hit the spot. Our expensive BBQ, accompanied by unappetizing sides, was over-salted and cold. We waited in line to try it, but I wouldn't recommend you do the same.
What to Do
Since we traveled during COVID, many of the typical attractions were not open. Nonetheless, we still had a great time. Austin boasts tons of great bars for nightlife, museums, shopping, and outdoor activities. No matter what you're into, you'll find something to do in Austin.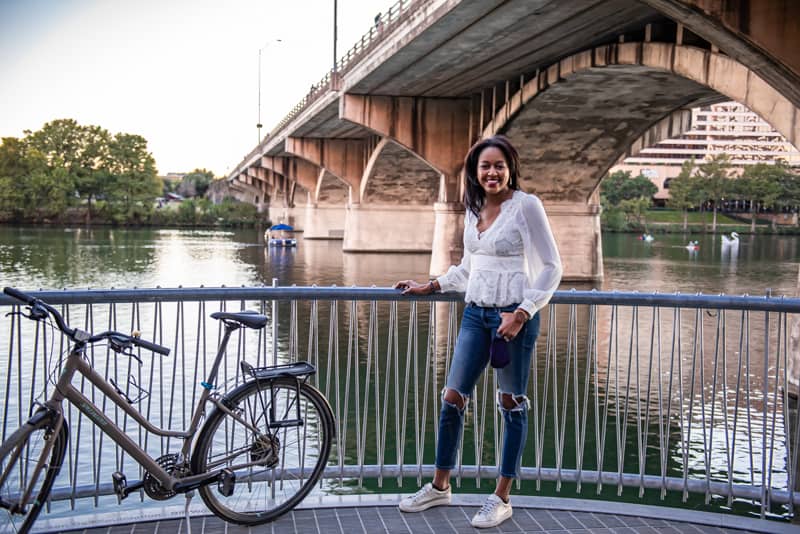 Areas of Interest
Music—Austin is known for its music scene, and you can usually catch a show in one of the many, many venues around the city.
Lady Bird Lake—The lovely river runs through the city and offers the perfect scenic view. We rode bikes at sunset and even caught a sighting of the famous Austin bats. Yep, I said bats. (*photo below)
The Capitol—It was temporarily closed because of COVID; however, when the Capitol building reopens, you can go on a free tour and learn about the state's history.
Bars on Sixth Street—If you are looking for a drink, concert, or club, head to Sixth Street, and you will not be disappointed. We spent our first night at a place called Speakeasy, and I stood up and performed some impromptu comedy for the first time at open mic night.
Rainey Street—Another popular area for nightlife, Rainey Street offers bars and lounges with a mix of food trucks in a couple of areas. We spent several nights in this area and had a great time!
Barton Springs & Zilker Park—During the spring and summer, Zilker Park is a great area to visit. Zilker houses Barton Springs, an outdoor public swimming pool filled with water from nearby natural springs, so it's always super cool, even on hot days in the Texas heat!
Bike or scooter around the city—You will find bikes and scooters parked all around the downtown area, with easy access to pick up and drop off wherever you are. This makes sightseeing a breeze!


Historic Fredericksburg
Per several recommendations, we decided to take a mini-road trip during our stay by traveling about an hour and 30 minutes out of Austin to historic Fredericksburg. This quaint town is considered part of Hill Country, and we enjoyed the view of the rolling hills on our drive. Fredericksburg is the perfect getaway for a day trip and looks like a set straight out of an old Western movie. You will find cute boutiques, specialty shops, great restaurants, and several wineries to visit along the way.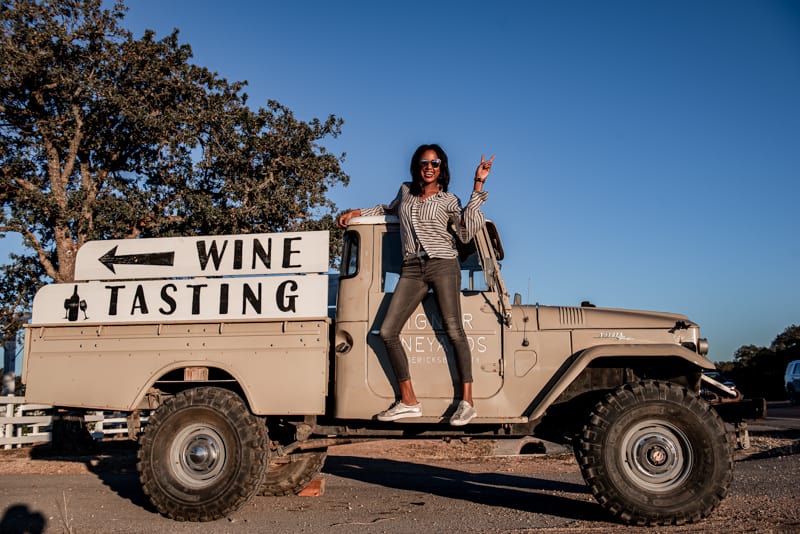 Wine Tasting
If you have been on my blog before, then you know how much I love visiting wineries. To my surprise, Texas is home to 400 of them, with 50 in the Fredericksburg area. The soil in Texas is similar to that of some areas in the Mediterranean, and when combined with the sun, it yields a lot of fruit and earthy notes as in wines found in France and Italy.
We left early in the afternoon for our day trip (you should really leave in the morning to have a full day) and didn't have enough time to make it to as many vineyards as we would've liked, but we did have a lovely tasting at Signor Vineyards. The property was the epitome of rustic chic, and the wine was divine. If you head to the wine trail, be sure to add this vineyard to your list of must-visits.
Notable Wineries: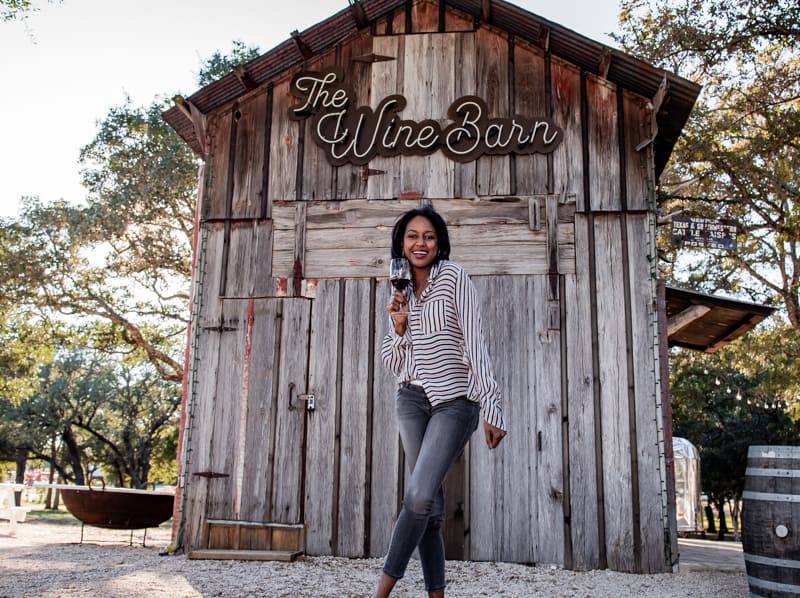 Why Just Visit?
In my opinion, it would be hard to not have a good time in Austin. It is one of the fastest-growing cities in the U.S., and it's cool enough that we are actually seriously considering it on a more permanent basis. With the ways things have been going in New York lately, the allure of Austin just might be enough for this New Yorker to call it home soon… #staytuned!
Stay fabulous,