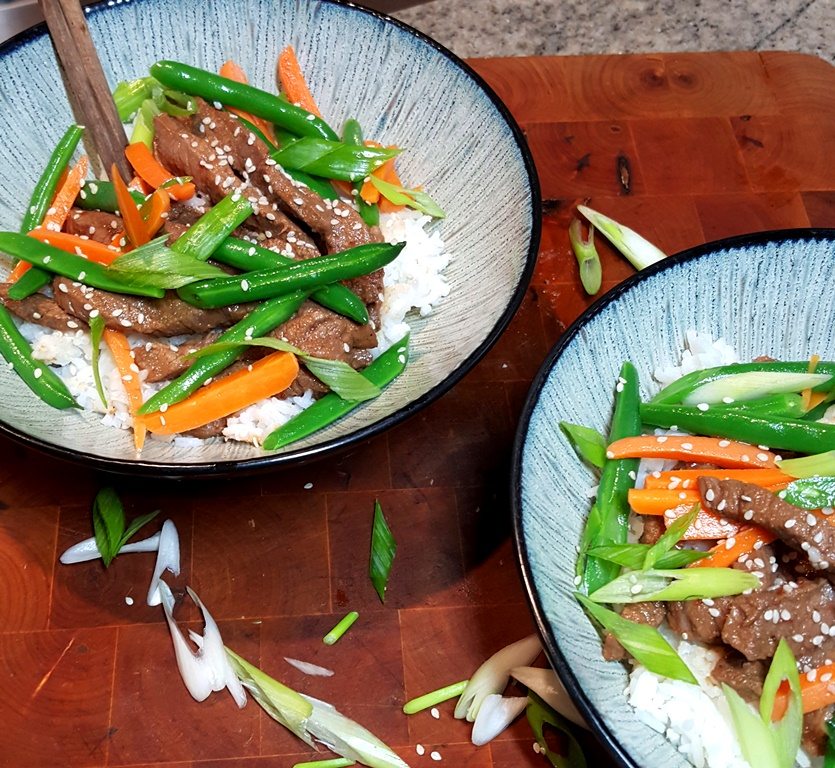 Looking for a simple and flavorful dish light enough for summer and packed with delicious Asian flavors? Look no further, my Korean Beef Bowl will definitely hit the spot! This dish consists of stir-fried marinated beef tossed with a salad of crisp green beans, carrots and scallions, plated on a bed of fluffy rice. The meal is a perfect way to enjoy an Asian dish without all the deep frying and heavy sauces.
 Recipe Tips:
Marinate – Make by combining BBQ sauce, sesame oil, garlic chili sauce, soy, garlic powder, Worcestershire sauce and Sriracha. This is a recipe I came up with thru trial and error and it is so yummy. Btw, you want to marinate the meat for at least 6 hours to let the flavors absorb.
Veggies – Using baby carrots instead of large ones made it a lot easier to get them matchstick size. Slice in half lengthwise and place them flat side down making them easier to cut. Blanch the veggies and place them in an ice bath to stop them from cooking. Once cool, toss them in the vinaigrette which consists of rice vinegar, sesame oil and sugar before set aside.
Beef – I used the pre-cut stir fry beef strips that you can buy from your meat counter for this dish. When you are ready to cook the beef, heat a wok or large skillet over high heat with just a little bit of oil. Then pour the beef and marinate into the pan and quickly stir fry for a couple of minutes for medium rare.
Finally just add your rice to the bowl, top with your beef (feel free to add some of the sauce from the pan), vegetables, and garnish with freshly sliced scallions and sesame seeds. I drizzle a little sriracha on top, which adds some heat – Enjoy!

In a medium bowl combine BBQ sauce, sesame oil, garlic chili sauce, soy, garlic powder, Worcestershire sauce and Sriracha, add beef and refrigerate for 6 to 24 hours.

Cut the ends off your green beans and slice them in halve on an angle. Cut your carrots into small strips similar to the size of your green beans. Add them to a large skillet over high heat with 1/2 cup water. Stir occasionally and remove after 3 minutes. Drain and immerse in cold water.

In a bowl, mix vinegar, sesame oil, sugar, and salt to taste. Then when the veggies are cool, drain and toss with your vinaigrette.

Place your wok or skillet over high heat; when hot, add oil then beef with marinate and stir until meat is no longer pink, about 2 minutes for medium. Scoop rice into bowls; add beef and sauce, then vegetables, sprinkle with onions and sesame seeds.