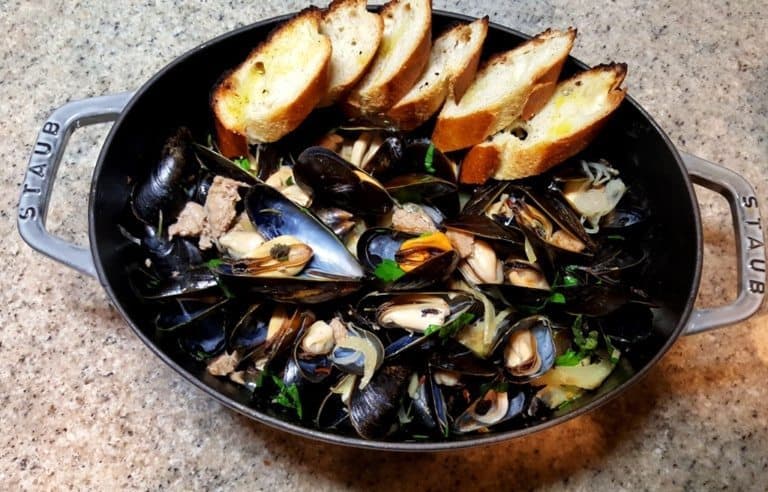 Whether you love or hate mussels, it's hard to resist spicy sausage in a finger licking white wine and garlic butter sauce! Mussels are a seafood that I actually grew to enjoy. The chewy texture wasn't initially appealing to me, until I realized I'd only been presented with overcooked  versions of this tasty underwater treat . When cooked properly, these little morsels of seafood goodness are perfect as an appetizer or can be deliciously tossed with your favorite seafood pasta. I added turkey sausage to this dish to make it more filling, and the flavors of fennel and spice gave it the extra kick I craved. The broth of a mussel dish can be the best part, so don't forget a loaf of crusty bread to soak it all up when serving. 


Recipe Notes
When mussels are purchased they are typically very dirty, so be sure to clean and scrub under cold water. They may have a piece of seaweed type string, called a 'beard'. Remove this with your fingers or cut with a small knife before cooking.
Discard any mussels that are cracked or broken before cooking.
If a mussel does not open after it has been cooking, don't try to pry it open – just discard it.
Rinse and scrub mussels under cold water. Remove the beards using your fingers or a pairing knife. (seen in the photo)

In a large stock pot, add olive oil, sausage meat, fennel, and crushed red peppers. Saute over medium heat until sausage is cooked through and remove from the pan.

Then combine the wine, shallots, garlic and salt. Simmer for 5 minutes and then add the mussels to the pan, increase the heat and cover. Cook until all the mussels are open (about 4 to 5 mins).

Next stir in butter, herbs and cooked sausage mixture and remove from the heat. Serve immediately with crusty bread.