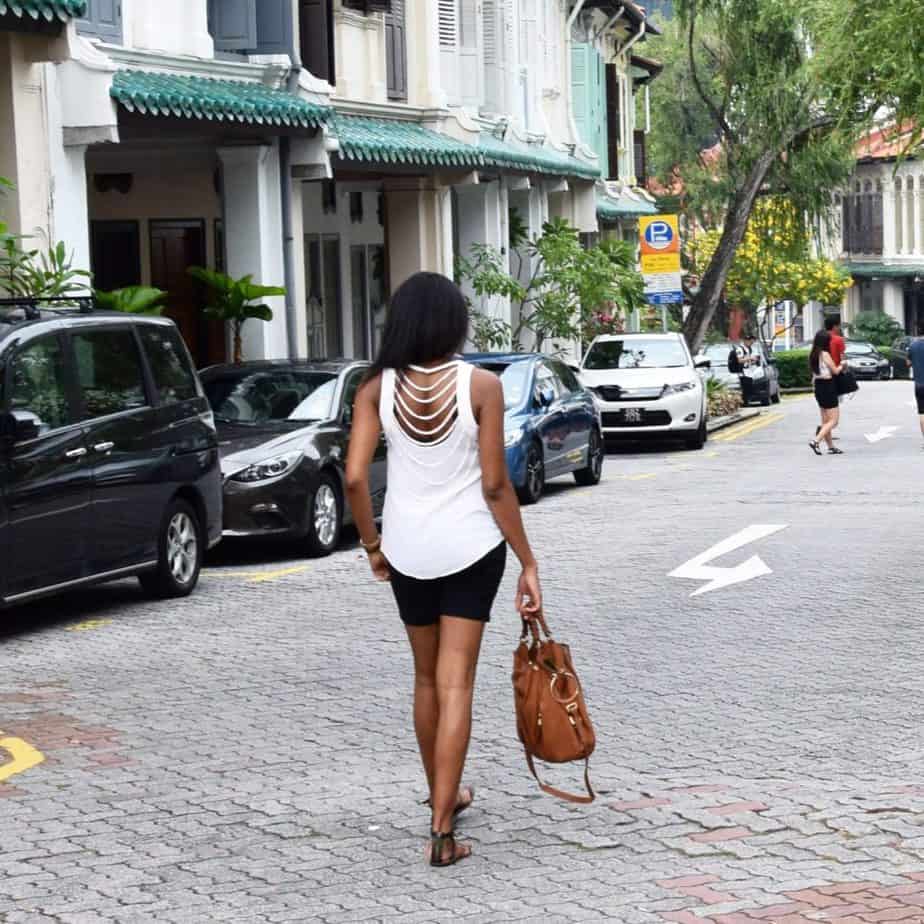 Traveling to Asia has always been on my bucket list, so when I started planning my South East Asia adventure, Singapore was definitely on the list. As the financial hub of Asia, I thought the city would be a great destination to start off my travels and an easy transition from NYC. Though both cities have a lot of similarities, there are some unexpected perks and disadvantages to Singapore. Here's how I spent 48 hours in the Lion City (video below) and a few tips for planning your Singapore trip.
Singapore is a very cosmopolitan city. I was pleasantly surprised at all it had to offer – great food, shopping galore, friendly people, very clean and open spaces to walk around. The more we explored, the more I fell in love with this island.
Day 1
12:00am
We landed at Changi International Airport at 11:55pm, since it was so late we checked into the Crown Plaza Hotel, conveniently located in terminal 3 of Changi Airport. The property was one the nicest airport hotels I have ever seen, complete with an outdoor pool oasis.




11:00 am
After some much need sleep, we checked out of the Crown Plaza and got an Uber (20min ride costing $18USD) into the city to check into our next hotel. We stayed in the Orchard Road area, which was the ideal choice as I love to be near the shops!


Looking for a hotel? Check out this Where to Stay in Singapore Guide
1:00 pm
All settled in our hotel, we decided to walk the city and explore. I was told that Singapore's MRT (mass rapid transit) is an excellent way to get around, but walking allowed us to leisurely chart our path. Our first stop was Fort Canning Park, once a military headquarters, this lovely hilltop park has massive trees, lawns and many historic landmarks.


3:00 pm
The next stop on our self-guided walking tour was the Marina Bay. It is the most iconic backdrop to the city and features the architecturally stunning Marina Bay Sands Hotel. From this property's SkyPark, you can experience one of the best views of Singapore! If you have the budget for it, make a reservation at one of the hotel's rooftop restaurants and watch the sun set over the entire city.


5:30 pm
After doing a little damage at The Shoppes of Sands Hotel, we headed to one of the coolest parks I've ever been to. The Gardens by the Bay, the #1 attraction in Singapore, features tropical gardens and enchanting visual displays unlike no other. In hindsight, we should have gotten here a lot earlier to have more time to walk around and take photos. Honestly, you could spend your entire day here enjoying this awesome park.



7:30 pm
After walking around all day in the heat, a cold drink was just what we needed. We looked on TripAdvisor and found Level 33, a hip restaurant and bar on the 33rd floor of the MBFC building Tower 1 which looks over the whole Marina Bay. The view was spectacular, but the most shocking sight was the total of our bill.
Compared to the US and much of the world, alcohol prices in Singapore are ridiculously expensive. All beer and wine is subject to high tax and liquor is taxed at an even higher rate. If you plan on having cocktails, I would definitely recommend finding a happy hour, or you could pay upwards of $12 for a beer and $18 or more for each drink.


9:00 pm
After a long day of exploring, by nightfall we were rather famished. I was looking forward to trying one of Singapore's many iconic Hawker (Food) Centres. Even though alcohol is rather expensive, you can eat inexpensively in this city if know where to go. Street food is not allowed on their super clean streets, so massive food courts were created to house favorite local eats under one roof.
On the first night we tried the Maxwell Food Centre, located close to Chinatown. It's a mid-sized center that featured some notable food stalls, including the Tian Tian Hainanese Chicken Rice. A visit by Chef Anthony Bourdain has made this stall rather popular. Chicken Rice is the national dish of the city, most notably because of its soft, juicy chicken meat and rice infused with the chicken broth.
Day 2
9:45 am
Still a little jet lagged, we slept in and got a late start to our day. On my quest to eat like a local, we grabbed a morning bite at Killiney, a cafe chain that serves local Singaporean breakfast, including Kaya Toast and Mee Siam. This morning toast, synonymous with Singapore, is made with a delicious spread of kaya, a coconut jam and butter. Mee Siam is a noodle dish with tangy broth and a garnishing of fried tofu, chives and a slice of lime. They're a breakfast must!

12:00 pm
Since Singapore has some of the best shopping in Asia, visiting a mall or two is a must do! There are shops for every budget, from ultra high end luxury to affordable finds. Money saving tip: save the receipt from your purchases and present it at the airport to get a refund of your VAT tax paid.
Top 10 Shopping Malls in Singapore

3:00 pm
After shopping, we walked down Emerald Hill Rd, a cute residential neighborhood near the shops. A friend of ours lives near the Katong area, a district east of the city, so later we went to check that out as well. The area had tons of great restaurants, cool architecture and of course a shopping mall.

7:00 pm
Our first trip to the food center was so successful, we decided to save some money and give it another go. This evening we went for one of the larger centres on Old Airport Rd. After a bit of research, we knew Chuan Kee Satay was the first stall to visit. This place is very popular; there was a 35 min wait for our order while other places had no line at all. If you like spring rolls, then I recommend stopping by stall photographed below as well. It serves a few varieties of unique spring rolls with crunchy shells and tasty fillings…contents unknown!
   
Overall, I fell in love with Singapore. Other than the extremely hot weather, it is definitely a place I could see myself living. Everyone speaks English, the streets are super clean and safe at night, plus If you love to travel, Singapore is the perfect gateway to South East Asia. 48 hours in the city of Singapore went by way too quick, so if you have more time to spend on this wonderful island, check out this 4 day Singapore itinerary by Phenomenal Globe!
Here are some quick Travel Tips for your trip: 
Taxis are rather expensive, try Uber or Grab apps instead
MRT – Mass Rapid Transit a reliable, inexpensive and convenient way to get around the city
Happy Hour is very popular in Singapore and most offer 2-for-1 specials
Planning a long stay, hit up Duty-Free for a bottle of wine to enjoy at your hotel
The hotels have universal outlets, so you don't need adapters
Hawker Food Centres will provide tons of cheap & tasty local eats
If you plan on shopping, save your receipts to get a VAT refund when you fly out
For more excellent ideas, check out 18 Cool Places in Singapore For You To Explore by The Discoveries Of