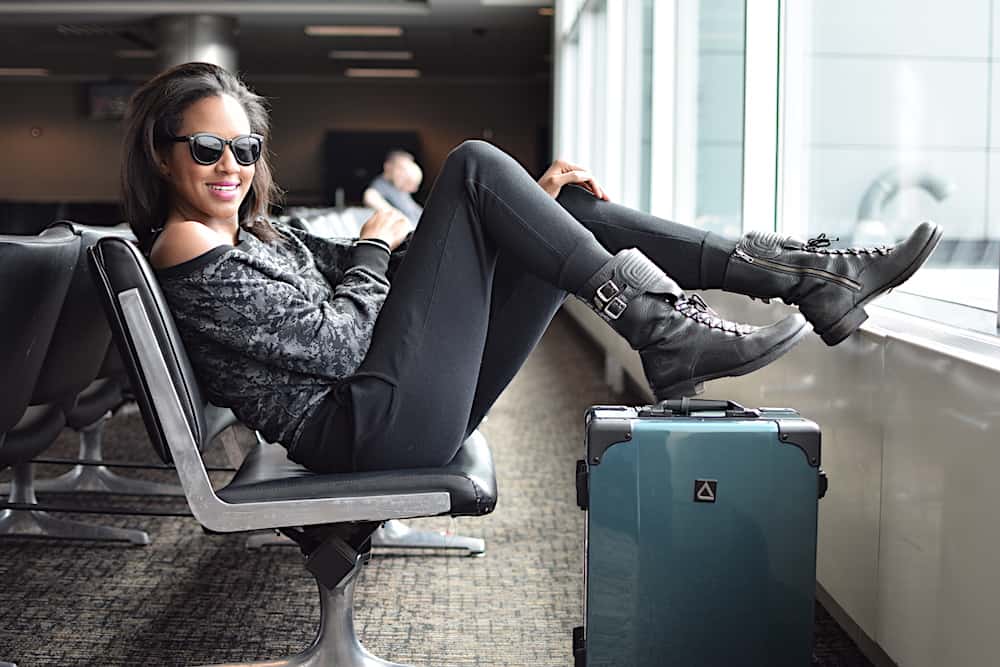 I've been bitten by the travel bug too many times to count. I have a hard time sitting still, and I love to experience new places near and far. In 2017, we spent six months living out of a suitcase. My husband and I packed up our NYC apartment and hit the road—well, technically, the friendly skies. We traveled to Southeast Asia for a month, then back to NYC, on to West Palm Beach, Salt Lake City, Phoenix, San Francisco, and down the PCH to Los Angeles. You could definitely call us frequent flyers! Traveling efficiently is an art form; it's about knowing what to pack, how to navigate the airport, and how to have an enjoyable flight, which differentiates frequent flyers from occasional travelers. Even if you only travel once a year, here are my tips for traveling like a frequent flyer every time.
Packing for the Flight
One distinction that separates frequent flyers from other travelers is how we pack. We know what to put in our luggage and bring on the plane to ensure that we have a great flight.
No Full-Size Containers 

Now that the TSA can potentially examine every item in your bag, save them the hassle and pack small. From your bath and skin care products down to your makeup, bring travel-sized items so that your carry-on will be approved. When I travel, I bring mini-sized bottles of my beauty products and my Stowaway Makeup. Their mini-makeup products fit perfectly in your purse or suitcase.
Beauty Sleep
If you are a napper like I am anytime I fly for more than three hours, bring an eye mask, pillow, and earplugs. Even if you plan to sleep for only 20 or 30 minutes, I guarantee that having these items will make your rest more enjoyable. SleepSwag has a great selection of masks, and their founder was a former flight attendant. 
Bring a Bottle
Such a simple concept, but one most of us forget about. Every time I fly I bring an empty water bottle with me and fill it up when I get through security. This way I don't spend $4 on water or have to wait for beverage service on the plane.
Going Through Security
If you are running late, delays and long security lines can be the difference in making or missing your flight. You know those people who seem to just whisk through security while everyone else has to wait? Well, here's how they do it:

TSA Precheck®
Want to breeze through the security line? Then you need TSA Precheck®. This program allows me to wait in a much shorter, special security line, which has saved me so much time—plus, I don't have to take off my shoes or light outwear, and my laptop can stay safely in its bag. Some travel credit cards waive the fee for signing up for the program, so don't forget to check and see whether you qualify.

Dress for Comfort and Style
If you don't have a security line fast-pass, it is not the end of the world. Frequent travelers know how to dress to ensure they can get through security with ease while maintaining their comfort on the flight. Leave the shoes with the buckles and tight laces at home and wear slip-ons or other shoes with easy access. Your layers should be easy to remove and put on again. The less time you spend in the security line, the better. 
Additional tip: I generally avoid lines with elderly passengers and small kids. They may be cute, but typically they will hold up the line.
Flying Smart
Here are a few less obvious tips that frequent flyers like myself have learned over the years.

Download the Airline App
I know you are thinking that the last thing you need is another app on your phone, but having your boarding pass, the up-to-date gate information, and correct seat selection right at your fingertips is very helpful. Airline apps even notify you when your bag is loaded on the plane and when it hits the baggage claim.
Fly the Same Airline
My husband thinks I am nuts because I always fly the same airline. To be honest, I rarely even look at other airlines when searching for flights. This way I accrue miles in one place, instead of with five different airlines. I use my miles to buy down the cost of flights or for a free ticket. If you are not a frequent flyer, you can apply for a credit card from your favorite airline to earn miles with everyday purchases.
The Lounge is Your Friend
Even if you don't fly often, consider buying a lounge pass for the days you do fly. Lounge access includes a relaxing environment to unwind in before the flight without being constantly bombarded with gate announcements. Plus, there is always something tasty to eat, an open bar, newspapers, and a shower that I have actually used before. Honestly, my time in the lounge is what I look forward to most when flying—besides arriving at my destination, that is.
Flying can be an enjoyable experience if you do it right. Just remember to always give yourself extra time and prepare for delays. Anything you can do to make your travels more relaxed and stress-free is always the goal!
Stay fabulous,