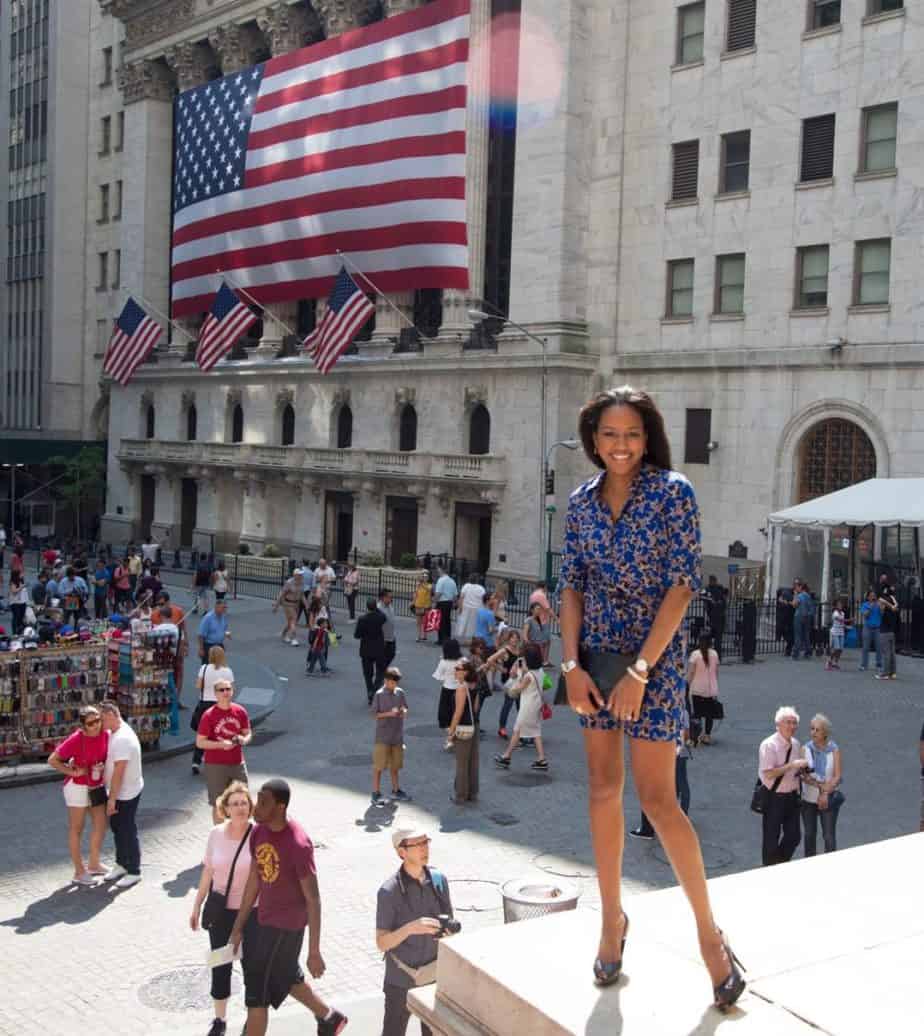 The general rule is, after 10 years in the city, you are officially considered a New Yorker. Personally, I considered myself one way before that time frame (and still do even though I no longer live there). I know it may sound silly, but when I moved to the Financial District of NYC, the city and I had an instant bond. There is so much to love about New York, not counting the rats, the smells, and the cost. But honestly, everything else is fantastic!
I spent nine of my 11 years in the city that never sleeps living in the Financial District, or Fidi, as it's called these days. I was a resident of this neighborhood when not many wanted to be. Fast forward nine years, it's now one of NYC's most desirable areas. If you are planning a trip to the Big Apple, you have to spend at least a day in my old stomping grounds. Here are my recommendations for things you don't want to miss in the Financial District NYC.
My Landmark Guide to FIDI 

Sightseeing
There is so much to see in this historic section of the city. The Financial District NYC is located at the bottom tip of Manhattan, where the East River and Hudson River meet. It features amazing views of the Statue of Liberty and New Jersey, as well as the Brooklyn, Manhattan, and Williamsburg Bridges. You can easily walk around to explore Fidi, but don't get discouraged if you have to ask for directions. Most New Yorkers hate to admit it, but they get lost Downtown, too! 

Of course, the neighborhood is known for the Stock Exchange and other financial monuments, but it offers much more than just Bulls and Bears. Make sure you have your camera ready, because plenty of photo opportunities await. My recommendation for a walking tour is to start on either side—East or West—and travel in a horseshoe-esque-shaped path to see everything.
My map above highlights most of the major sights in the Financial District. Try to visit them all, but if you can't, here are a few of my "must-see" spots:
Wall Street & NYSE
If you visit the Financial District, you must take a walk down Wall St. and grab a photo in front of the New York Stock Exchange (NYSE). This location is filled with so much history because it used to be the northern border of the city (New Amsterdam), and it's the most iconic landmark in the neighborhood.

The Oculus
This extraordinary $4 billion structure is one of the newer pieces of architecture to debut in the Financial District. The Oculus is the World Trade Center Transportation Hub. Make sure you have your camera, as this site is a photographer's dream from the inside out.

9/11 Memorial
A visit to the 9/11 Memorial may be an emotional one, but it's well worth it. Waterfalls flow into the foundation of where the Twin Towers once stood, and the site is truly breathtaking. Entry is free to the memorial, and $24 for an adult ticket to the museum.

South St. Seaport
What once used to be the massive Fulton Fish Market—which smelled like fish for years after I moved down there—is now a tourist and local favorite, offering shops, bars, and restaurants. After Hurricane Sandy destroyed this historic area, the community came together to help rebuild it, and now it continues to grow and thrive.

Battery Park
If you are visiting NYC, I'm sure a trip to Central Park is on your list of things to do. But if you are Downtown, a walk through Battery Park is a must. At the tip of the island, you can enjoy a beautiful view of the Statue of Liberty, a walk along the waterfront, or a tour of many statues and monuments scattered throughout the park. Battery Park has always been one of my favorite places to unwind in the city.

Restaurants
New York has some of the best food in the country, hands down. No matter your preference, as long as you stay out of Times Square it's relatively easy to find your next delicious meal. The same holds true in Fidi: there are plenty of tasty options to enjoy at any price point. I've curated my "Best of Fidi Dining" for you to check out:
Steakhouses

A fancy steak dinner is not hard to come by in the business district. If you are looking for a prime cut of meat, you can choose from quite a few restaurants. Here are my recommendations:
Delmonico's (56 Beaver St., New York, NY 10004 | (212) 509-1144)—Famous for its history, ideal for business dinners or date nights.
Harry's (1 Hanover Square, New York, NY 10004 | (212) 785-9200)—Lively bar scene.
CUT by Wolfgang Puck (The Four Seasons Hotel, 99 Church St., New York, NY 10007 | (646) 880-1995)—NEW!

Italian

Da Claudio Ristorante NYC (21 Ann St., New York, NY 10007 | (212) 285-2668)—If you are looking for awesome Italian food, look no further! Da Claudio has been one of my favorites spots since the moment it opened. Their fantastic food and management keep me coming back again and again! Read all about why I love this place here.
Best Upscale Dining

North End Grill (104 North End Avenue, New York, NY 10282 | (646) 747-1600)—One of my favorite special occasion restaurants for brunch, lunch, or dinner. There is so much to love about this restaurant, from the chic decor, fantastic staff, and delicious seasonal menu. Highly recommended!
Other Favorites
As I mentioned, there are a lot of options for dining in Fidi. Here are a few other of my faves to check out:
Shopping
The Financial District is not Soho and hasn't historically been known for its shopping. But as the neighborhood continues to evolve, the retail landscape is definitely changing. Cute shops and specialty boutiques are popping up around the Seaport. Additionally, you will find some high-end stores like Hermès, Tiffany & Co., and Canali near Wall St. A few contemporary retailers, like Gap and Zara, can be found along Broadway. And of course, Brookfield Place, an impressive mall near the Hudson River, provides a cool New York shopping experience.
Here are a few of my favorite spots to shop:
Brookfield Place

A beautifully designed shopping center and plaza, nestled between the Hudson River and the West Side Highway. Brookfield Place features a host of high-end retailers such as Saks, Gucci, DVF, and Zenga. You can spend hours here, shopping, dining, and taking in the gorgeous views of the marina and waterfront. There is always something interesting going on here not to be missed.
Century 21

The ultimate designer discount store is right in the heart of the Financial District. If you have the time and patience, you could go home with bags and bags of goodies. There is no store in the country where you can find six floors of high-end designers—Armani, Valentino, and Jimmy Choo, just to name a few—at such prices. Century 21 has everything from clothes, beauty products, housewares, and shoes galore, all at amazingly discounted prices!
Bars and Night Life

The saying "work hard, play hard" is especially prevalent among New Yorkers, as we love to indulge in a cocktail or two after a long day of work. For many years, most New Yorkers considered the Financial District to be dead at night. However, with the influx of businesses relocating Downtown and the increase of residential buildings, you will now find most bars packed on any given evening.
Whether you are a wine connoisseur, cocktail aficionado, or just looking to throw back some beers, there are many options to satisfy your thirst in the Financial District. All you have to do is pick your poison!
Stone St.
A New York institution, this pedestrian street is lined with bars and restaurants that have been over-serving the Downtown community for decades! You will find a little bit of everything on this street, from traditional Irish bars, a Bavarian bier house, a lively Mexican restaurant, and my favorite wine & whiskey bar, Vintry.

Vintry Wine & Whiskey (57 Stone St., New York, NY 10004 | (212) 480-9800)—Believe me when I say that you cannot make a trip Downtown without stopping by my favorite spot. This intimate bar featuring tasty small plates, handcrafted cocktails, and wine for every palate is my go-to bar on Stone St. You can sit at the bar and chat up the bartender or reserve a table for you and your friends.

Notable Bars To Visit
Movies
If bars aren't your thing, don't fret—there are other options you can enjoy. An upgraded movie experience has arrived in the Financial District's Seaport. At iPic, you can pre-select your seats and enjoy quality dining and drinks while watching your new favorite movie. If you are on the West Side, there is also an AMC Theater in Battery Park right near the Shake Shack.

Cruising the Hudson
After walking the streets, you may want to spend your evening watching the sunset over all you've explored. Catch some spectacular views of the Brooklyn Bridge, Fidi skyline, and Statue of Liberty while on a relaxing cruise. You can set sail right from the Financial District and experience some of the best views of NYC.



As you may have heard, NYC is the city that never sleeps and things are always changing. Even though I still wear the honorary badge of a New Yorker, after 11 years on the East Coast I now live in LA. For the latest info on what's new and hot in Fidi, check out the Downtown Alliance website #DownIsWhatsUP! If you find yourself outside of the Fidi and are looking for free things to do, check out this list of free things to do in NYC!
Pin Me

Stay fabulous,