Mixing cuisines from different regions to create something delicious, is amazing when done right, and my lasagna empanadas are the perfect way to combine a Latin favorite with an Italian staple. I recently took this recipe for another spin and decided to prepare it in my Ninja Foodi Grill with an air fryer function. This twist not only cut down on calories from traditional frying, but it made cooking a snap.
What are Empanadas?
Empanadas are essentially turnovers consisting of a pastry and a filling. They are common among Latin American, Filipino, and Spanish cultures. A traditional recipe might feature them with beef and spices and topped with some type of salsa or cream.

Being cooped up in the house so much over the past year hasn't always been fun, but it's come with a few perks—one being that I've seriously elevated my cooking game. I've cooked more in the past 12 months than I ever have in my life! Once my usual recipes started to bore me, I began experimenting with new versions of traditional dishes. I took all of the ingredients from my lasagna and created something new. This recipe is great if you have leftovers from making lasagna the night before.

How to Start
To make these air fryer empanadas, start as you would with any lasagna recipe: make the sauce. This will be your filling for the empanadas, so you want it as tasty as it would be if you were making actual lasagna. Brown the meat, make a delicious tomato sauce with herbs and spices, and let it all simmer together to create sauce heaven.
For my sauce, I start with a base similar to this Spinach and Ricotta Rotolo recipe, with fresh garlic, olive oil, and basil. If you want to make this recipe even simpler, feel free to use your favorite store-bought sauce. I season and brown the meat with sautéed onions and garlic. Then, I combine the meat with the sauce and let the flavors meld together. While the mixture is simmering, I cook a few lasagna noodles to add to the filling.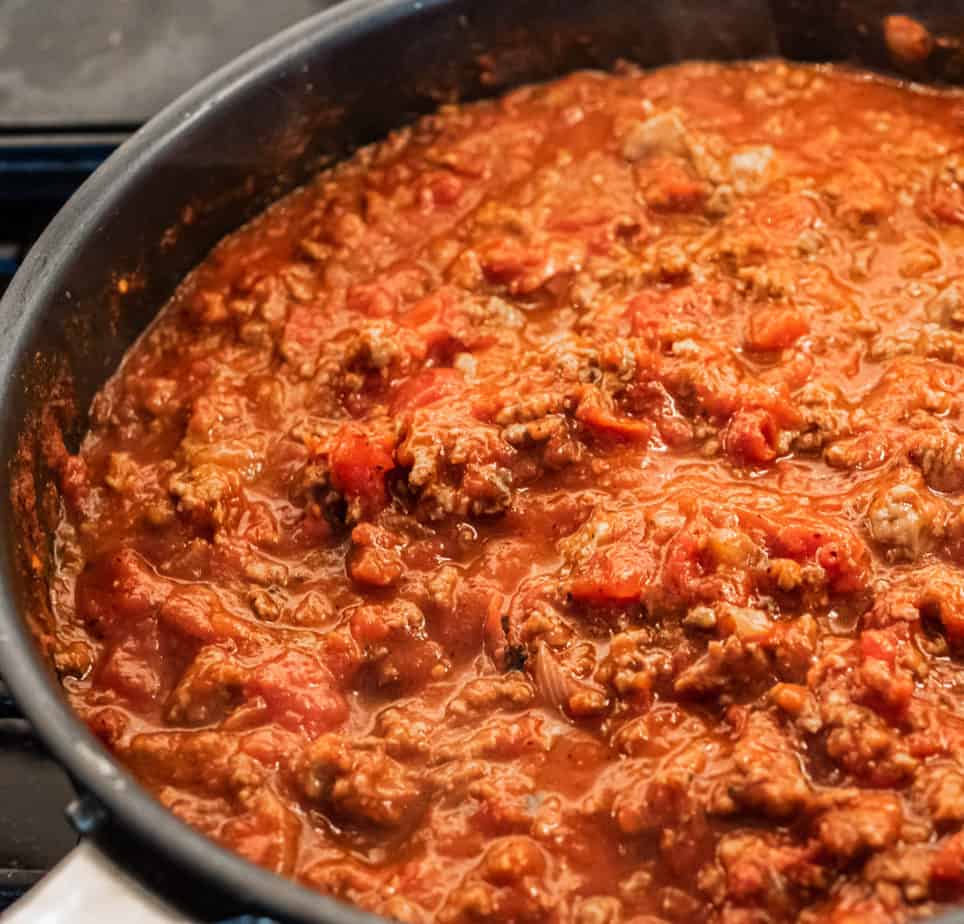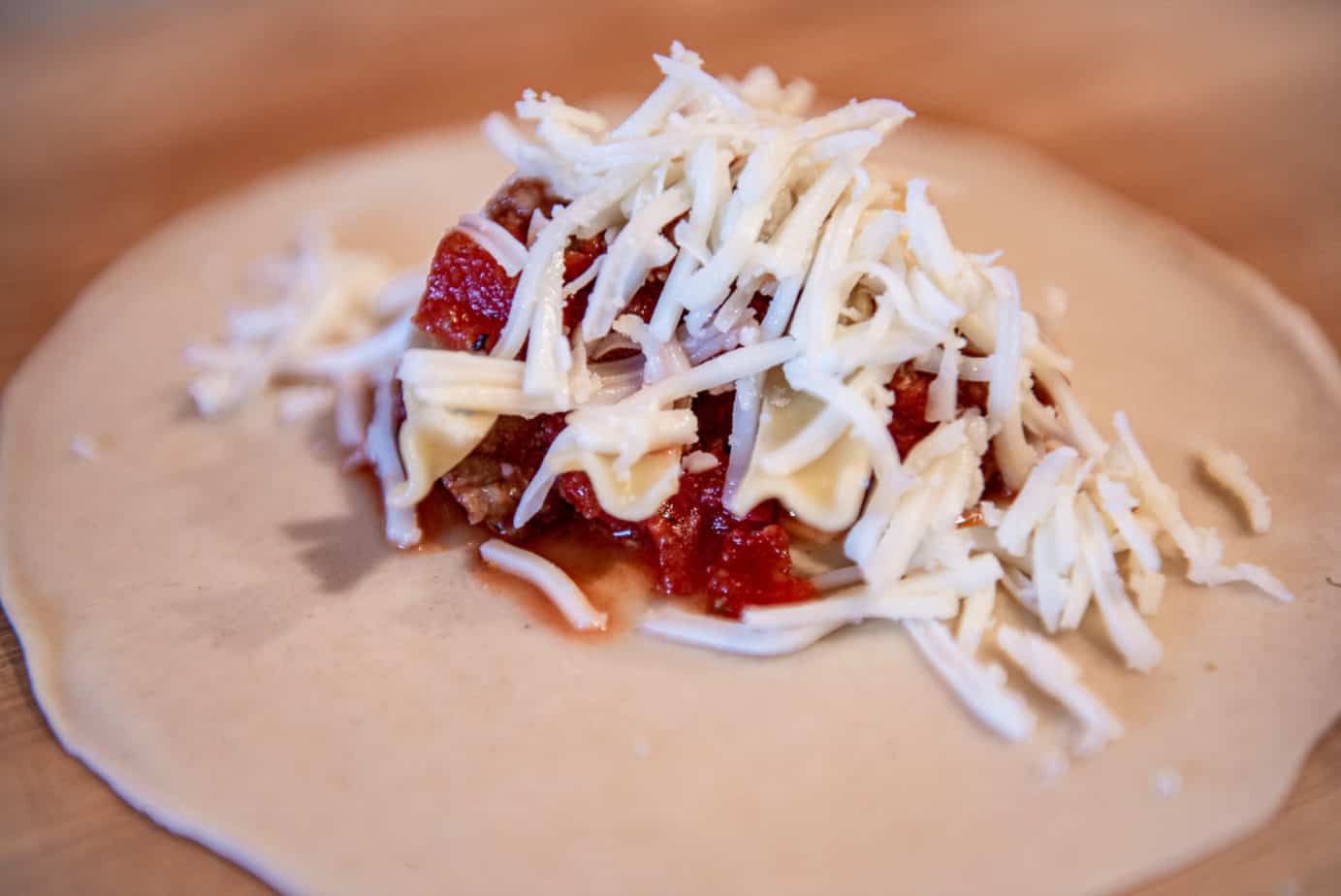 Create the Filling
I bought the empanadas shells from the grocery store. If you are feeling ambitious, you can make them yourself, but this recipe has a lot of steps, so I chose to keep it simple. To fill your empanadas, approach them like you would when you build your lasagna.
I start with the meat sauce, then add some strips of the lasagna noodles and ricotta cheese, and top that with another scoop of sauce, followed by shredded mozzarella. The key is to not overfill the shells so you can seal them properly. I fold over one edge, roll it up, and press firmly to seal the edges.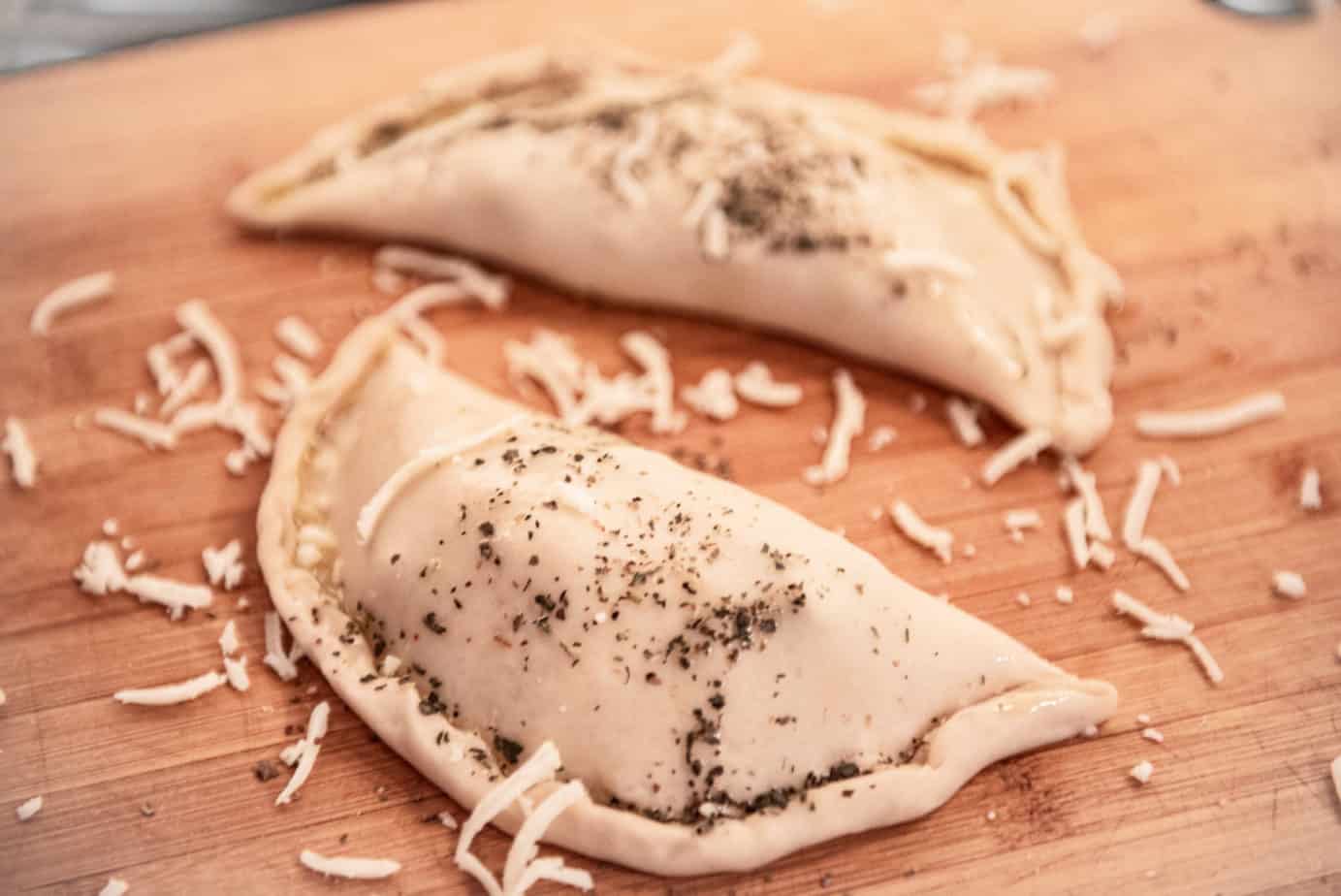 Air Fry
If you don't have an air fryer, I highly recommend getting one! This Ninja Foodi Grill has an air fryer, a grill, a dehydrator, and roasting capabilities, which makes it a convenient and useful appliance. The air fryer cuts down on the fat from frying these, but you still need to brush a little olive oil on the shell to help the empanadas brown. I also sprinkle a bit of dried oregano and basil on the top to add a little flavor. Then, I air fry the empanadas, three at a time, at 360°F for 10 minutes, flipping after five minutes. I serve them with some extra sauce on the side to dip them in.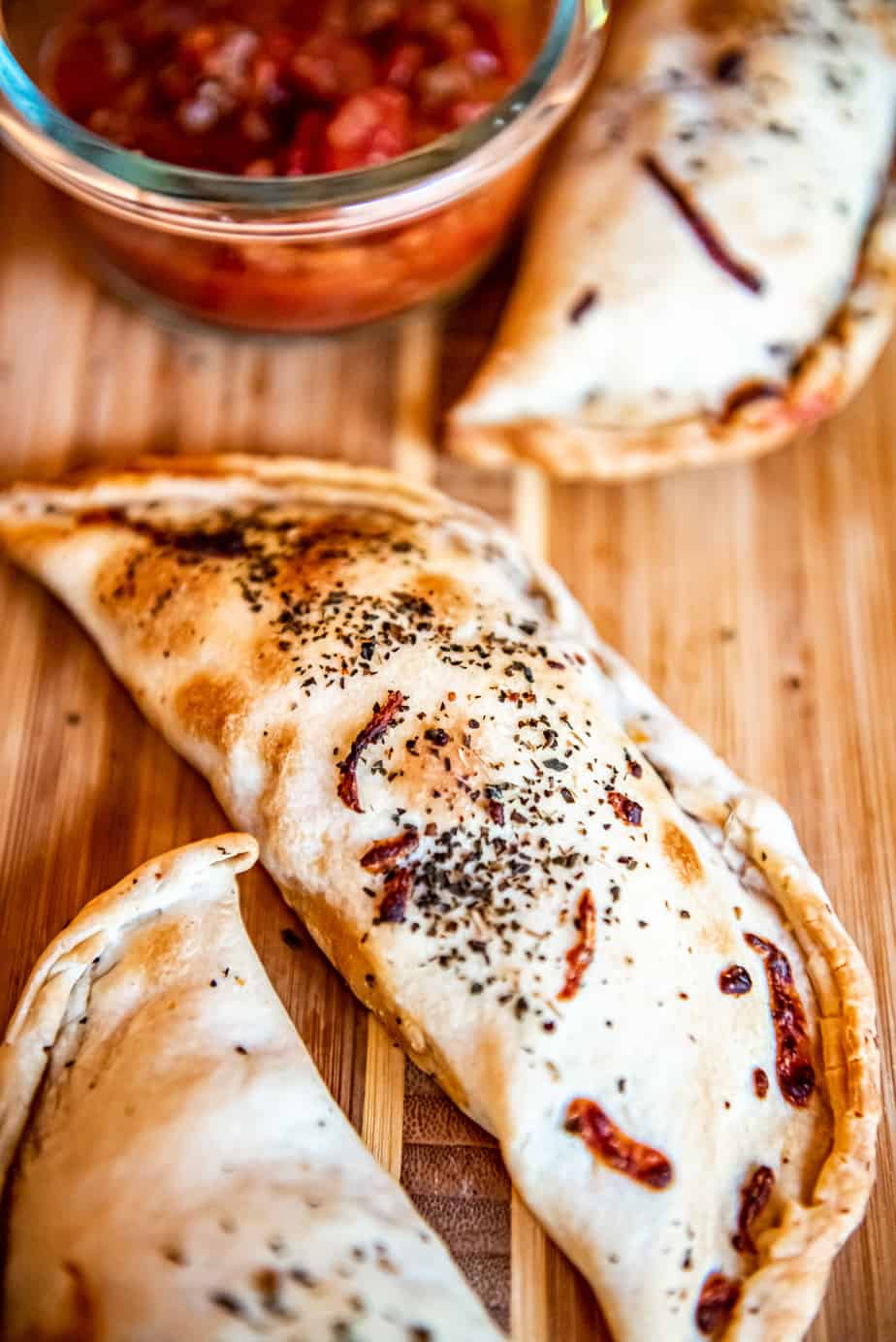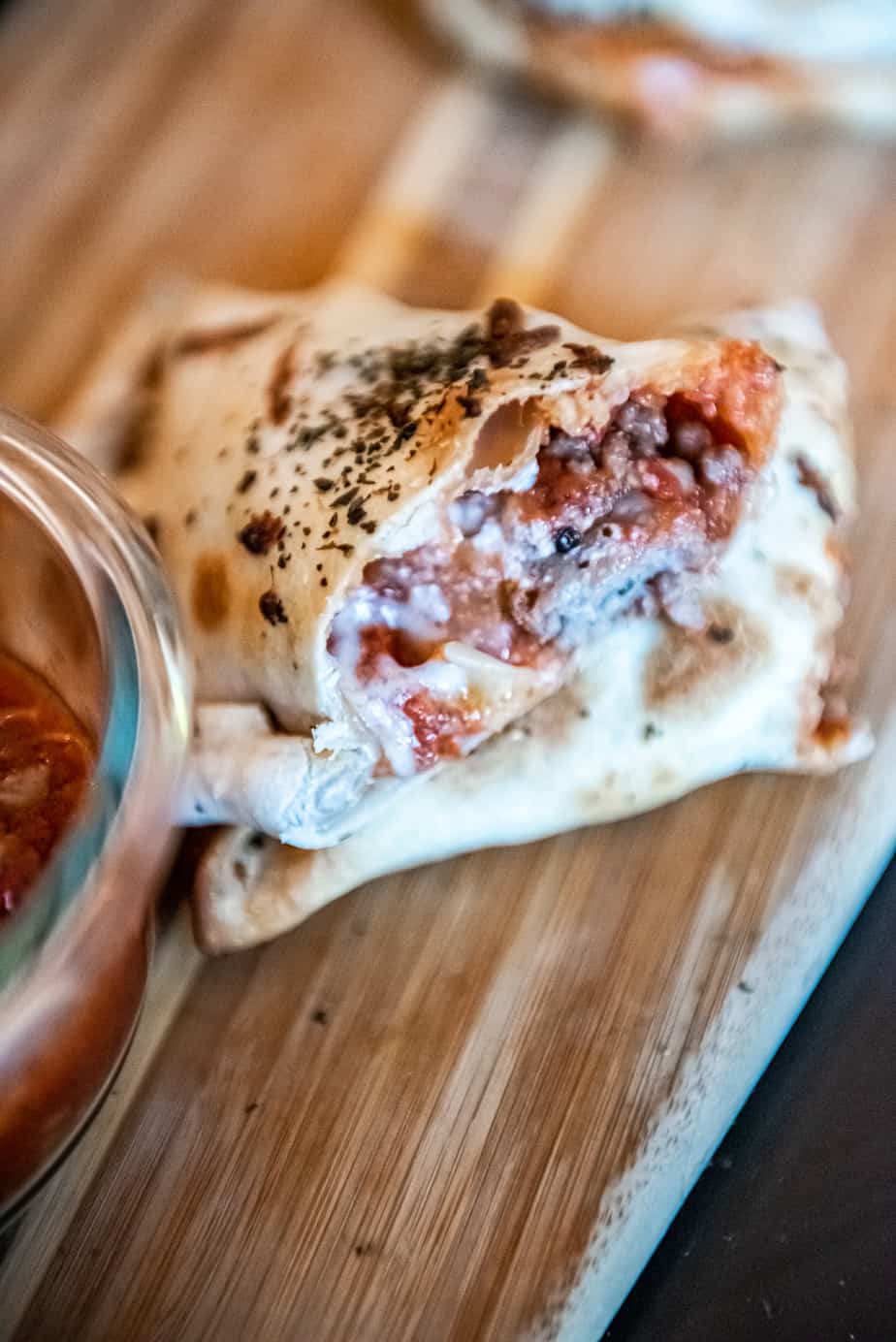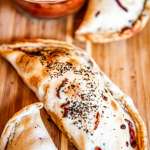 Air Fryer Lasagna Empanadas
A handheld Latin treat, with an Italian twist
Ingredients
1

pack

store-bought empanada shells

2

lasagna noodles

cooked al dente

1

16 oz

homemade pasta sauce

or store-bought

8

oz

ricotta cheese

8

oz

fresh mozzarella

or pre-shredded

8

oz

ground beef

optional

2

cloves

fresh garlic

minced

1

small

yellow onion

chopped

dried basil and oregano

to taste
Instructions
Sauce
Prepare sauce as you would when making lasagna. Use store-bought sauce or follow my recipe below.

If you are using ground beef, saute your onion and garlic in olive oil for about about five minutes. Add ground beef, season with salt and pepper, cook until brown, and then add to the sauce.
Pasta
Cook one or two noodles according to package directions. Slice into 1/4-inch strips and set aside.
Filling
Add 1 Tbsp. of sauce, then add two to three strips of the lasagna noodles. Add one small tsp. of ricotta cheese and top that with another scoop of sauce, followed by a sprinkle of shredded mozzarella.

Fold the empanada shell over, pressing down around the edges to seal closed.
Cook
Preheat the air fryer to 360°F. Brush empanadas with olive oil and sprinkle with basil and oregano. When heated, place empanadas in air fryer and cook for five minutes on each side until light golden brown.

Let cool for a few minutes and serve with extra sauce for dipping.
Recipe Notes
Sauce Recipe: 
Heat 1/4 cup of olive oil. Add three or four mashed cloves of garlic and cook until garlic is brown. Remove garlic from oil and add a Tbsp. of fresh chopped basil. Add 16 oz. of crushed tomatoes and 16 oz. of diced tomatoes to the pan (be careful, as the oil will pop). Stir and let simmer for 15 minutes so the oil can incorporate into the tomatoes. Season with salt, pepper, dried oregano, and basil to taste. Then mix with any cooked meat to simmer.
Stay fabulous,