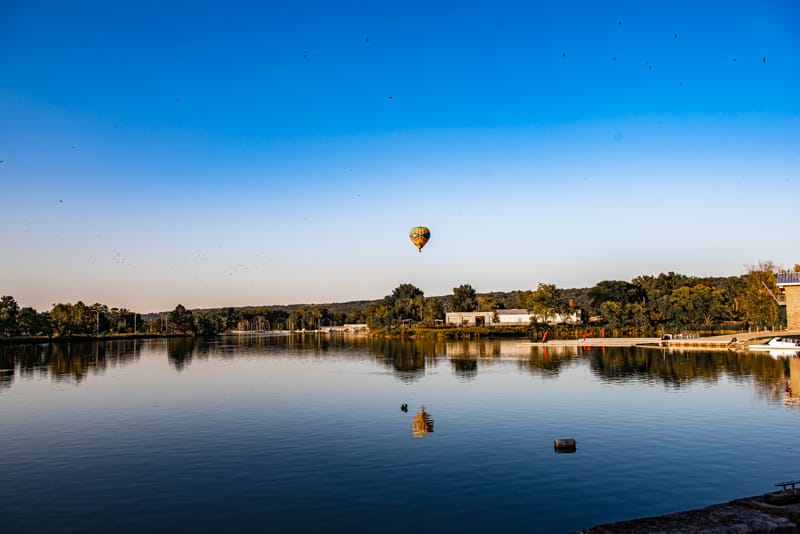 While staying close to home is obviously safer during these times, I'm a habitual jet-setter and have struggled with the desire to remain healthy and simultaneously satisfy my travel itch. I decided to branch out and consider some not-too-far-from-home destinations to get away from the City without putting myself at risk.
As someone who has lived in NYC for more than a decade, I cannot believe it took me so long to visit the picturesque Finger Lakes region of New York State. Voted the best wine region by USA Today, this area is a great destination not only for wine, but also for outdoor activities like hiking, boating, or swimming. If you're looking for the perfect weekend or even weekday trip, look no further. Here's how to start planning your Finger Lakes getaway.
When to Go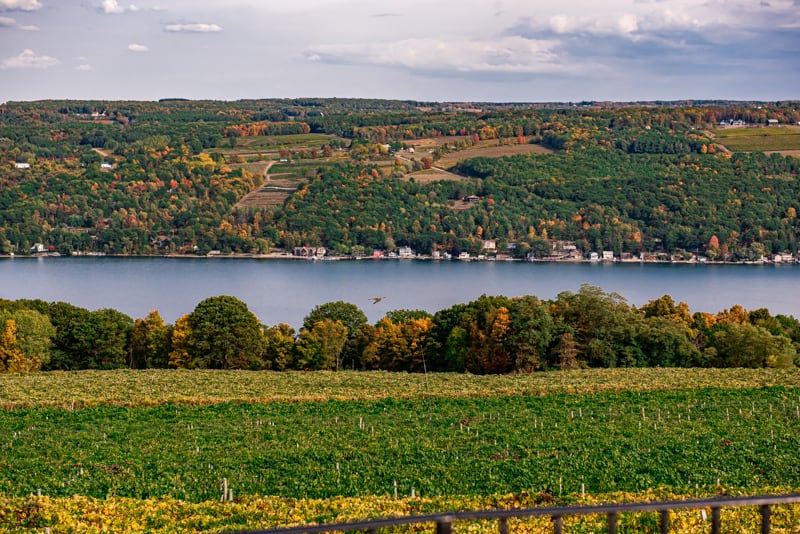 From spring to fall, the Finger Lakes will delight. In the early spring months, the region may be a bit chilly; however, you can see blooming flowers and amazing waterfalls from the melting snow. During the summer months, you can take hikes at one of the many state parks and even swim under the waterfalls. As fall settles in, you probably won't see the waterfalls at full strength, but the breathtaking foliage from surrounding trees will certainly impress. Unless you are a fan of being snowed in, I would recommend skipping the winter months and visit when the temperatures are a bit warmer.
Where to Stay

Cute bed-and-breakfasts abound in the area, or you can certainly find a rental if you prefer. However, I recommend staying in Ithaca at the Marriott. Situated right in Ithaca Commons, this property is conveniently located within walking distance to several great restaurants and bars in the area. The staff was very accommodating and helpful in planning our itinerary and recommending restaurants and wineries to visit. Plus, the hotel is new and stylish, making it a perfect place to stay if you plan to visit the area.

We traveled to the Finger Lakes during COVID, and I was blown away with the number of precautions the property took to ensure its guests' safety. All of the staff wore masks, and dividers in the elevators helped with social distancing. The hotel provided sanitizing wipes in our room, and the hotel restaurant had plexiglass dividers to keep diners safe.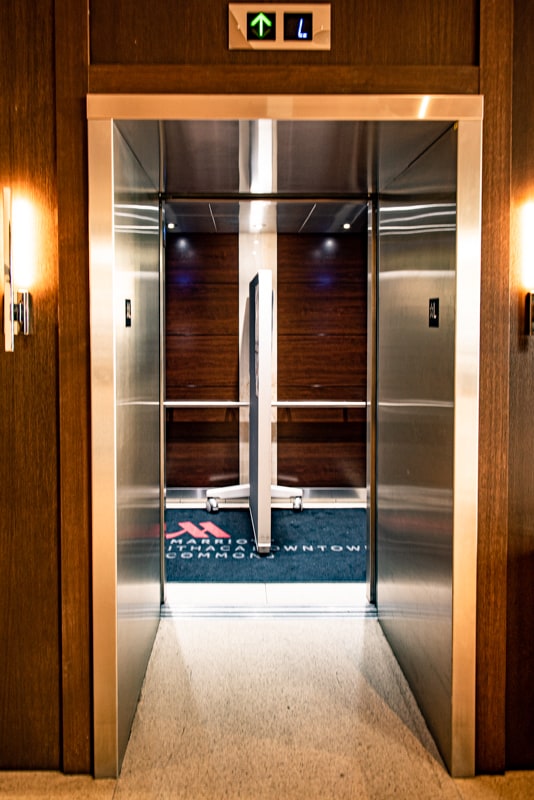 How to Get There
If you live in New York or the tri-state area, the Finger Lakes are not too long of a drive from New York City. The scenic views along Route 17 are a beautiful backdrop for your four-hour voyage. After leaving the City and all of its congestion and buildings, the fall foliage during our trip up was a welcome view.

If you are venturing from another part of the country, you can fly into Ithaca Airport or Greater Rochester International (ROC). From there, I recommend renting a car for transportation to get around and enjoy all the region has to offer.
We were very thankful to Mazda for providing us a 2020 Mazda 3 crossover SUV with the premium package for our trip. The sleek leather interior and active driving display made traveling to our Finger Lakes getaway very comfortable. The vehicle had tons of room for our bags, and with the great gas mileage, we were able to reach our destination on one tank of gas.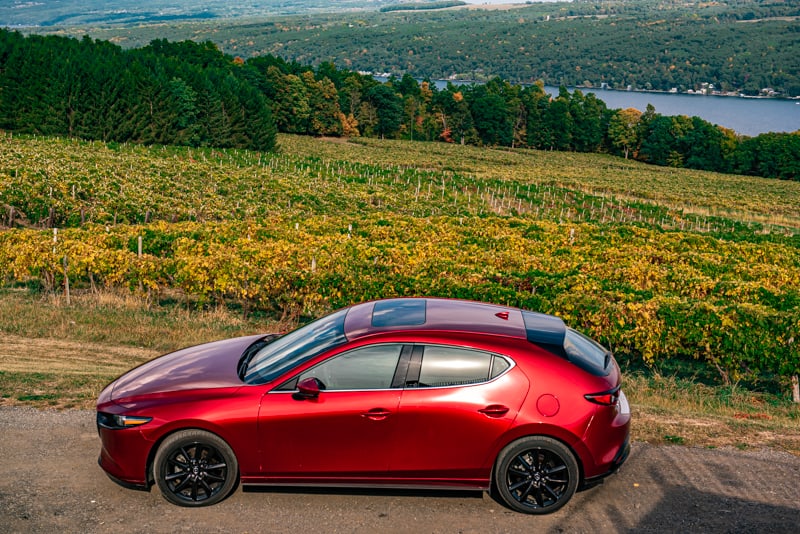 Wineries
I hope you are ready to sample and sip because the Finger Lakes region is known for its wineries and produces some of the best Riesling in the world. Although most wineries are open daily for tastings, some close on Monday or Tuesday. Because of social distancing protocols, most now require a reservation and only see parties of up to six at any given time.

Unlike the Napa Valley region, where tastings can run you anywhere from $25 to $75 per person, the tastings in Finger Lakes are much more affordable. Tastings typically cost $10 and include four or five different wines. Some wineries offer a la carte tastings during which you just pay for what you drink.
You can take the Seneca Lake Wine Trail or explore on your own to find wineries along the lakes in the area. However, as you know, I'm a little picky about the wine I drink, so I hand-selected four wineries as my recommendations for places to visit.

Dr. Konstantin Frank

Dr. Konstantin Frank is the man who pioneered winemaking in this region. He opened this family-owned and -operated winery in 1962. I knew this was must-visit wine tour during our Finger Lakes getaway. With beautiful views of Keuka Lake, this progressive tasting will take you through the history of the winery, explore their current innovations with winemaking, and spotlight the women the of the Frank family. We had the pleasure of meeting Meaghan Frank, granddaughter of Dr. Frank and the general manager of the vineyard, which made our visit even more special.
(Dr. Frank's Vinifera Wine Cellars, 9749 Middle Road, Hammondsport, NY 14840 | (800) 320-0735)
Lamoreaux Landing

We didn't actually plan a visit to Lamoreaux, but we were so glad to find this world-class winery along our route. This winery focuses on sustainability and safe environmental practices at the vineyard. Our outdoor tasting began after a short, three-question COVID screening. While seated under a large tent, you can select five wines from the wine list, which features many varietals and vintages. We also very much enjoyed some tasty local cheese to accompany our wine. My husband noted this was one of his favorite tastings of the trip!
(Lamoreaux Landing Wine Cellars, 9224 NY-414, Lodi, NY 14860 | (607) 582-6011)
Wagner Vineyards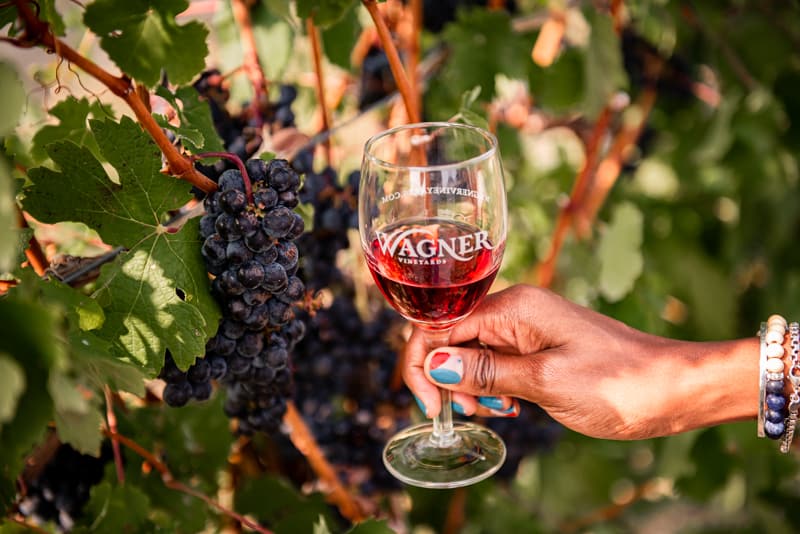 This award-winning winery is a must-visit when planning your Finger Lakes getaway. Named the 2019 Winery of the Year in the New York Wine Classic, Wagner Vineyards has won more than 30 awards for its wine, especially its Riesling. For $8, you can choose five wines from their list of 30 to taste. If you are looking for a less formal tasting experience, the winery also has a huge deck area where you can sit, enjoy the views, and order flights of wine or beer.
(Wagner Vineyards, 9322 NY-414, Lodi, NY 14860 | (607) 582-6450)
Standing Stone Vineyards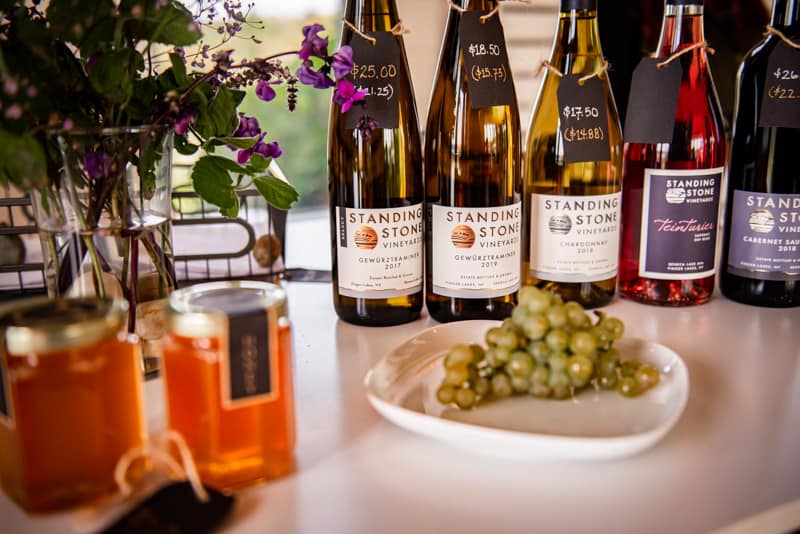 Acquired by Hermann J. Wiemer in 2017, Standing Stone is a 46-acre vineyard known for its amazing wine and breathtaking views. They offer an a la carte tasting of wines from both the Hermann J. Weimer and Standing Stone brands, which means you can order as much or as little as you like. Come for a few different half or whole glasses, or share a bottle or two with a group of six or less while sitting on the deck or picnic table near the vineyard.
(Standing Stone Vineyards, 9934 NY-414, Hector, NY 14841 | (607) 582-6051)

Other Notables
If you are looking for other delicious wineries in the area, I also recommend the following:
Waterfalls and State Parks
Your Finger Lakes getaway wouldn't be complete without a visit to one or more of the area's state parks and waterfalls. Whether you are an avid hiker or just want to enjoy the views, everyone can appreciate the natural beauty of this area. Some of the parks have lookout points, so you can pull in and stroll a short distance to see falls without having to make the hike.
Treman State Park
We decided to take on two full hikes in one day, but I recommend spacing them out. Our first stop was Robert H. Treman State Park, where we completed the short but strenuous Upper Gorge Trail. This involves a beautiful hike down into the gorge to view the 115-foot Lucifer Falls. As I mentioned, the waterfalls are bigger earlier in the season, but it was still amazing to see. If you are visiting during the summer months, the Rim Trail will lead you to a large area where you can jump in and swim next to Enfield falls.
Buttermilk Falls
Another noteworthy state park in the region, Buttermilk Falls State Park, also provides you with beautiful scenery and picture-perfect falls. If you want to just drive up and view the falls, they can be seen from the park entrance. Since we were looking for more of an adventure, we took the strenuous Gorge Trail up and cut over at Pinnacle Rock to see the rest of the gorges. After we made it to the top, the descent was a very beautiful hike all the way down.

Restaurants
As you may know from my previous posts, dining out is one of my favorite things to do. Much to my delight, I discovered that Ithaca, New York, has more restaurants per capita than any other area in the U.S. Many restaurants are located right in the Commons and are within walking distance from each other. We followed recommendations from locals and friends who have visited the area and found these places to offer a stellar dining experience.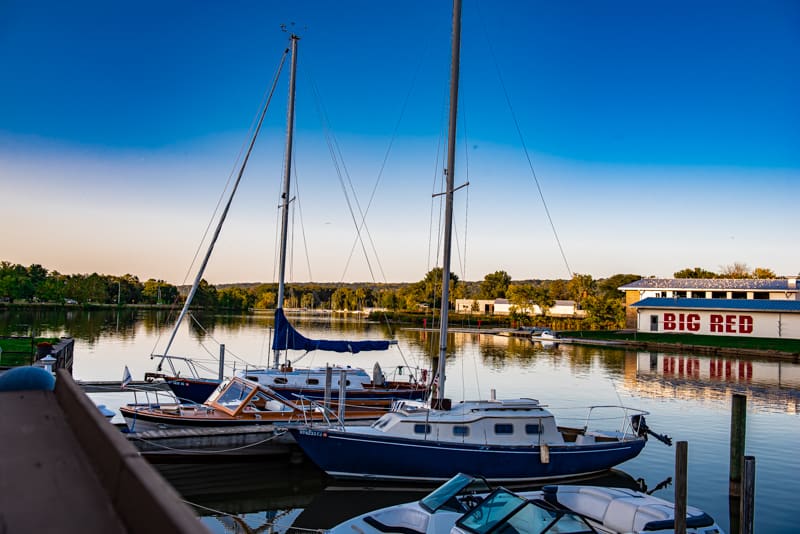 My Recommendations

I know I waited a long time to plan my Finger Lakes Getaway, but I am so glad that we finally decided to visit. Although many of the shops and other nightlight venues were closed due to COVID, I can't wait to return when things settle down to get the full Finger Lakes experience. If you have a chance to make the trip before it gets too cold, go for it! If not, I hope you add it your travel list in the spring.
Stay fabulous,