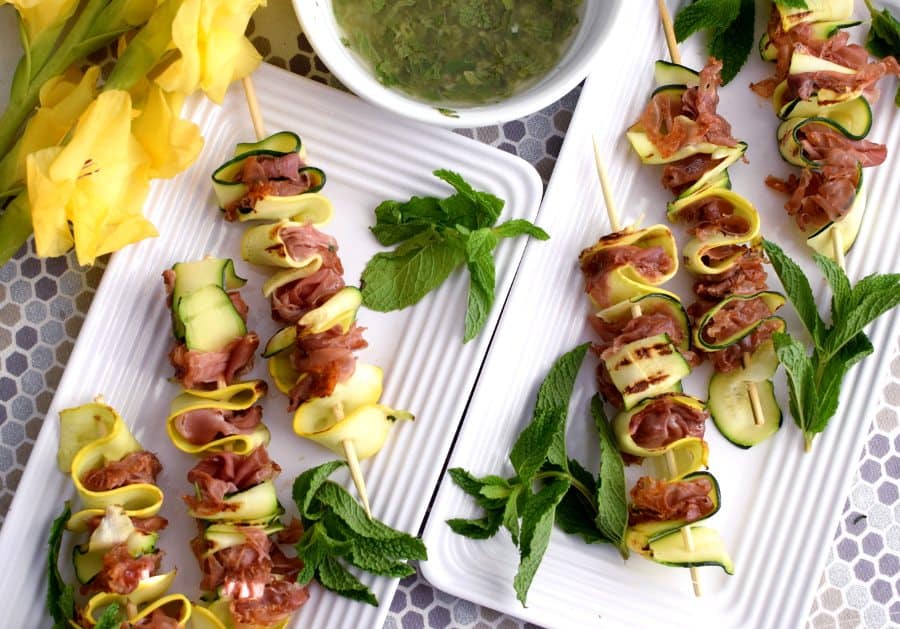 Grilling during the summer is one of my favorite things to do. It is also the perfect time to start eating lighter and healthier, that is why I love this recipe! Grilled Zucchini and Prosciutto Skewers with Citrus Mint Dressing is an elegant and easy to make dish, plus it's the perfect appetizer for your next summer soiree. 
These light and refreshing bites are so tasty. I've always loved the pairing of prosciutto with melon and summer veggies, but I never realized how well it goes with mint too. This citrus and mint dressing can be made with either lemon, lime or a combination of both. The saltiness of the prosciutto complements the minty brightness of the vinaigrette, and I could see using it in many other dishes and salads this summer.
To construct your skewers, slice the zucchini and squash on your mandoline, or simply use a peeler to create long ribbons. Next, add them to the skewers, alternating between squash, zucchini, and prosciutto however you like, keeping in mind not to add too much prosciutto, so not to overpower each bite.
Next, just brush lightly with olive oil and place on your grill pan or outdoor grill for about two mins on each side or until you see a nice grill mark. Serve with the citrus dressing on the side or drizzled on top. This colorful and delicious appetizer will pop on your table and will be a hit at your next summer gathering.
Additionally, if you want to turn the grilled zucchini and prosciutto skewers from an appetizer to a side dish, scroll down to see my pasta salad variation below.






Grilled Zucchini and Prosciutto Skewers with Citrus Mint Vinaigrette
Ingredients
1

Zucchini

sliced in ribbons

1

Yellow Squash

sliced in ribbons

1/3

lb

Prosciutto

thinly sliced
Citrus Mint Dressing
1

tsp

Lime Zest

1/4

cup

Fresh Lime & Lemon Juice

total combined

1/4

cup

Fresh Mint

chopped

2

cloves

Garlic

minced

1/4

cup

Olive Oil

plus more for brushing

Salt & Pepper
Instructions
Preheat a grill pan or prepare your outside grill. Then, in a small bowl, combine the lime zest and juice with the mint, garlic and the 1/4 cup of olive oil. Season with salt and pepper to taste.

Thread the skewer alternating between zucchini, yellow squash, and prosciutto. Lightly brush the vegetables and prosciutto with olive oil and season lightly with salt and pepper.

Grill the skewers over high heat until the zucchini and yellow squash is lightly charred, about 2 minutes per side. Serve with the mint dressing on the side or drizzled on the top.
Recipe Notes
A variation of this dish is a pasta salad which is excellent served at room-temperature.
To Make: boil the pasta of your choice until al dente, then toss with olive oil and let cool slightly. Meanwhile, coarsely chop the grilled zucchini, yellow squash and prosciutto and transfer to a large serving bowl. Add the pasta and mint dressing and toss to combine. Season with salt and pepper and serve.
I prepared the pasta salad version of this dish with Modern Table meals pasta, which is GMO, gluten, soy and dairy free. You could serve this dish as a side or even a main course.



Pin Me

Bon Appetite!