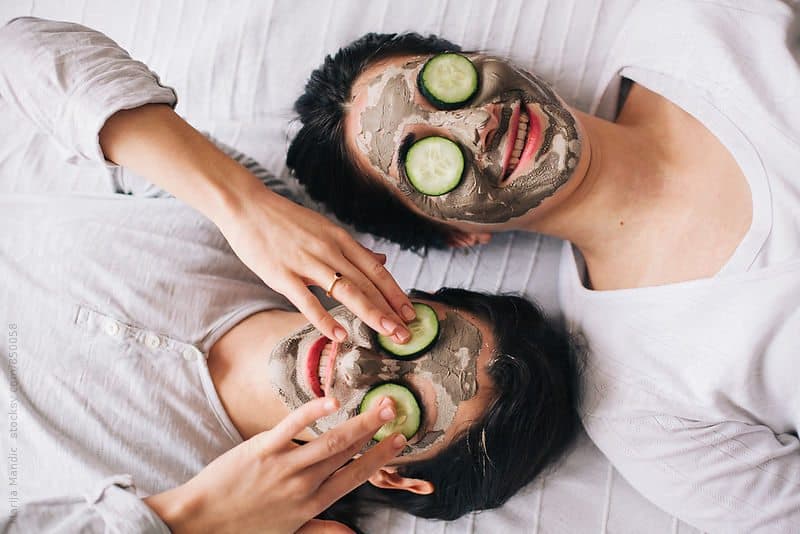 Having beautiful skin is the ultimate goal for most. A fresh face with few blemishes and a glowing complexion, where do I sign up? But how do you start? We know there is an underlying formula to great skin that we should adhere to, but do we actual follow it? Managing your beauty routine during a busy day is challenging. Time-deficiency alone is maybe the number one reason why women go minimalistic, but there are plenty of benefits to a natural skincare routine.
Minimalists know a secret – less is more, and it's also more effective.
Skin Treats, Not Tricks
To start a natural skincare routine, make it a rule to exfoliate at least once a week, and apply a rich, nourishing mask, which will revitalize your skin. Exfoliating removes dead cells and allows your skin to soak in all the nutrients and vitamins from creams and serums you apply afterward. Exfoliating is a bit 'harsher' than cleansing; so, you shouldn't do it too often; otherwise, you risk ending up with irritated and dry skin.

After exfoliating, you should treat your skin with a mask that you can make yourself: a teaspoon of raw honey, a quarter of an avocado, and a teaspoon of coconut oil mixed together. This simple mask does wonders for dry and flaky skin, leaving it hydrated and soft.
Find Your Best Fit
One of the best things about minimalist skincare is that it isn't exclusive. You don't have to stick to 100% organic & natural products at all costs or throw out everything but the bare essentials. As a minimalist, you should stick to the treatments that work for you and make your skin glow.

For some, it's raw honey and organic coconut oil, while for others, it's L'Oréal pure clay mask and Freeze Frame wrinkle relaxing night cream. As long as the product gives good results and makes your skin feel and look good, you should stick to it. Keep treatments that you like for occasional use, but don't 'overdo' your daily natural skincare routine with a dozen different products.
Only The Best From Mother Nature
People with sensitive skin need to be careful when they choose skincare products; those that contain synthetic fragrances and alcohol will likely cause irritation and dry, flaky skin. This fact is one of the reasons why natural products are so popular and why natural skincare ingredients are becoming more present on the market.

Coconut oil is the 'magic' ingredient that does wonders for your skin: it's a moisturizer and natural makeup remover, while at the same time it can be used as lip balm and natural mouthwash. Aloe vera will help your skin with sunburn, but it also contains ingredients that fight inflammation and redness, leaving you with healthy skin.
At Home Remedies 
There are many simple recipes for healthy, natural masks which everyone will find useful. You can mix a tablespoon of raw honey with a tablespoon of powdered oats to get a gentle exfoliating mask which will also keep the skin moisturized.

Another handy mixture can be made with a whole egg and a tablespoon of whole ground coffee; coffee will act as a gentle scrub while egg will protect the skin and keep it tight. If you have problems with blackheads, make a mask out of 0.2 grams of activated charcoal (2 capsules), half a teaspoon of bentonite clay, and 1½ tablespoons of water; it will clean your pores and leave your skin soft.
To get comfortable in your natural skincare routine, you should first find the right products. Which means experimenting and improvising before you get settled with ones that fit your skin best. Natural cosmetics, homemade masks, and store-bought products are not all mutually exclusive; the only thing that matters is how it all works for you. Find products you like and work for your skin type, and stick to them. Keep in mind though that it's useful to try something new every once in a while.
Find products you like and work for your skin type, and stick to them. Keep in mind, though, sticking to the same methods may not always work and it's useful to try something new every once in a while.
Shop This Post