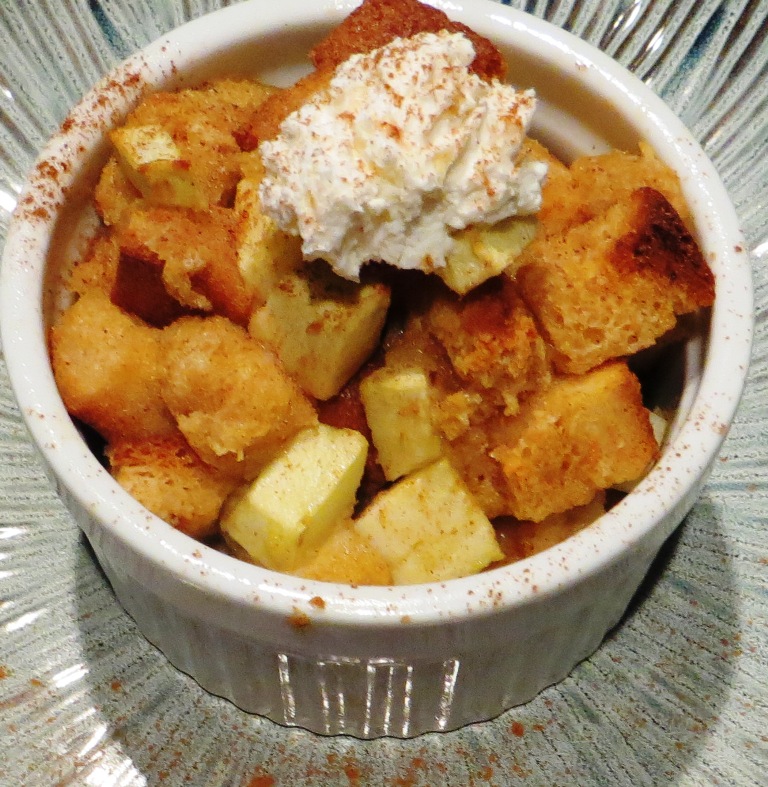 I grew up in a house with homemade apple pie being the dessert of choice. My mom would make it every holiday and sometimes, just because. If you didn't know, making apple pie from scratch is not an easy task. Apple Brown Sugar Bread Pudding is a tasty and simple alternative to apple pie, with all the apple pie flavor without the work.
This recipe requires few ingredients, which you probably already have on hand. As I mentioned in my French Toast recipe, Granny Smith apples are my choice when it comes to baking and cooking because their tartness is the perfect compliment to sugar. You can use your favorite bread for this recipe, I went with brioche. Just to be sure to cook your bread pudding in a water bath to ensure even cooking and to keep it moist.




Preheat over to 350 degrees, coat 2 ovenproof ramekins with non stick cooking spray.

In a medium bowl whisk together milk, egg, butter, brown sugar, vanilla, cinnamon and salt. Add bread; toss to coat and let stand for 5 minutes.

Add apples and stir. Spoon mixture evenly into ramekins and place them in a baking pan.

Add hot water to pan until it comes halfway up on the sides of the ramekins. Bake for 25-30 minutes then remove from the baking dish, careful it will be hot! Serve warm or at room temperature.
Custards, puddings, and cheesecakes require moisture in the oven and should be cooked in a water bath. The hot water provides a constant, steady heat source and ensures even, slow cooking for recipes.