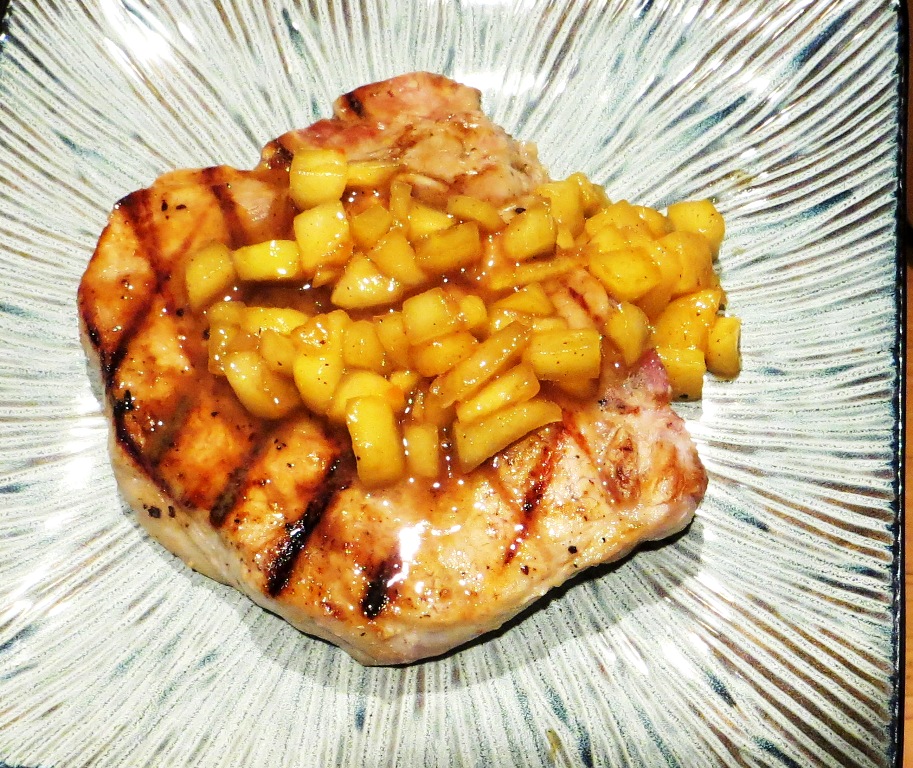 These Berkshire pork chops will change the way you buy pork from this point on. I prepared these juicy chops with bourbon apples for a sweet and tangy topping to this quality meat.
Berkshire pork is considered to be the "Kobe beef of the pork world". They top other breeds in terms of meat marbling, juiciness and tenderness. My husband is typically not a fan of "the other white meat", but his appetite is always ready when these chops are being served. If your butcher carries Berkshire pork, I recommend spending the little extra money for this excellent cut of meat.


I marinated them in a mixture of mustard, brown sugar, bourbon and apple cider vinegar and cooked them on my Lodge grill pan. My Granny Smith apples were cooked with butter, nutmeg and of course bourbon. I also added some of the marinate to the apples for some added flavor.



Grilled Berkshire Pork Chops
Grilled Berkshire Pork Chops
Mix the brown sugar, mustard, vinegar and bourbon into a small bowl. Season the pork chops with salt and pepper on both side and coat with marinate. (prepare apples and let them simmer before continuing)

Heat your grill pan to medium heat and cook your chops for about 3 mins before turning to the other side for another 3 mins.

Flip the chops once more and cook for 3 more minutes on each side or until the internal temperature reaches 145.

Let the pork rest for a few minutes to seal in all the juices, top with your apples and serve.
Peel and dice the apples into 1/2 inch cubes and then melt the butter in a skillet over medium heat.

Place apples in the pan with brown sugar and nutmeg and then add the bourbon and the pork chop marinate, Stir to make sure everything is well coated.

After about 7-10 mins the apples will begin to caramelize. Reduce the heat to low and let the apples simmer until your pork chops are done.