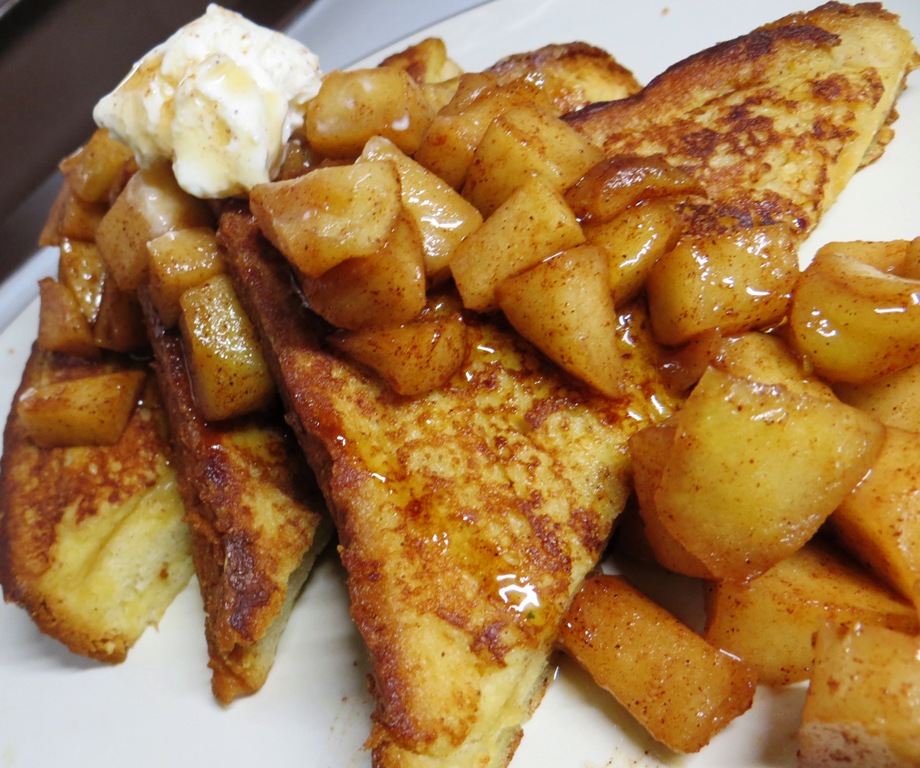 If your palate craves more sweet than savory in the morning, then you are in for a treat with this breakfast. French Toast with cinnamon apples will definitely satisfy your sweet tooth. Fall is all about apples and I will be making them the star of the next couple of recipes because I love seasonal cooking. My French toast is the perfect vessel to eat up these buttery and sweet cinnamon apples. Starting with the right ingredients is so important when cooking. I used Granny Smith apples for this recipe because their tartness and firm texture make them ideal for cooking and baking.


 French toast is all about the bread, a brioche loaf that you can cut to your desired thickness is my preference but you can use the bread of your choice. I separated my eggs and whipped the egg whites until they became a little frothy to keep the batter light and fluffy. I added a dollop of whipped cream cheese to the top of this dish for some added richness. The French toast was really yummy, I had some left over and warmed it up the next day for a 2nd treat!



Peel and dice the apples into 1/2 inch cubes and then melt the butter in a skillet over medium heat.

Add the apples and sprinkle with cinnamon and sugar. Stir to make sure everything is well coated.

After about 7-10 mins the apples will begin to caramelize. Reduce the heat to low and let the apples simmer until your french toast is done.
You will need 2 bowls, one large and one small. Separate your eggs by putting your whites in the larger bowl and the yokes in the smaller.

Add just a dash of sugar to your egg whites and whisk them until they become frothy, this should take about 1 mins.

Combine the egg yokes, milk, vanilla flavoring and cinnamon into the large bowl and whisk everything together.

Cut your bread into 1inch slices, or you can use pre-sliced bread. Add the bread to the bowl and submerge the slices into the batter. Be sure to flip them for even absorption.

Let the bread soak for about 3-5 minutes. Once most of liquid is absorbed, add the bread to a buttered skillet heated to medium high. Cook for about 2 mins or until golden brown and flip.

Reduce the heat medium low, flip the bread again and let it cook for another 3-5 mins before flipping to cook on the other side.

Press into the bread to make sure it is firm and ready to serve. Top with your apples and enjoy.