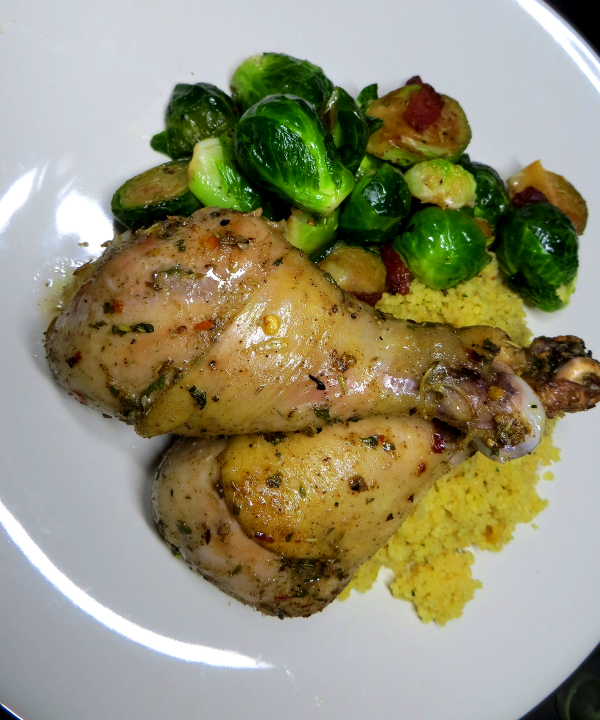 Chicken is a go to protein in my house. It is an inexpensive and versatile meat with endless ways to prepare it. I tend to lean to Asian flavors, which are a favorite in our house like with my Soy marinated chicken, but these drumsticks are simply a crowd pleaser and make for a effortless meal. This recipe is ridiculously easy and makes your chicken amazingly juicy and flavorful. My garlic and herb chicken roasted drumsticks take less than 10 mins of prep time and about 40 mins to cook.
I served my chicken alongside Sautéed Brussel Sprouts with Bacon and some cous cous. I use a lot of fresh herbs in this recipe that you may not keep around your house, so if you are using the dried version please refer to the recipe notes because you will need less than the fresh. If you like things spicy, feel free to use more crushed red peppers to add some extra kick.

Preheat your oven to 375 degrees.

Combine all your ingredients except your chicken into a small bowl and stir to create the herb paste.

Arrange the chicken in a 11 x 17 baking dish and pour herb paste over it. Using your hands, work your herbs into both sides of the chicken and under its skin until it is well coated.

Place the chicken in the oven and bake for 35 mins or until the internal temperature reaches 165 degrees on a meat thermometer, and it is ready to serve.
Cooking tip: do not wash your chicken before you begin your preparation because experts say it may increase the spread of bacteria.