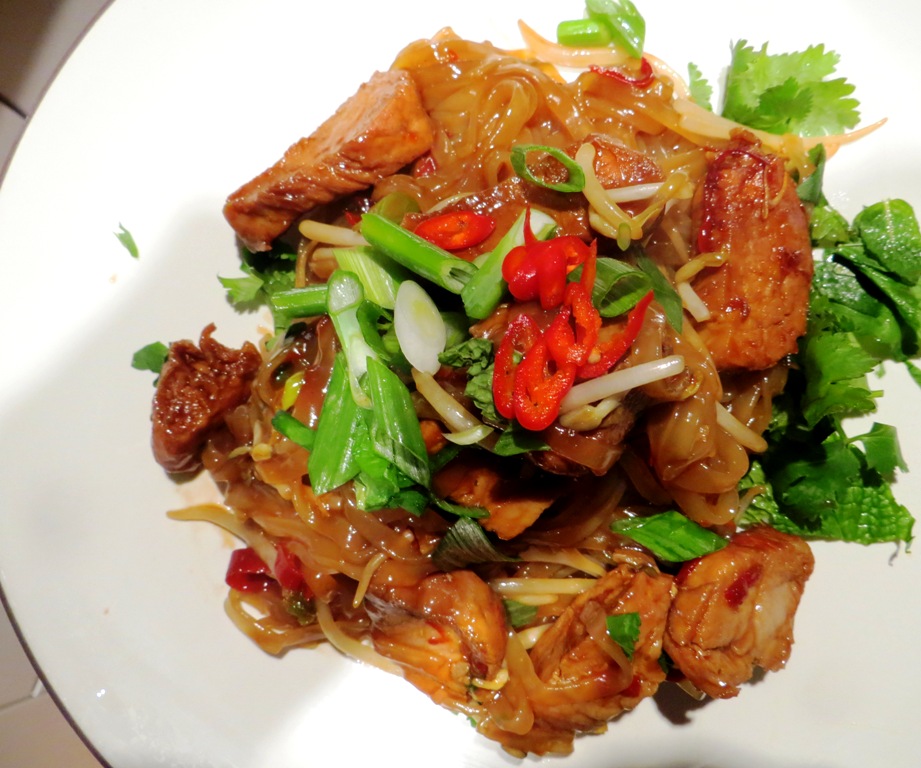 Asian dishes are a favorite in my house. Nothing hits the spot like a spicy bowl of noodles tossed with your favorite ingredients. If you are new to making homemade Asian dishes, my caramelized Thai pork recipe will be the perfect way to start a new culinary experience.
If you plan to prepare Asian dishes on a regular basis, I recommend stocking your pantry with some essential basics – Soy sauce, Sriracha, sesame oil, fish sauce and rice vinegar. You will find yourself using these inexpensive ingredients again and again.
For this simple recipe, the key is in creating a sauce that is spicy, tangy and slightly sweet. All the components compliment each other perfectly to create this balanced dish. I cook my pork in the sauce and then stir fried my rice noodles with it as well. Garnish with fresh herbs and you will have an elegant presentation for this mouth watering dish.





Add your chopped red chilies, ginger, soy, sugar, fish sauce, lime juice and star anise to a large pan and over medium heat. Cook for 4-5 mins, stirring until the mixture starts to thicken.

Halve the pork lengthwise and then add it to the pan. Let it cook for about 4 mins on each side. When it is done cooking remove from the pan, turn off the heat and let it cool slightly.

Slice the pork and place it back in the pan along with the bean sprouts and scallions to simmer in the pan for another 2-3 mins. Serve on top of rice, with a salad or stir fry with cooked rice noodles. Sprinkle with the fresh basil, mint and cilantro and enjoy.
I served my pork with rice noodles,which I boiled while my pork was cooking. Then, I added the noodles to the pan while simmering my pork to coat them with the sauce. If you are serving this with rice, prepare the rice before you start your pork.