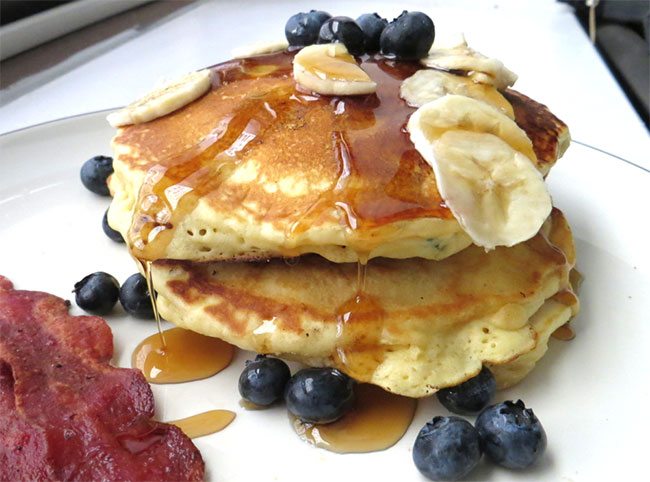 Homemade pancakes really hit the spot. There is nothing like waking up to a stack of warm blueberry and banana pancakes topped with maple syrup. I know it is easy to grab the box of pancake mix but this recipe is so delicious you might want to think twice. It really doesn't take much effort to make pancakes, so why not feel like a chef and whip these up for the whole family.




Combine the dry ingredients: flour, baking powder, salt, sugar, and baking soda into one large mixing bowl. Then in a smaller bowl add the milk and eggs and whisk together.

Melt the butter in a small sauce pan and then slowly add to the small bowl of wet ingredients by whisking all together.

Add the wet ingredients to the larger bowl of dry ingredients and mix all together. Slice the banana and it to the batter along with blueberries and stir gently.

Spray a skillet or griddle with non stick cooking spray and heat to medium. When it is hot add one large spoonful of batter and cook for 1-2 minutes,.

Flip the pancake and let cook for another minute. You may need to flip it again for 30 secs to cook if the pancake did not flip evenly.

Garnish with additional blueberries and banana slices and top with your favorite syrup and serve!
Be sure cook these pancakes longer than you would regular ones that do not have fruit because  the fruit creates bubbles in the batter and require more time to cook thru.