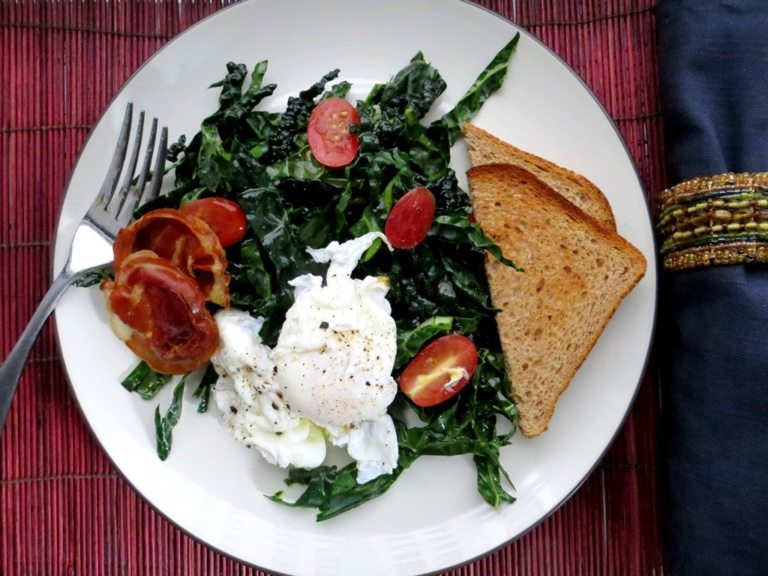 I truly love Kale! I can eat it all day long, so why not feature it as the star of my morning meal. For this breakfast I decided to step out of the traditional box with Lacinato kale salad tossed in a delicious lemon and caper vinaigrette with some poached eggs and crispy pancetta. It was so yummy and I am sure you will love it too.
For the vinaigrette, I simply added some minced garlic, lemon, parsley, capers and olive oil. It is one of my favorite dressing to make and I will occasionally swap out the parsley with basil to give it even more Italian flavor.

Kale comes in  several different varieties, for this recipe I used Lacinato or Dino(saur) Kale. I find that the flavor is a bit milder and the texture is softer, which makes it perfect for salad. Kale is also a awesome source of vitamins and minerals. To understand better how beneficial this unique vegetable can really positively impact your health check out this informative article.
To remove it from the stem just hold the bottom and strip the leaves away by running your fingers along the stem. Then roll all the leaves together and thinly slice.



Poaching the egg might seem a bit intimidating, so I included this mini instructional video to be your guide.
Pancetta is just a fancy way of saying Italian bacon. You can buy it cubed or thinly sliced. I just cooked it for about 3 mins on each side to get it nice and crispy!

Enjoy this Italian inspired breakfast and let me know how your version turned out!
Kale Salad with Lemon & Caper Vinagrette
Kale Salad with Lemon & Caper Vinagrette
Add minced garlic and lemon juice to a small bowl. Slowly whisk in olive oil until the dressing has a reached a nice consistency. Incorporate the capers and parley, taste to make any adjustments - like maybe adding more lemon juice and set aside.

Remove the stems from the kale, roll up the leaves and thinly slice. Place kale in a medium size bowl and pour in dressing. Use your hands to massage the dressing into the kale and set aside.
Bring about 3-4 cups of water to a slight bowl in a medium size pan. As the water begins to bowl turn it down medium low to stop the boiling and then add vinegar.

Crack the egg into a separate small dish. Use your spoon to create a little whirlpool in the pan. Slowly add the egg, using your spoon to keep the whites together and covering the yolk.

After you have contained the egg into a nice ball, start the process with remaining eggs. Watch your timing-each egg cooks for about 3 mins to achieve runny consistency. Remove from the water with a strainer spoon and place on a paper towel. Season with salt and pepper and transfer to plate for serving.
Be sure to watch instructional video as a guide for poaching your eggs.
Because kale is such a hearty green, you can save any leftover salad in the refrigerator for up to 12 hours.