In true Sherita fashion, I always try to recreate some of my favorite dishes at home, and this week it was salmon belly poke bowls. This traditional Hawaiian dish is an affordable and fun way to enjoy sushi while bringing so many other flavors into the mix. A salmon belly poke bowl is easy to make, and with the exception of the fish, most of the ingredients you probably already have around the house.
Jump to Recipe

There is no one way to make a poke bowl. The variety of combinations you can create with the toppings and fish are endless. I opted for salmon belly instead of traditional salmon because the flavor is richer. For this recipe, I elevated the flavor by crisping up the salmon skin and then adding it to the bowl for an extra crunch element.
How to Make a Poke Bowl
To start, you need to determine your base. The most common base for a poke bowl is sushi rice. I didn't have sushi rice when I decided to make this dish, so I just used plain white rice.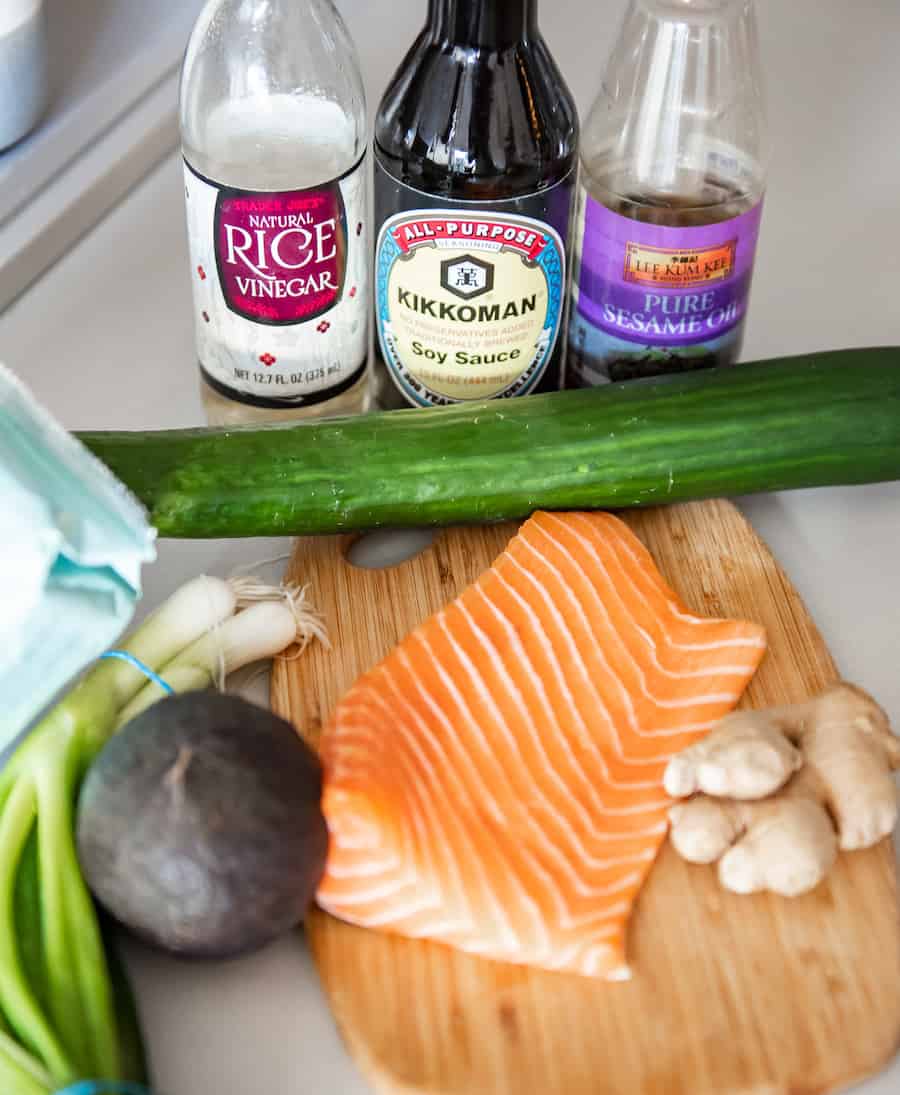 Do You Need Sushi Rice?
Sushi rice is ideal, but not necessary. However, for a more authentic taste, you will want to change the flavor of your white rice to mimic that of sushi rice. To do this, add 1/4 to 1/2 cup of rice vinegar to the rice and a couple of tablespoons of sugar.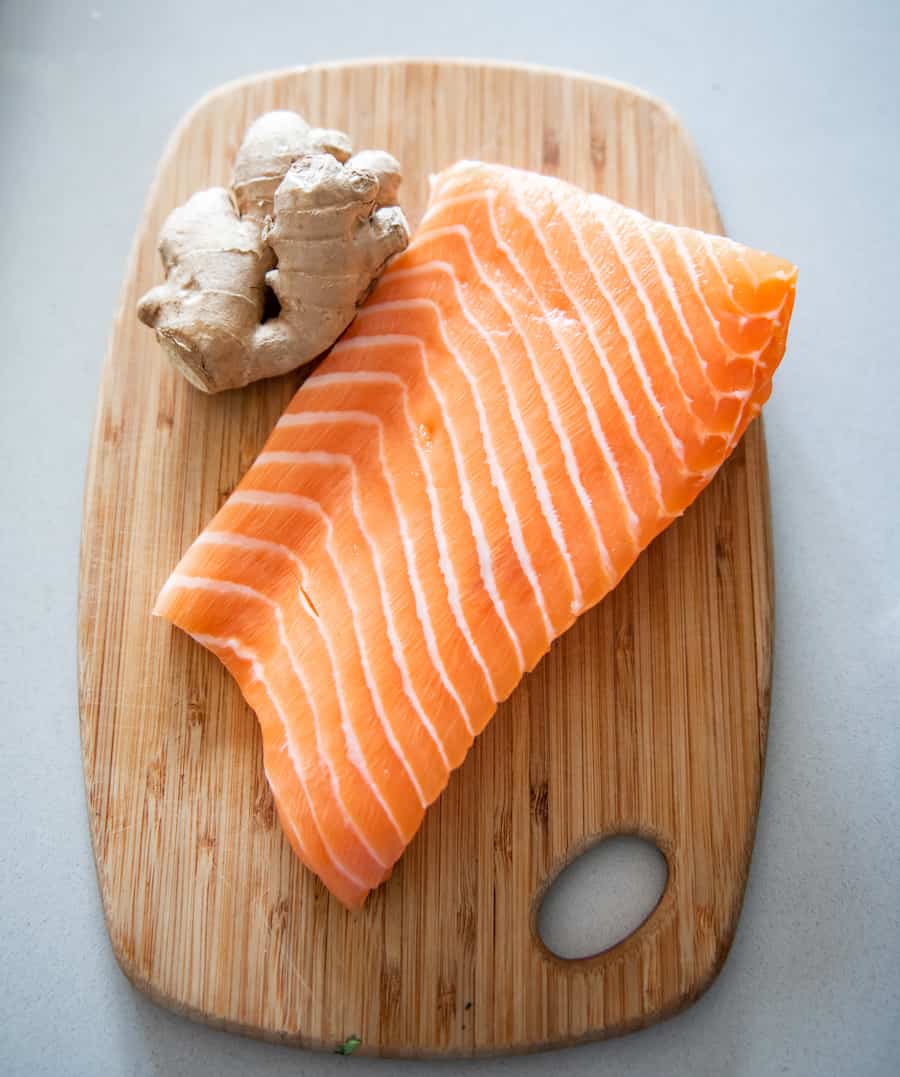 Preparing the Salmon
For the salmon or salmon belly, the important thing is to start with the highest quality of fresh fish. If the package does not say sushi grade, ask your fish monger if you can use it for sushi or poke.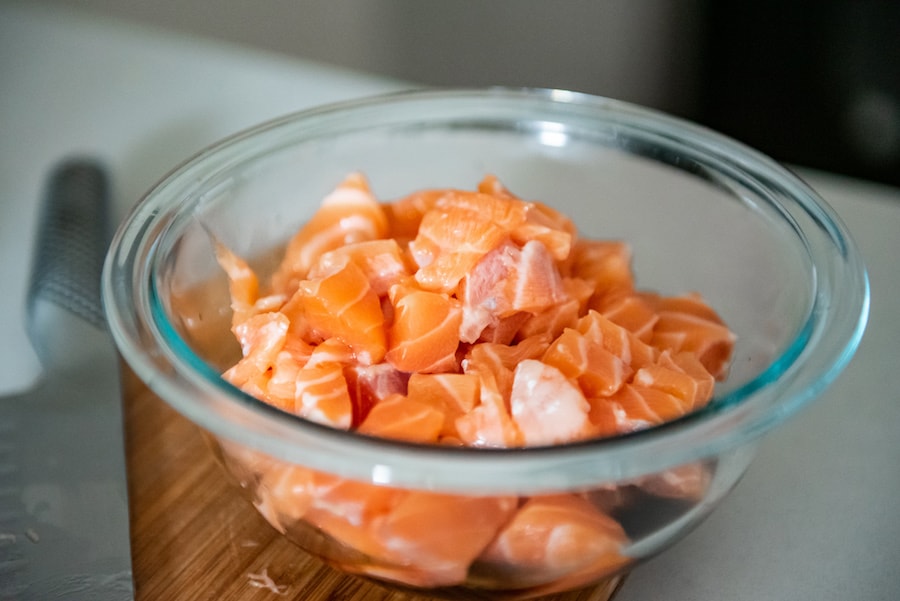 Next, you want to cut the salmon into 1/2-inch cubes. For a sauce that will help bring out this rich salmon's flavor, coat the fish with soy sauce, sesame oil, ginger, rice vinegar, and scallions. Let the mixture sit to the side while you prepare the other toppings.

The Toppings
As I mentioned before, you can top your poke with a variety of toppings depending on your taste. You can stick with a more Hawaiian theme and add pineapple, edamame, and nori, or you can go with the more traditional route similar to what I prepared with cucumber, avocado, carrots, seaweed, and scallions.
The key to making the best poke bowls is to use toppings with a variety of flavors and textures. Add don't forget extras like crunchy garlic or fried shallots. Or, for an added kick, use some Sriracha or wasabi.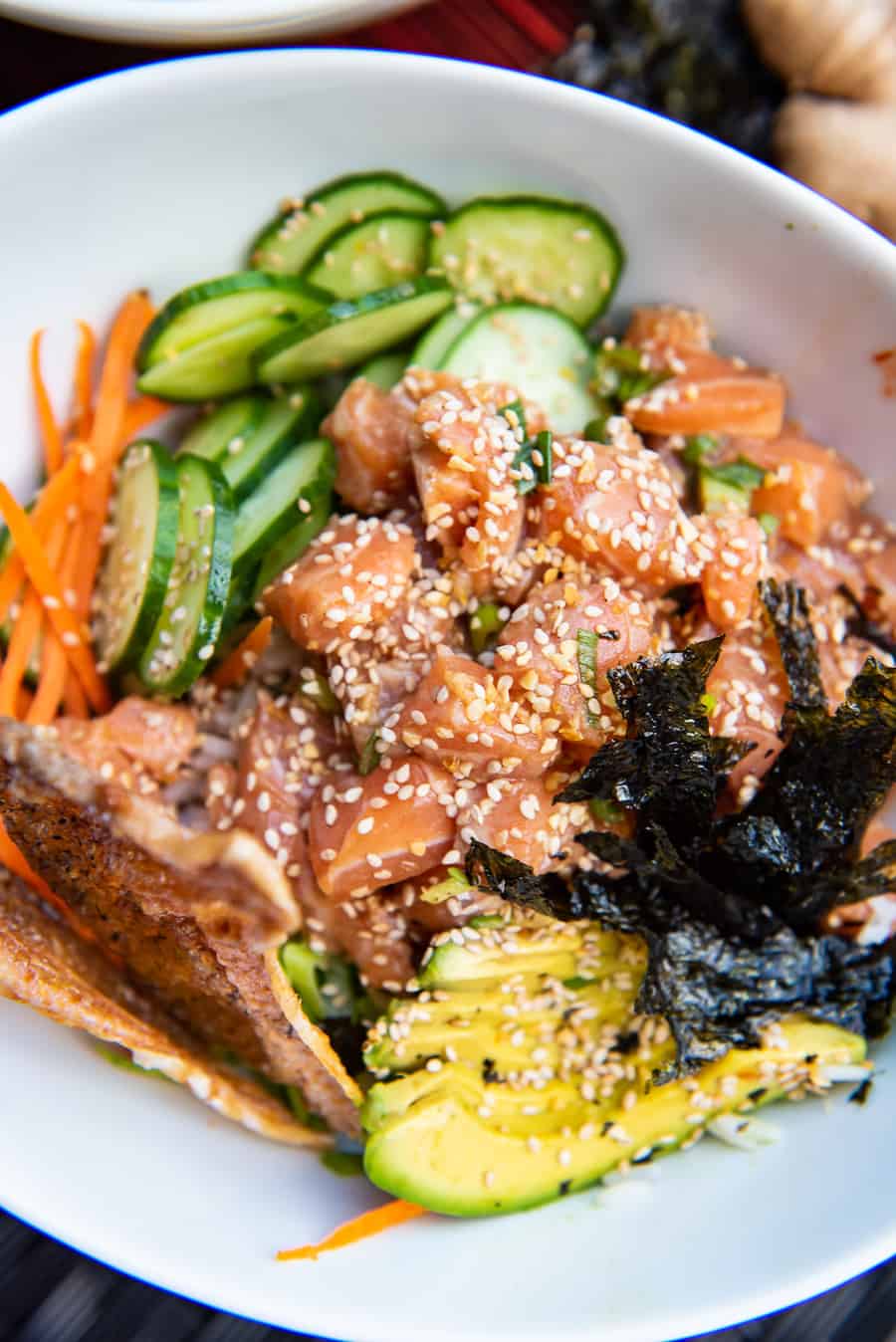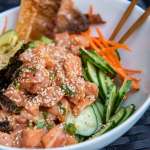 Salmon Belly Poke Bowl
Restaurant-style poke bowl with crispy salmon skin
Ingredients
Poke Salmon
1

lb.

sushi-grade salmon belly

skin removed

1/4

cup

soy sauce

1

Tbsp.

sesame oil

1

Tbsp.

rice vinegar

1

Tbsp.

fresh ginger

grated

1

scallion

thinly sliced
Bowl
1

cup

white rice

– sushi rice if you have

1/4

cup

rice vinegar

1

Tbsp.

Sugar

1/2

English cucumber

thinly sliced

1/2

ripe Haas avocado

thinly sliced

1

large

carrot

julienned

2

scallions

thinly sliced

seaweed paper

cut into stripes

sesame seeds

to garnish
Instructions
Rice
Cook rice as you typically would, either on the stove top or in a rice cooker, but be sure to rinse the rice first until the water is not so cloudy.

While the rice is cooking, prepare the rest of the ingredients. When the rice is almost done, pour in the rice vinegar and sugar and stir. Make sure all the liquid is absorbed and fluff with a fork when done.
Salmon
In a bowl, add soy sauce, sesame oil, rice vinegar, and ginger, and stir to mix. Remove the skin from the salmon and set it to the side. Then slice the fish into 1/2-inch cubes and place in the bowl. Top with the scallions and gently stir to incorporate the sauce into the fish and set to the side.

Preheat your broiler to low and place the salmon skin on a broiler pan. Broil in the oven until crispy, about 4-5 minutes on each side, turning a couple of times. When crispy, take out of the oven and place to the side.
Bowl
When the rice is done, scoop into a bowl; then add the cucumber, avocado, carrots, scallions, and salmon. Add the seaweed paper and sprinkle with sesame seeds and add any additional hot sauce as needed.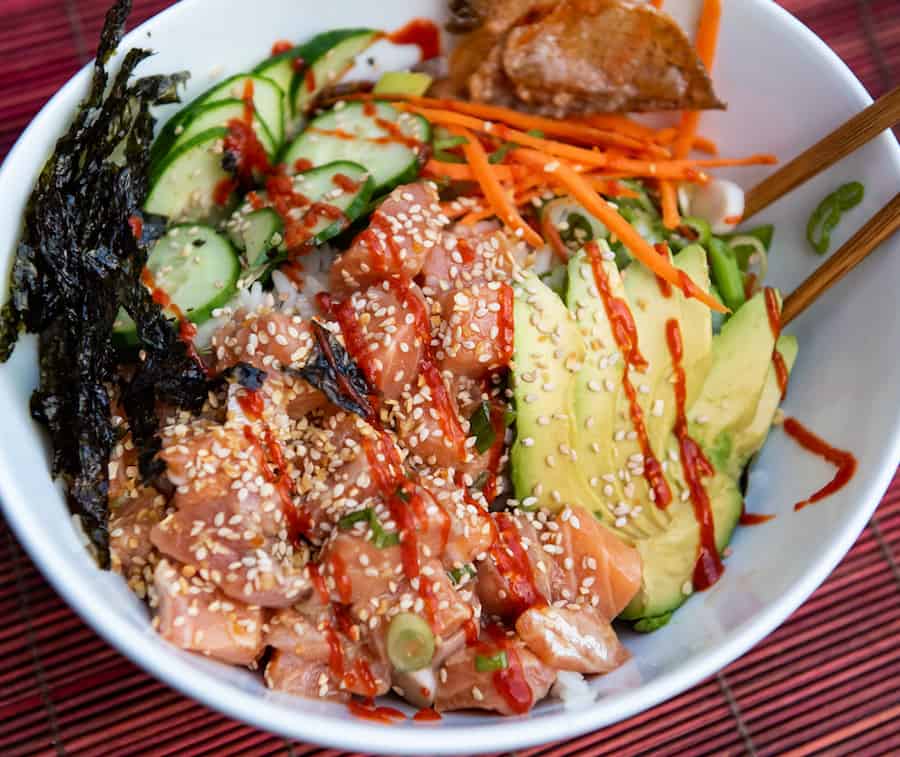 Stay fabulous,