Have you ever taken a bite from a beautifully plated meal and felt like you've been transported to a distant land? Well, after one bite of this salad, you can close your eyes and imagine you are dining in an Italian villa. This elegant Burrata Prosciutto and heirloom tomato salad, and oh-so-delicious dish is the perfect meal for a beautiful summer day, plus you won't have to jump on a flight to enjoy it. It's quite easy to make—just start with the freshest, highest-quality ingredients, and let the flavors and textures come together to create a masterpiece in a bowl.
Jump to Recipe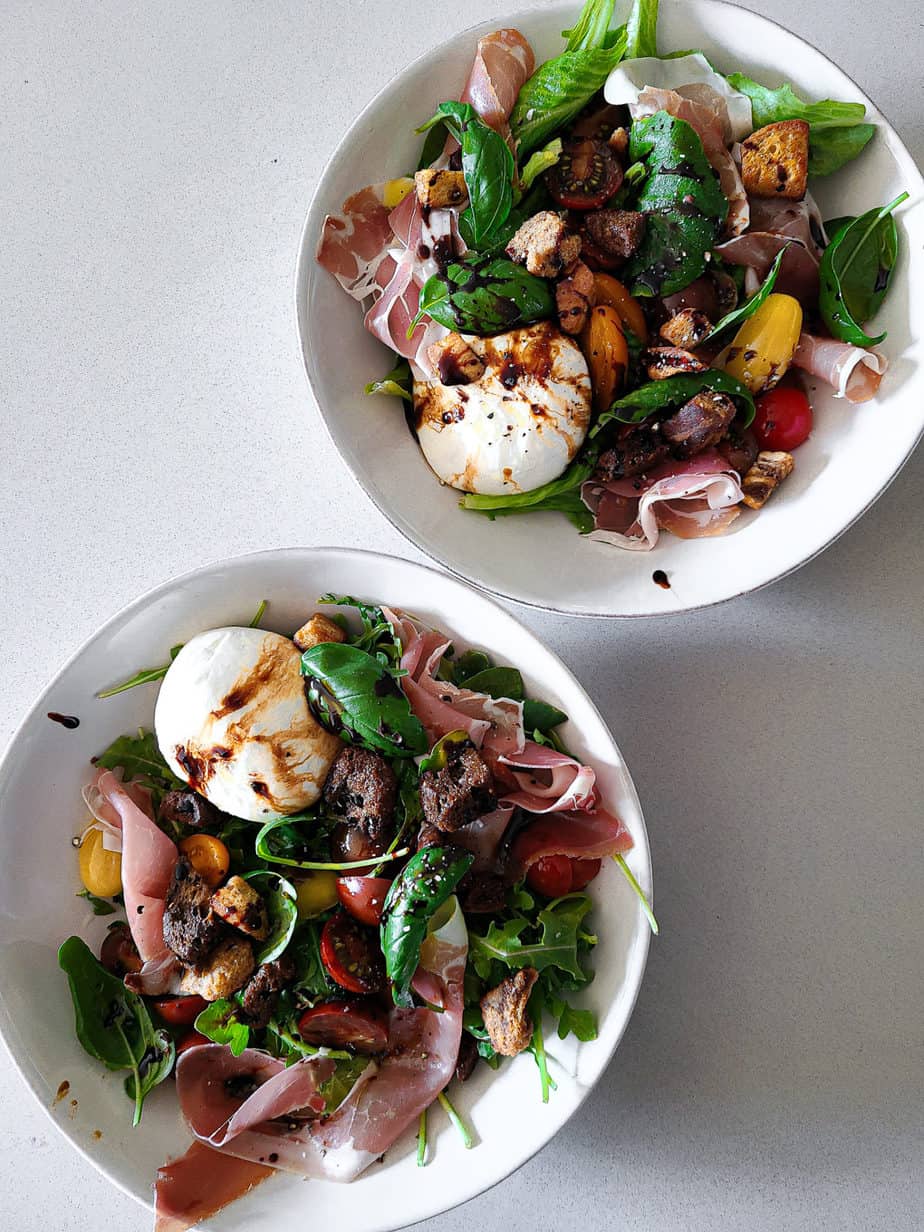 I've always been the type to crave a tasty salad. I could eat one every day and honestly not complain. It might sound funny, but there is an art to making the perfect salad. It is not about topping lettuce with some of your favorite ingredients and adding dressing. It is a balance of flavors, mixing the right proportions of each, and drizzling a dressing that will complement—and not overpower—the dish.
This Burrata Prosciutto and heirloom tomato salad has it all: sweet and juicy tomatoes, thinly sliced prosciutto, and the king of cheese, Burrata, all on top of a bed of mixed greens tossed with fresh basil leaves, crunchy croutons, and topped with extra virgin olive oil and balsamic reduction. Oh yes, this salad is one your taste buds will love.
What is Burrata?
There's no question: Burrata is the star of this dish. The prosciutto is a close second, but nothing can compare to the creamy and smooth texture of Burrata. If you are not familiar with it, Burrata is a cheese similar to fresh mozzarella that could almost be mistaken for a poached egg at a quick glance. However, once the thick shell is cut, the softer and creamier center will come rushing out. It's mild, doesn't give off any particularly strong flavors, and should be served close to room temperature to get the full effect, so be sure to take it out of the fridge 20 to 30 minutes before you are ready to serve.

Prosciutto and Heirloom Cherry Tomatoes
Name one meat you can eat with breakfast, lunch, and dinner. If you guessed bacon, you're right! So allow me to introduce you to prosciutto, bacon's Italian cousin. It's super versatile, goes with many different flavors, complements other meats, and is the perfect salad topper. I mentioned at the beginning of this post that you want to have the best ingredients for this salad. Prosciutto can get pricey. If you get the freshly sliced version at the deli, you are looking at anywhere from $16 to $25 per pound. If you can afford it, buy the fresh-cut variety because you can instantly taste the difference.
Same goes for heirloom tomatoes. If you have seen the larger variety in the supermarket, you might have thought that they were some kind of gardening experiment gone wrong. They are quite the opposite: made from seeds handpicked by farmers to produce only the best and juiciest variety. Heirloom tomatoes have not been genetically modified and are usually locally grown. They are often seen in multiple colors and shapes, and if you get them at their peak (which you can tell by their rich, tomato-y smell), they are juicy and delicious.

Balsamic Reduction
The last and maybe most important component to this salad is the balsamic reduction. Balsamic vinegar is often used in salad dressings. However, when reduced, it becomes a thicker syrup with a strong yet sweet flavor. You can buy it at the grocery store and will often see it bottled as balsamic glaze, but I prefer to reduce it at home. It only takes 5 to 10 minutes, depending on how much you are making. Whether you buy it or make it, just don't skip it on your salad.


Burrata Prosciutto and Heirloom Tomato Salad with Balsamic Reduction
Ingredients
2

small

balls of Burrata

1/4

lb.

Prosciutto

thinly sliced

1

clamshell

mixed greens

10-15

fresh basil leaves

1/3

cup

balsamic vinegar

reduced

heirloom tomatoes

handful of cherry cut in half or 1 large sliced thick

croutons

as desired

salt and pepper

to taste

extra virgin olive oil

to drizzle
Instructions
Begin by reducing balsamic vinegar. Heat balsamic vinegar in a small pot or saucepan over medium heat. Bring to a boil, then reduce heat to medium-low and let simmer for about 15 minutes, or until vinegar is thick enough to coat the back of a spoon.

While balsamic vinegar is simmering, add mixed greens to a serving bowl.

Layer two to three slices of Prosciutto and Burrata on top of mixed greens.

Slice tomatoes; then lightly salt tomato slices before adding to salad.

Add basil leaves and croutons as desired.

Drizzle a small amount of olive oil onto salad, along with balsamic reduction.
Stay fabulous,