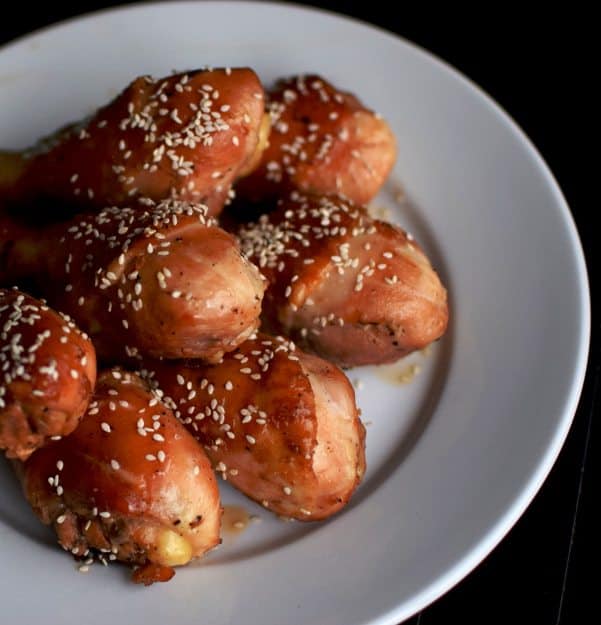 I never get bored of finding new ways to prepare chicken, especially when the recipe leaves me licking my fingers when I am done. Every time I make this dish, it gets rave reviews. I'm pretty confident that my simple and delicious Marinated Brown Sugar and Soy Roasted Drumsticks Recipe will instantly become one of your dinner favorites.
This dish is so easy to make, and you will be happy to know that you can prepare it in just one pan! The marinade is a combination of soy, brown sugar, garlic, ginger, sesame oil and black pepper. Pour it over the chicken and leave it for up to 24 hours. This recipe is perfect as a weeknight meal for the whole family or just one. Marinating the meat overnight will keep the chicken flavorful and juicy while cooking.
When ready to cook, just remove the dish from the refrigerator and bring it to room temp before placing it in the oven. Roast for 30 – 40 mins and simply sprinkle with sesame seeds for a final touch.
Planning out your meals can be difficult when life is so hectic, but I will contest that planning saves you a lot of time in the long run. Prepare your marinade the night before, and you will have dinner ready in a snap. I would serve this Marinated Brown Sugar and Soy Roasted Drumsticks with a side of rice and your favorite stir-fry veggies. Also, if you are not a big fan of drumsticks, chicken thighs will work perfectly as well. If you want to try this recipe with boneless chicken breast, adjust the cooking time down so it does not dry out.




Pin Me


Marinated Brown Sugar and Soy Roasted Drumsticks
Marinate this dish from a minimum of 1hr up to 24hrs.
Ingredients
8-10

Drumsticks

or thighs

1/2

cup

Soy Sauce

1/4

cup

Brown Sugar

3

cloves

Garlic

mined

1

Tbsp

Fresh Ginger

grated

2

Tbsp

Sesame oil

1

tsp

Black Pepper
Instructions
Marinate
Combine all the ingredients, except the for the chicken, in a small bowl and whisk together.




Line a 9 x 13 baking dish with Aluminum foil for easy cleanup. Place chicken into the dish and pour the marinade over, coating the chicken evenly.

Cover and refrigerate for at least one hour and up to 24 hours, being sure to turn half way through to marinate evenly on both sides.
Roasting
Preheat oven to 450 °F. Take the chicken out of the refrigerator and let it sit at room temperature for 30 mins. This will prevent the baking dish from cracking when being placed in the hot oven and ensure the chicken cooks evenly.

Roast chicken in the same dish for 35 to 40 minutes, or until the internal temperature reaches 165°F on a meat thermometer.


Remove the chicken from dish, garnish with sesame seeds and serve.

Recipe Notes
For crispy skin - Prior to serving, turn on the broiler and place chicken under it for about 5 mins. Be sure to watch carefully so the chicken does not burn.
Tip - Experts recommend not rinsing your chicken before you cook it. This may spread germs around your kitchen.