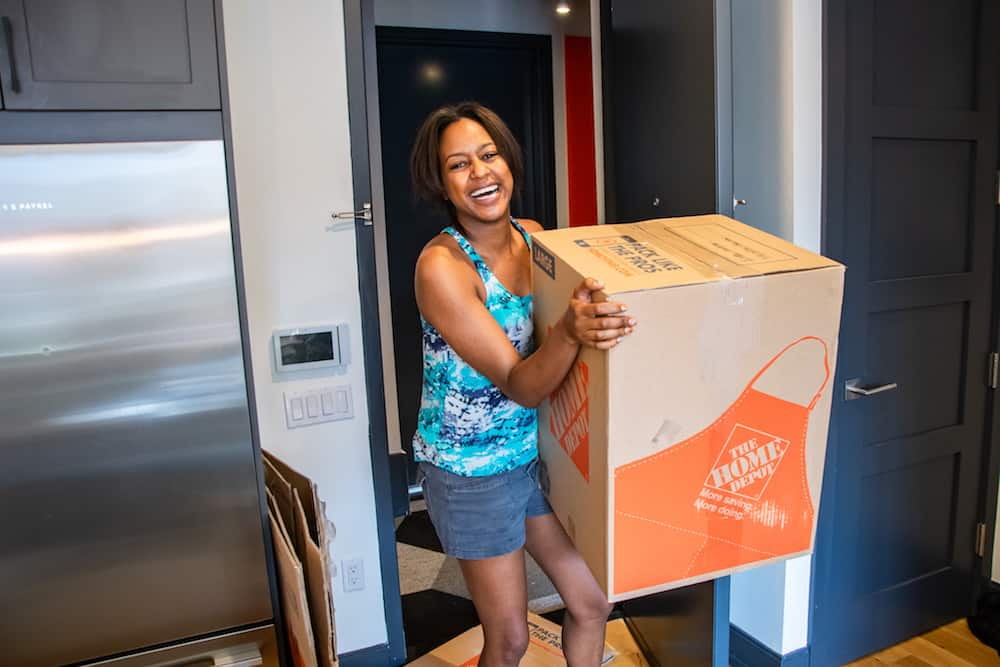 No one likes moving! The hassle of packing up your life, carefully wrapping fragile items, and sorting through the stuff you have accumulated over the years is, by far, the absolute worst! Some of us try to ease stress by organizing a packing party. But let me tell you, no amount of pizza and wine will convince your friends it is an actual party.
Because my husband and I have moved four times in the last three years, I consider myself an expert on the subject. Moving is stressful enough on its own. So let me help you take some of the grunt work out of the process with my handy moving tips to save time and money.
Know Your New Space
To execute a seamless move, you need to understand your new space and how your current items will fit in it. Even if you are moving to a home with more square footage, you may actually lose storage space and not even realize it. Conversely, if you are downsizing, take measurements and determine how much of your current furniture will fit in your new home, as stuffing bulky furniture into a small space is not aesthetically pleasing. When your furniture is not proportionate to your room size, the area seems smaller than it actually is. If items aren't going to work in your new space, don't waste time and money moving them. Instead, sell or donate them before your move. Here are some tips to make this process easier:
Measure rooms in both your old and new homes to compare size and layout.
Count closets and note their relative size.
Determine if you are losing or gaining cabinet space in the kitchen.
Insurance
Whether you are moving down the street or several states away, accidents happen, so make sure your items are covered just in case. Generally, movers' blanket insurance coverage will not cover the entire value of your items. If you are moving long distances, you may want to purchase extra coverage that movers offer to cover broken or lost items. Additionally, ask your current rental or homeowners insurance company if you are covered for damage and what the deductible is. It is always better to be safe than sorry.

Local Move
While moving a short distance may seem easier, you are technically doing the same amount of work—possibly even more—if you decide to handle the process yourself. We moved within our building once, and even though it required almost no "real" packing, we ended up making countless trips with luggage carts.
If you do decide to go with professional movers, be sure to READ THEIR ONLINE REVIEWS. While not every move will be perfect, a moving company should show up on time and hire professional staff that will handle your items with care and be able to resemble anything they dissemble in the process. You will not benefit by saving a little money only to end up with horrible service or broken items. Here are some tips to tackle your local move:
Long Distance
If possible, leave clothes on hangers and place them in a box or suitcase for easy unpacking.
Transport perishable items yourself in a cooler or insulated container.
Label not only a box's contents, but also the room they go in (e.g., Bedroom 1, Half Bath, etc.)
Transport personal items like jewelry, family heirlooms, and essentials you will need right away (e.g., toilet paper) yourself.
Moving to a different state or across the country can quickly become very expensive. We have embarked on two cross-country moves recently and learned some things the hard way. Instead of hiring a national moving company with so-so ratings, we hired local movers in NYC to facilitate our move to LA. They had excellent ratings in New York, so it seemed like a good idea, but it ended up being a nightmare. Optimum Movers had wonderful reviews and did an amazing job of handling business in NYC, but the crew they handed off to for the California delivery was awful. In fact, we almost had to call the police after they got argumentative upon arrival.
Unless you have a whole truck full of items, you will be sharing the load with others. This is a much cheaper option and can save you thousands; however, items can—and in our case, did—get lost along the way. To best understand long-distance movers' pricing, be sure to ask these questions:
How do they charge: by the room, weight, or volume?
Is there an additional fee for wrapping glass tables or oversized items that won't fit in a box?
If they charge by the hour, how many movers will be coming? What is the cost for an extra person/hour?
How do they catalogue your items for the move? Is there a bar code system?
How long will delivery take, and do they guarantee that date?
Pod Service
Instead of taking the chance of having another bad experience with cross-country movers, we opted for pod service for our move back to NYC. We figured our items had a smaller chance of getting lost or broken if we packed and locked the pod door ourselves. We opted for the U-Haul U-Box service vs. the traditional POD company, as the latter was approximately $1300 more. U-Haul definitely has logistical issues with tracking and weight requirements with their boxes that caused major headaches. Nonetheless, our U-Box arrived safely, and we ended up saving about $1500 compared to our move out to LA.
If you are moving soon, I don't envy you! Be sure to stock up on plenty of sturdy boxes, packing material, and strong tape. No matter where you are moving, I hope these tips help make the process easier for you. Best of luck and best wishes for happy times in your new home!
Stay fabulous,