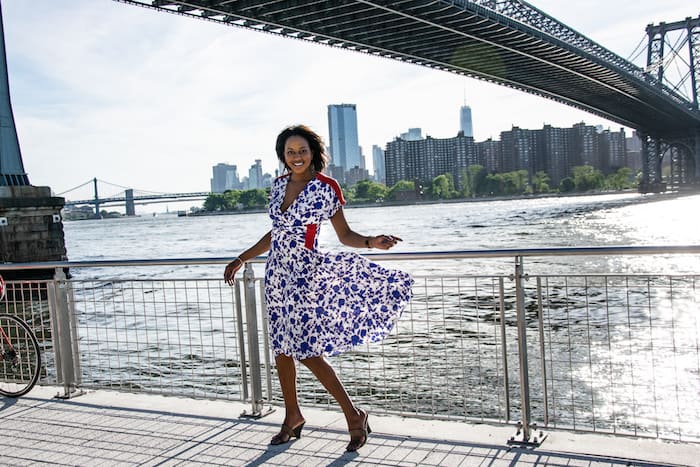 If you had told me two years ago I would be writing this post today, I would have said you were nuts! But as the saying goes, "Man plans, and God laughs," so here we are, back in NYC! I couldn't imagine life beckoning us back to this amazing city, but New York captivates you in ways that I never realized until we left.
We're Out of Here
When we left Manhattan, we were in need of a break. The City can be a lot to handle. It requires a ton of energy to tackle work demands and keep up an active social life. The overall pace of life can be overwhelming, not to mention living in New York City is extremely expensive. After 11 years, it was time for a hiatus. I was going a million miles a minute between working my finance job, auditioning and booking commercials, TV, and hosting spots, plus starting this blog. Our lease expired on our apartment in the Financial District, and instead of moving to a different neighborhood in Brooklyn, I proposed we go to Thailand and Singapore for a month. It was one of the best decisions we ever could have made.

Welcome to Hollywood—What's Your Dream?
I had always wanted to travel to Asia, and that trip allowed us to see more than we ever would have on any single vacation. The trip gave me peace of mind and time to de-stress and let all my residual anxiety melt away. Once we made it back stateside, we bounced around for the next five months before landing in sunny Los Angeles. I had been dying to move to LA for the past five years, so I just knew this would be a great place to settle down for the long haul. Boy, was I wrong!
On the surface, LA looks perfect: it's 80°F and the sun shines through the tall palm trees almost every single day. Our apartment, which was double the size of our place in NYC, had a rooftop view of the beautiful Hollywood Hills. Plus, a weekend in Palm Springs, Santa Barbara, or Malibu was just a drive away. So why, you might wonder, would I want to leave all of that SoCal goodness behind? The fact of the matter is, all of that stuff doesn't matter if you aren't happy—and frankly, I wasn't.
Life is too short to live unhappily!
Life in LA was good, but it was lacking. I had a great agent and manager; however, I wasn't booking acting jobs as I had been in NYC. The lack of gigs led me to start questioning myself and our decision to leave New York. Our time in LA was good for my blog, though; because I wasn't filling my schedule with auditions or booking commercials, I had plenty of time to grow Busy Wife Busy Life. I spent time upgrading my site and learning to be a better writer and content creator. 

Concrete Jungle Where Dreams Are Made of
Last July, I spent a month in NYC, which ultimately prompted my decision to move back. I realized during that trip how slow life is in LA and how much I missed the fast-paced environment. I missed the hustle, the pure energy that comes from life in NYC. I missed the work ethic and convenience of having restaurants and bars just right down the street. I missed walking! (No one walks in LA, and if you do, they look at you like you are nuts.) Every day in LA felt like "Summer Friday," and it is hard to feel ambitious when you live in an environment like that. I missed people being real.
Life is too short to live unhappily, so I knew it was time to make a move. I am fortunate to be able to pick up my life and relocate so easily. However, if you feel unhappy in your current city and can make it happen, I urge you to do the same. The worst feeling is the regret of not following your gut and finding a path to your true happiness. Don't be discouraged if you strike out on the first try as we did. Being able to wake up in a city you love is the best feeling the world.

Home Sweet Home
The best part about leaving NYC was that it gave me a chance to miss it and appreciate it even more. Some of you may think that I am crazy for moving cross country and back again from one coast to the other, and others might say that I am living the dream. No matter your opinion, one thing is undeniable: I am officially tired of moving. Since 2016, we have submitted six change of address requests with the United States Post Office—yes, six. We will be calling NYC home for the foreseeable future, or until the next amazing opportunity sweeps us away. One thing is for sure: no matter where life takes us, New York will always be home.
Stay fabulous,